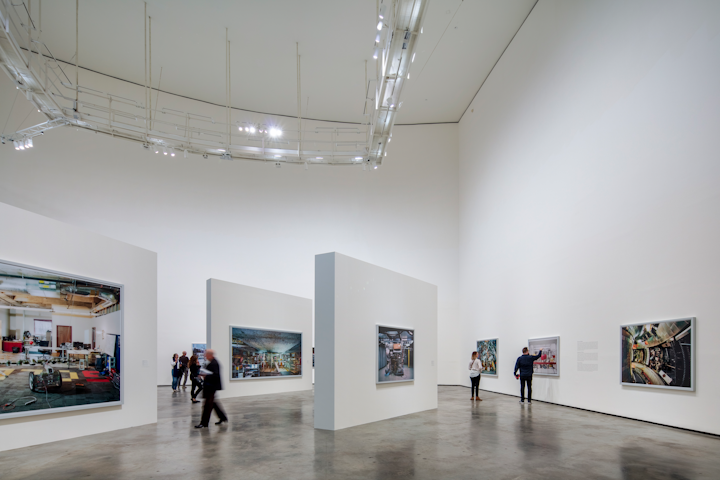 Zumtobel has announced the details of a museum LED lighting project in Bilbao, Spain on the banks of the Nervión River. The company developed a single customizable luminaire that is serving a variety of roles for curators at the Guggenheim Museum Bilbao while also delivering optimum energy efficiency. The solid-state lighting (SSL) product can be configured for wall-wash, spotlight, narrow-spot, and projector functionality while delivering 96 CRI light that can reveal subtle details of the works of art on display.
The Guggenheim Museum Bilbao is one of three Guggenheim museums around the globe with the others located in New York and Venice. The Spanish museum hosts 20th-century works in a modern facility designed by architect Frank Gehry in the deconstructivist style. Works on display come from artists such as Rothko, Yves Klein, Cy Twombly, Anselm Kiefer, Robert Rauschenberg, Eduardo Chillida, Olafur Eliasson, El Anatsui, and Wassily Kandinsky.
We've covered numerous examples of LED museum lighting over the years. And one common theme relative to the use of LED lighting is the elimination or ultraviolet (UV) and infrared (IR) spectral energy than can damage paintings and fabrics. For example, we ran an article documenting the benefits of LEDs in protecting artwork based on research by the US Department of Energy (DOE) at facilities such as the Los Angeles Getty museum. Curators at the Spanish Guggenheim were also seeking to eliminate damage to the artwork while achieving excellent light quality and the flexibility of using a single luminaire throughout the lighting retrofit.
And developing such a single luminaire was a challenge. The museum includes 12m ceilings in places, making wall wash a challenge. At the same time, some of the installed luminaires had to deliver extremely tight beam patterns directly on the works of art.
The Zumtobel team turned both to interchangeable optics and different light engines to achieve the desired effects. For example, luminaires used as projectors can be affixed with zoom lenses that can vary beam width from 14–50°. For narrow-spot needs, a Fresnel lens can deliver 6° and 8° beams. Other optics can deliver diffuse effects and oval patterns.
In addition to varying beam, the luminaires can be equipped with 3000K-, 3500K-, or 4000K-CCT light engines. That flexibility enables the curators to deliver layers of light that enhance the visitor experience.
We've seen other museums utilize a single luminaire design widely. For example, we covered relighting of the Rijksmuseum using a customized luminaire from Philips Lighting (now Signify) back in 2013. But the Guggenheim project is different in the way the same luminaire is adapted to different roles.
Zumtobel also has said that the Spanish Guggenheim project is employing Bluetooth technology to simplify maintenance of the installation. We'd presume that the implementation uses Bluetooth Mesh to control the luminaires. We have asked Zumtobel for more information as to how Bluetooth is utilized. For example, we've written about how startup LensVector can dynamically vary beam patterns under Bluetooth control. We will update this article as we learn more about the installation.
Optics make a huge impact in all LED lighting products. At Strategies in Light 2020, Zemax's Bob Householder will lead a tactical workshop on LED optics and how to leverage software tools for design. Learn more at strategiesinlight.com.