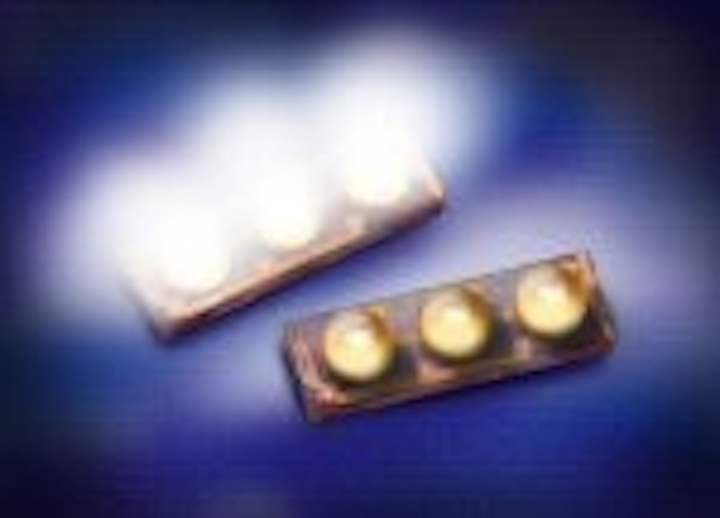 Introduction:
LEDs in Mobile Appliances
Latest
Nokia sees increasing LED usage in mobile phones (Jun 06)
LEDs are helping phone makers such as Nokia to add new functions to their phones, leading to increased shipment volumes and further innovation.
Harvatek unveils "industry's thinnest" SMD LED (Jun 06)
LEDs in mobile handsets face competition and shift in emphasis (Mar 06)
Mobile phone handsets still represent the largest segment of the high-brightness LED market, and camera flash represents an exciting emerging application. However, as Tim Whitaker reports, competition is stepping up from EL, xenon and OLED technologies.
Selected Features
Handset LEDs: camera phones offer bright spot in tumultuous cellular handset market (Dec 05)
Cellular displays go hi-res
An article from Optrex America published in CommsDesign describes the development of high-resolution displays for mobile appliances.
Implementing LED flash in camera phones
Several thermal, optical, mechanical and electrical crtieria should be considered when designing an LED flash for a camera phone, according to Yeoh Boon Keng, Ko Choon Guan, and Shereen Lim of Agilent Technologies.
Cell phone developments drive HB-LED sales
A report from the 2004 Strategies in Light conference on the market for HB-LEDs in mobile phones.
Selected News
CAP-XX supercapacitors power super-bright LED flash (Mar 06)
An Australian company has unveiled its BriteFlash power architecture for high-resolution LED flash in camera phones.
Falling LED revenue from handsets offset by camera flash (Dec 05)
Cellular handset backlighting and keypad LED revenues will tumble by 41% by 2009, but this will be offset by 87% growth in the camera flash segment.
Orange Agilent LEDs enable auto-focus auxiliary LED flash
Agilent's orange LED replaces IR emitters in digital still cameras for auto-focusing in low-light conditions at distances up to 3m.
Minebea develops new LED backlight system with Nichia
Minebea has developed an LED backlight system for LCD screens used in mobile phone handsets, in cooperation with Nichia.
Epson and Toshiba unveil LED-based projectors
Mobile phone sales could exceed one billion units in 2009
Samsung Electro-Mechanics launches 1.2 cd white LED
Strong growth in demand predicted for handset LEDs The number of LEDs used in mobile phone handsets will grow at a CAGR of nearly 22%, according to Taiwan's Science & Technology Information Center (STIC).
LEDs provide light messaging on Nokia 3220
Nokia's new 3220 camera phone, unveiled at a snowboarding festival in Greece, features an innovative use of LEDs to provide a messaging function.
Selected Products
SSC unveils world's slimmest LED for cellphone LCD backlighting
Agilent announces industry's thinnest top-firing tricolor LED
Cree introduces two new LED chips
American Bright introduces MegaFlash SMT LED
Agilent introduces tricolor LEDs for backlighting phones and PDAs
BivarOpto introduces right angle SMD LED indicator
Osram announces Micro SideLED with integrated ESD protection
Cree's new XThin chips target white backlighting applications
Osram Opto creates tiny point LED source
Osram Opto Semiconductors has introduced a 2-mm diameter PointLED with an efficacy of 38 lm/W.
White LEDs from Lumileds improve functionality of phone flashes
Lumileds has released a white LED product specifically targeted at the mobile phone camera flash-lamp market.
Toyoda Gosei unveils 1,000 mcd white LED for backlighting
Japanese LED manufacturer Toyoda Gosei has developed a white LED that is almost twice as bright as existing versions.