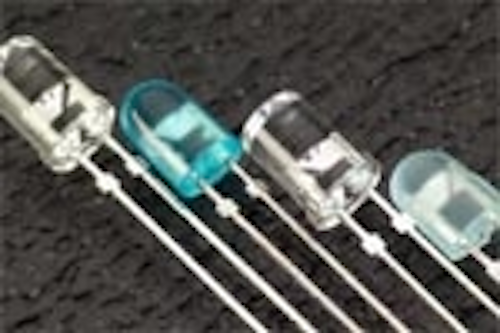 Updated September 2006
Latest
Photonic quasicrystals boost LED emission characteristics (Sep 06)
Tailored photonic quasicrystal structures can help to efficiently extract light from LEDs and place it into a desired emission profile, according to Majd Zoorob and Gregory Flinn.
Philips plans Lumileds LED plant in Singapore (Sep 06)
A new Philips Lumileds wafer fabrication facility will enable the company to double its output of high-power LEDs.
Cree EZBright power LED chip doubles output (update) (Sep 06)
Cree's latest power LED chip has twice the radiant flux of its current products, offering up to 370 mW at 350 mA in blue.
AlN substrate specialist Crystal IS raises $10.6 million (Sep 06)
A second investment round led by Lux Capital has raised $10.6 million for the leading supplier of native aluminum nitride (AlN) substrates.
Seoul Semiconductor's 75-lm LED offers superior reliability (Sep 06)
Seoul Semiconductor(SSC), a market leader in LED packages, has introduced the new Z-power LED series, P2, with super brightness and high reliability.
US research team aims to close the "green gap" in LEDs (Aug 06)
A team of US researchers has received $1.8 million in federal funding to improve the energy efficiency of green LEDs.
Introductory Articles
Multi-watt LED light engines offer challenges and opportunities
Multi-watt class LED array light engines are emerging as viable replacements for current light sources. As Gareth Jones of Enfis describes, this brings new opportunities for application developers, as well as challenges for systems designers.
Selected Features
LEDs lighting the future: Q&A with Biing-jye Lee, president of Epistar (Dec 05)
In an interview conducted with DigiTimes.com, Epistar president BJ Lee talks about Taiwan's LED industry, the future demand for LEDs, competition from China and Korea, and his company's merger with UEC.
LED manufacturers reveal performance records, new high-power products
Several LED manufacturers discussed recent performance advances at the recent Intertech LEDs 2004 conference in San Diego, at the same time as others entered the high-power LED market.
LED manufacturers increase production capacity
With its recent announcement that it will make huge investments in its production capacity, Cree has become the latest in a list of rival LED manufacturers that plan to expand.
LED licensing agreements and patent disputes
In the past several years, LED manufacturers have announced a wide range of patent licensing deals, but also continue to become embroiled in legal disputes.
Start-up produces blue LEDs using 'dismissed' technique
The Fox Group has developed a hydride vapor-phase epitaxy technique that produces medium-brightness blue LEDs, based on AlGaN/GaN structures, at a low cost (Compound Semiconductor magazine, August 2004).
Korean manufacturers focus on white LEDs
A fall in the price of blue LEDs used in handset keypad backlights means that Korean manufacturers are looking to white LEDs and applications outside the cell phone market. Hordon Kim reports (Compound Semiconductor magazine, June 2004).
SUVOS pushes UV LEDs and lasers to shorter wavelengths
In just two years, DARPA's Semiconductor Ultraviolet Optical Sources (SUVOS) program has made 280 nm LEDs a reality, demonstrated prototype UV biosensor and communication systems, and yielded lasers operating below 350 nm (Compound Semiconductor magazine, May 2004).
Osram Opto extends thin-film technology
Osram Opto Semiconductors has developed a new approach to increase extraction efficiency that does not rely on sidewall emission, and allows the luminance to be scaled with chip area. One result is the development of 618 nm devices with an efficacy of 98 lm/W.
Mirror adhesion technique boosts LED chip brightness
Donald Huo and colleagues from Epistar Corporation describe a new mirror adhesion technique for producing high-brightness and high-power AlGaInP LED chips (Compound Semiconductor magazine, December 2003).
Selected News
Osram unveils enhanced thin-film chip technology (Dec 05)
Osram Opto Semiconductors has revealed details and perforamnce data for its most advanced Thin Film chip technology.
Everlight buys Fairchild LED product lines (Jan 06)
The US subsidiary of Everlight has purchased the LED and LED display product lines of Fairchild Semiconductor.
Agilent semiconductors group becomes Avago (update) (Dec 05)
Avago Technologies, a new company comprising the former Semiconductor Products Group of Agilent, is unveiled today.
LED makers: Showa Denko, KoBrite, SemiLEDs, Lumileds
Showa Denko has introduced a 500 mcd green LED chip, SemiLEDs has developed a novel device structure, KoBrite is to open its new factory in China, and Lumileds is transferring more of its production to Malaysia.
Cree reports $85 million in quarterly LED sales
For the first time, Cree has broken the $100 million barrier for quarterly revenue, with more than 80% coming from LED sales.
Syntricity software selected by Lumileds for yield management
Lumileds Lighting has signed a multi-million dollar three-year contract with Syntricity, Inc., a supplier of yield management software, for Syntricity's dataConductorEP(TM) 5.0.
ERATO program funds new GaN material development
A project headed by Shuji Nakamura has developed nonpolar and semipolar GaN material, which could provide major advantages for GaN-based LEDs.
Philips takes control of LED maker Lumileds
As Agilent sells off its semiconductor business, Philips is to acquire Agilent's share of the Lumileds high-power LED joint venture.
Taiwanese LED makers Epistar and UEC to merge
After absorbing fellow LED maker UEC, Epistar hopes to see considerable sales growth.
Cree breaks LED revenue record once again
Cree has posted record annual sales of $389 million, marking a 27% increase over the fiscal 2004 figure.
Dominant plans to double LED capacity by October 2005
Malaysian LED manufacturer Dominant Semiconductors plans to double its output of PLCC products to 100 million units per month.
Cree and Osram Opto sign three-year chip supply deal
Cree has extended its LED chip supply agreement with one of its largest customers.
Rumors suggest impending sale of Agilent semiconductor group
Agilent is reportedly looking for a buyer for its semiconductor group, which includes its LED business and its share in Lumileds.
News in brief: Cree, Cotco, Philips, Future, Lumileds
Cree has a new distributor, Philips and Future have signed a major distribution agreement, Lumileds has won an award for its backlights.
LED makers in Korea branch out into new markets
Falling prices for LEDs used in mobile phones has resulted in a shift in emphasis to next-generation products.
Cree's revenue just below the $100 million mark (update)
Nichia targets LED sales of nearly $2 billion by 2008
LED industry in Taiwan set to grow by 16%
The rate of growth of Taiwan's LED industry is predicted to be lower in 2005 than last year, but will still be a healthy 16%.
Lumileds Future Electronics improves access to Luxeon technology
VS Optoelectronic to distribute Cree XLamp LEDs
Tridonic and Toyoda Gosei sign joint venture agreement
A new European-based alliance will develop technology for high-power white LEDs for general lighting applications
News from Japan: Toshiba, Stanley and Moriyama
Agilent and Lumileds introduce automotive SMT LEDs
Osram Opto creates tiny point LED source
IP thieves beware, warns Lumileds
Kopin sets up InGaN joint venture in Asia
Seoul Semiconductor unveils LED for AC technology
III-N Technology unveils single-chip power AC-LEDs
South Korea's LED industry makes great strides
Nichia sales may top $2 billion, Lumileds shows strong growth
While Nichia's sales for 2004 are expected to top $2 billion, Lumileds has shown 43% sales growth over the last 3 years.
Taiwanese chip makers expand, introduce new products
News from Taiwan suggests continued expansion among high-brightness LED chip makers and packaging companies, according to the DigiTimes website.
Cree's five-year expansion plan calls for $300 million investment
Nichia cuts InGaN deal with OptoTech (6 August 2004)
Cree and Sumitomo sign $160m LED contract
Osram's red LED tops 100 lm/W output
Selected Products
New Wave Research system scribes 10 LED wafers per hour (Jul 06)
Highlink Technology gains GaN capacity with 2 more Aixtron tools (Jun 06)
Asian LED makers order GaNzilla II machines (Jun 06)
Cree introduces EZBright LED chip platform (Mar 06)
Showa Denko launches GaN-based near-UV and green LED chips
360nm UV LEDs now available from Fox Group
Vishay introduces ultra-bright AlInGaP LEDs
Cotco's TPG green LEDs deliver up to 46,100 mcd
LEDtronics announces low profile, right-angled SMT LEDs
Agilent shipping hundreds of millions of lead-free LEDs
Cotco's TBL blue LEDs maximize extraction efficiency
Pacer offers high-speed, high-power LEDs
Toyoda Gosei unveils white LED with 1,000 mcd brightness
Ultra-miniature SMD LEDs from Vishay offer 13-80 mcd luminous intensity