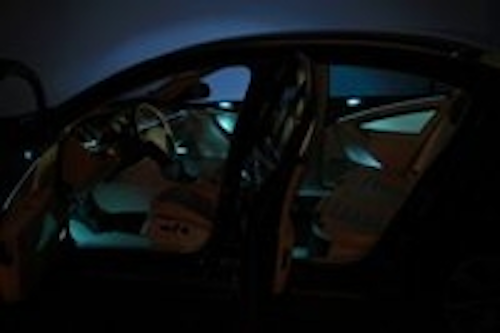 Ambient LED lighting is becoming increasingly popular in the automotive industry, and car manufacturers are using it as a differentiator to enhance the driving experience. The use of LED technology enables OEMs to emphasize their car brand via the color and styling of the interior lighting, while car dealers can offer consumers the option of customizing the lighting settings.
NXP Semiconductors, the Eindhoven, Netherlands-based semiconductor company, has introduced a new compact integrated product that supports cost-efficient and flexible LED ambient lighting applications in vehicles.
The video at the bottom of this page explains the operation of a typical communication network within a vehicle and how it can control the various LED modules, enabling them to change color, dim or perform other functions.
The UJA1018 is designed for LIN networks (Local Interconnect Networks) and is the first ASSP (Application Specific Standard Product) for ambient lighting with Node Position Detection. This enables LIN addresses of LED modules to be individually programmed and configured after being installed in the car.
Currently, interior LED modules are programmed during the module manufacturing process. The approach enabled by NXP's new product offers new levels of flexibility while drastically reducing manufacturing logistics and costs.
Herbert Wambsganss, head of development at Hella Interior Lighting Systems commented: "The UJA1018 enables Hella to introduce a very compact LED ambient lighting solution that fits every interior location. The Node Position Detection by means of the integrated LIN switch allows configuration of each ambient lighting module once mounted in the car. Thus, all modules in the car can be kept the same, which allows a high level of reuse and greatly simplifies the logistics."
UJA1018 details
The UJA1018 integrates all analog functions to create a compact ambient-lighting solution, including LIN transceiver, LIN switch for Node Position Detection, voltage regulator for microcontroller and drivers for 3-color LED. In addition, the compact HVSON package enables the creation of small form-factor modules. The UJA1018 fulfills the robustness requirements from the OEMs and also meets the SAE J2602 and LIN conformance.
"With the UJA1018 and its unique Node Position Detection technology based on LIN switch, NXP enables car OEMs to offer personalized ambient-lighting solutions to end consumers. At the same time it saves system costs and simplifies logistics for both OEMs and Tier1 suppliers", says Toni Versluijs, general manager of In-Vehicle Networking, NXP Semiconductors. "This underpins our leadership position as the de-facto In-Vehicle Network solution provider and our commitment to connect the car in present and in future".