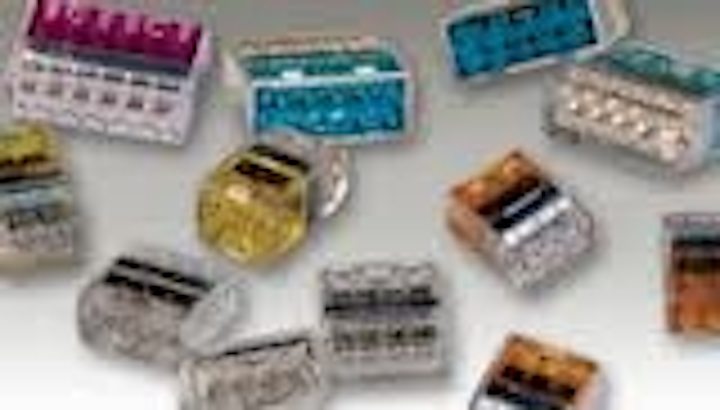 Pre-insulated wire connectors address the need for cost-effective insulated electrical terminations HARRISBURG, Pa. – TE Connectivity (TE), a world leader in connectivity, introduced its PUSHGRIP wire connectors and SNAP-N-LOK wire connectors, expanding its line of general purpose and specialty connectors for building controls, LED lighting and building equipment. The wire connectors address the need for cost-effective, insulated electrical terminations in the OEM assembly and installation markets. TE's wire connectors are designed for use in almost every type of residential and commercial application where multiple wires are connected, including HVAC, lighting, fire security, building equipment and building automation and controls. The PUSHGRIP wire connectors are rated at 600 volt max. for building wiring and 1000 volt max. in lighting fixtures/luminaries and signs, and accept solid and stranded conductors from 22 AWG - 12 AWG. They are made from polycarbonate (PC), flame-retardant materials to UL 94-V2 or UL 94-V0, and offer a working temperature of 105 degrees Celsius. PUSHGRIP wire connectors are color-coded for easy identification, and their compact size is perfect for tight spaces. A test slot in front permits easy voltage testing. The SNAP-N-LOK wire connectors are a quick and simple single-piece connector solution for underground electrical systems. They are pre-filled with a water-resistant sealant for moisture and corrosion protection, and require no special tools for installation. SNAP-N-LOK wire connectors are available in three connector sizes for simple installations ranging from #20 - #10 AWG solid or stranded wire combinations. For more information on TE's wire connectors, contact the Product Information Center. TE, TE Connectivity and the TE connectivity (logo) are trademarks of the TE Connectivity Ltd. family of companies. Other products, logos, company names mentioned herein may be trademarks of their respective owners. About TE Connectivity TE Connectivity (NYSE: TEL) is a $14 billion global technology leader. Our connectivity and sensor solutions are essential in today's increasingly connected world. We collaborate with engineers to transform their concepts into creations – redefining what's possible using intelligent, efficient and high-performing TE products and solutions proven in harsh environments. Our 80,000 people, including 7,500 design engineers, partner with customers in over 150 countries across a wide range of industries. We believe EVERY CONNECTION COUNTS.
Contact:

Megan Brownrigg - TE Connectivity
+1-717-986-7227
E-mail:

Web site:

www.te.com

Locate more connector & cabling vendors in the LEDs Magazine Suppliers Directory
Submit new products, case studies/projects, and other press releases at http://www.ledsmagazine.com/content/leds/en/addcontent.html and http://www.ledsmagazine.com/content/leds/en/iif/add.html.
More from TE Connectivity:
TE Connectivity showcases solid-state lighting interconnect products at LFI 2015
TE Connectivity's Lumawise LED holder integrates electrical, thermal and optical connectivity for COB fixtures