STG Aerospace wins LED cabin mood lighting contract with Thomson Airways
Jan 20th, 2015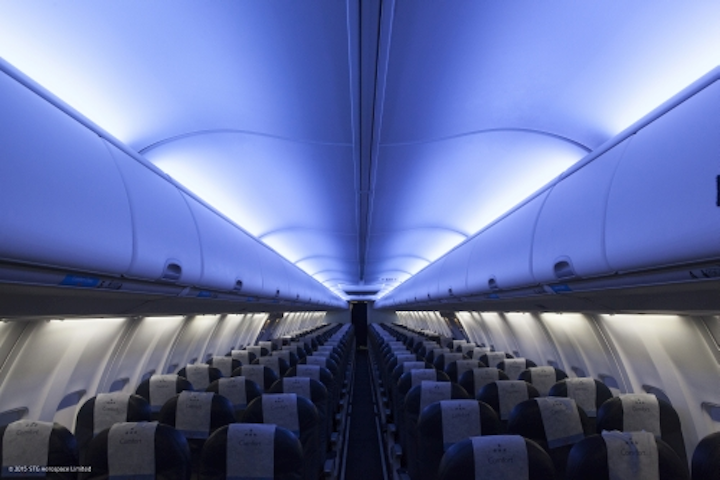 Aircraft cabin lighting specialists, STG Aerospace, has been awarded a retrofit programme with the UK's largest leisure airline, Thomson Airways.

The contract will see STG Aerospace retrofit nine of Thomson's Boeing 737NG fleet and fourteen of its 757 fleet with liTeMood®, a true plug-and-play programmable blue/white LED mood lighting system designed specifically to retrofit commercial aircraft cabins.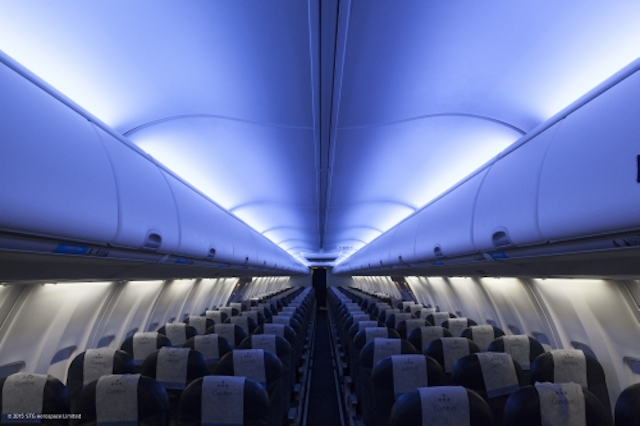 STG Aerospace wins LED cabin mood lighting contract with Thomson Airways

liTeMood® offers airlines a cost effective, versatile and controllable solution to bring existing non LED equipped aircraft cabins up to the same quality standard as brand new aircraft helping them achieve impactful brand differentiation.

Quick and easy to install, liTeMood® is a cost-effective upgrade for airlines seeking to improve passenger experience and increase yields across its fleet. It features significantly increased reliability over traditional lighting systems, thereby reducing ongoing maintenance costs and also delivers important environmental benefits. Not only is liTeMood® up to 40kg lighter than original-fit fluorescent lighting, it also consumes 70% less power, increasing both the aircraft's fuel and electrical efficiency.

The cabin environment has also been a key consideration in the products design. Incorporating the latest research into the effects of ambient lighting, liTeMood® has been developed to significantly enhance the cabin ambience and the passenger experience.

Marcus Williams, Director of Sales & Marketing at STG Aerospace, commented:
"We're thrilled to be the LED lighting of choice, for Thomson Airways. This retrofit programme expands our liTeMood® product range across even more aircraft and shows that STG Aerospace is leading the way, not just in photoluminescent technology, but in all aspects of cabin lighting."

liTeMood® is currently available for retrofit on 737NG and 757 aircraft, with further developments in progress including 767 and A320.

About STG Aerospace
Twitter: @STGAerospace
Established in 1995, STG Aerospace is a world leader in lighting technologies for commercial and military aircraft interiors. Its products are currently installed in over 9000 aircraft representing one third of the world's passenger fleet.

The company's product range includes: safTglo®, the pioneering and market-leading photoluminescent emergency floor path system; safTsign™, the leading brand of photoluminescent emergency and informational signage developed for commercial and military fixed-wing and rotary aircraft; liTeMood®, a plug-and-play programmable blue/white LED Mood Lighting system designed specifically to retrofit commercial aircraft cabins.

STG Aerospace has preferred supplier status with Boeing, Embraer, BAe Systems, Fokker and Saab among many other aircraft manufacturers and can also count hundreds of airlines, lessors and MROs among its customers.

Privately-owned, STG Aerospace has its Headquarters and UK manufacturing facilities in Norwich, an engineering office in Wales and an office with further manufacturing facilities in Miami, serving the US market.
Contact:

STG Aerospace
+44-(0)844-822-1658
E-mail:

Web site:

Submit new products, case studies/projects, and other press releases at http://www.ledsmagazine.com/content/leds/en/addcontent.html and http://www.ledsmagazine.com/content/leds/en/iif/add.html.