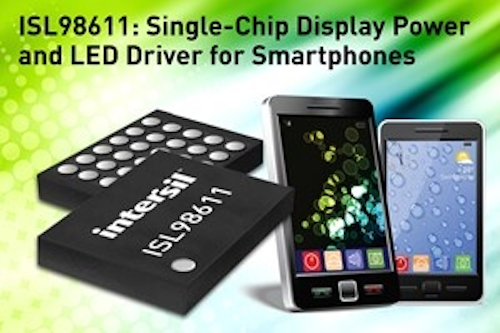 The power-management IC can increase smartphone life by an hour or more through more efficient power conversion enabled by integration while also improving the screen appearance.
Intersil has announced the ISL98611 display power and LED driver IC for mobile devices including smartphones. By combining the power-conversion functions for two separate subsystems in a mobile device, Intersil says the new IC can increase battery life by an hour or more while also delivering better display fidelity.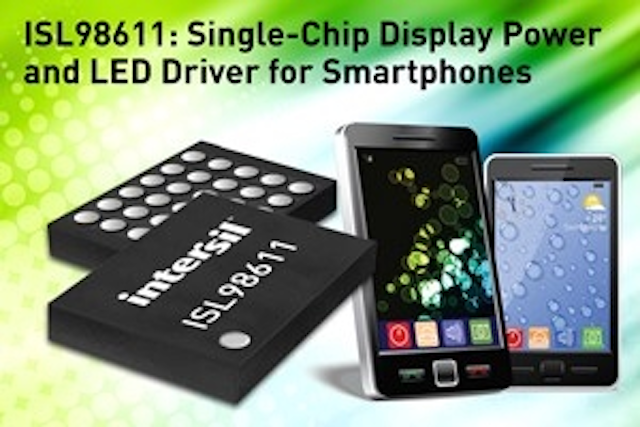 Intersil combines LED driver and display power functions for mobile screens
The IC includes DC-DC converters that can generate 5V and -5V power supplies for the display. The boost-mode regulator operates at 88% efficiency when delivering 15 mA.
Related article: STMicroelectronics and Semtech introduce LED backlight drivers
Meanwhile, the IC also includes a boost-mode current regulator with three separate channels to drive as many as three separate LEDs or LED strings. The company said the LED driver operates with 93% efficiency, and asserts that level represents a 7% advantage over competitive products.
It's the combination of efficiency in both converters that leads to the system-level battery life benefits. "With each new product generation, smartphone designers are challenged to add more features, reduce size, and extend battery life," said Andrew Cowell, senior vice president of Intersil's mobile power products. "The ISL98611 delivers the integration, extended battery life, and display image quality improvement our customers want in their next-generation smartphone design."
Related article: Matching driver design with LED backlight scheme optimizes energy savings

The improvements in the image quality on the screen come with consistent current control over the three channels and also a unique dimming implementation. The IC matches current within +/-2.2% down to 1 mA. The IC can dim the LED linearly, using pulsewidth modulation (PWM), or uses a hybrid of the two approaches. Intersil says the result is better display color consistency and no white LED color shift at low light levels.