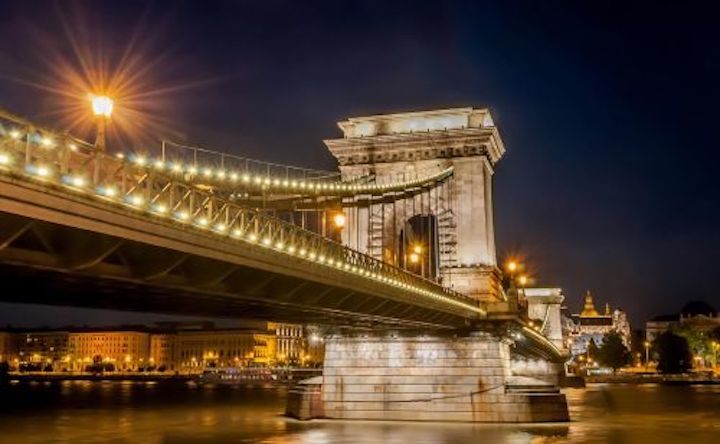 LEDs Magazine contributing editor Mark Halper connects the dots and concludes that Chinese-owned, London-based Feilo could step in as a new owner, via Hungary. Halper explains the details on our blog.
With word spreading anew that General Electric is preparing to sell its lighting division, it is looking like Chinese-owned, London-based lighting company Feilo Sylvania could step in as a new owner in some capacity, with a Hungarian connection.
As LEDs has mentioned several times over the last couple of years (here, for example), GE appears interested in selling GE Lighting, the conventional arm of its lighting business. That likelihood picked up considerable attention after the Wall Street Journal reported that GE is actively shopping the unit. LEDs' sister publication Lux was among the many publications to sensibly take note soon after the WSJ report. The symbolism of bulb inventor Thomas Edison's company jettisoning the business is noteworthy in its own right.
Cleveland-based GE Lighting handles the older portion of GE's lighting business — bulbs, for example — something it has continued to do even after GE formed its newfangled, Boston-based "Current, powered by GE" division in October 2015 to sell Internet of Things (IoT) LED lighting systems and other connected energy devices to commercial users. As everyone knows, IoT lighting and the services and data that go along with it might well represent the lighting industry's future. The future is certainly not in bulb sales — not in a world that is rapidly moving to LED light sources that purportedly last for decades and deprive the industry of its longtime business model of selling replacements every 18 months or so.
So how do we get from that reality to a GE, Feilo Sylvania, and Hungarian connection?
By connecting the dots.
One of the most important outposts in GE Lighting is Hungary, which houses GE bulb factories, and where Budapest serves as the hub for GE Lighting's Europe, Middle East and Africa (EMEA) operations. GE Lighting's website currently lists seven factories in the country making bulbs, components, fixtures, wires, glass, ceramics, filaments, machinery, and other things. One of the plants, in the city of Nagykanizsa, made headlines for hitting a milestone in LED production two years ago.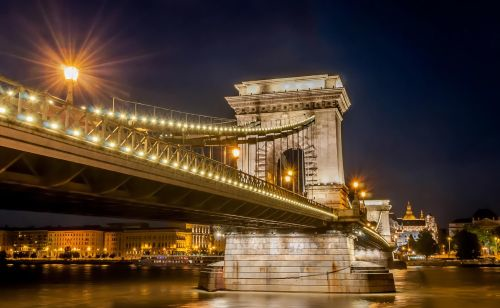 As reports surface again that GE Lighting is for sale, could Feilo Sylvania buy?
Feilo Sylvania could be moving some operations to Budapest, while GE reportedly looks for a buyer for GE Lighting, which has considerable operations in Hungary. Are the two moves linked? Above, Budapest's iconic Széchenyi Chain Bridge over the Danube River. (Source: The Photographer via Creative Commons/Wikimedia.)
Late last year, GE was laying off around 300 lighting plant employees in Hungary, as the Budapest Business Journal reported via news agency MTI. Those layoffs actually came from the Current division. "Back in November, we informed some employees in Hungary that we were making strategic organizational changes to help reduce costs and drive more focus throughout the business," a Current spokesperson confirmed for me late last week. "We worked with the applicable works councils in the region and have since completed those actions."
Meanwhile, in London, sources say that Feilo is getting ready to move some of its headquarters staff to Budapest. Hmmmm. Double hmmmm, because in December, around the time of GE's Hungarian layoffs, Feilo also announced that it is closing its factory in Tienen, Belgium, implying that it would seek lower-cost locations. Could that mean Hungary — where the right lighting factory or two or seven might already conveniently exist, including space dedicated to the sort of smart lighting that Current focuses on and that Feilo values? Yes, it could.
Feilo has other low-cost location options, of course, especially given its Chinese ownership — China's Feilo Acoustics Co., Ltd. took ownership in late 2015 by buying 80% of the former Havells Sylvania, an Indian company.
Wherever Feilo next sets up shop or expands production — and Hungary looks like a good guess — it would presumably not use the factory to merely crank out bulbs. Feilo makes luminaires under the Sylvania, Concorde, and Lumiance brands, and has ambitious plans to outfit its wares with IoT technology. For example, coincidentally or not, both Feilo and GE's Current have been using IoT chips from Organic Response, which is now called OR and which Sweden's' Fagerhult Group acquired this past week.
Whereas Current seems possibly uninterested in building its own luminaires — it has articulated a strategy that relies heavily on partners — Feilo looks set to carry on with at least a certain amount of its own production.
So a Feilo role in acquiring at least some of GE Lighting makes sense. It won't cost Feilo a bundle. According to WSJ, GE Lighting will go for around $500 million. That's coins in the sofa in today's world that values data much more than things — we're barely three years removed from when Facebook acquired a data operation called WhatsApp and its 55 employees for $19 billion in a move centered largely around the potential of data. If any acquirer of GE Lighting can parlay the acquisition into cranking out data-collecting light fixtures that generate data-related revenue, then it could well have a sweet deal.
Neither GE nor Feilo would comment on a sale or acquisition they might be discussing together. Such a transaction would mark the second time this year that Chinese buyers would pick up a venerable lighting outfit, following Osram's sale of its LEDvance lighting division to a trio of Chinese companies last month for around $529 million.
GE Lighting also declined to comment in general on any possible sale of the company. "GE does not comment on rumor or speculation," a spokesperson said.
Call it a rumor. Call it informed speculation. But whatever you call it, consider GE Lighting wholly or partially selling to Feilo Sylvania to be plausible. Something seems to be happening that will connect the two entities in some way. If we are right, remember where you heard it first. If we are wrong, we're not promising to eat our hat anything. Maybe just a little crow. With a dash of paprika.
MARK HALPERis a contributing editor for LEDs Magazine, and an energy, technology, and business journalist (markhalper@aol.com).
Note: The views expressed herein are those of the author and do not necessarily reflect those of LEDs Magazine.
*Updated Apr. 12, 2017 at 1:47pm.