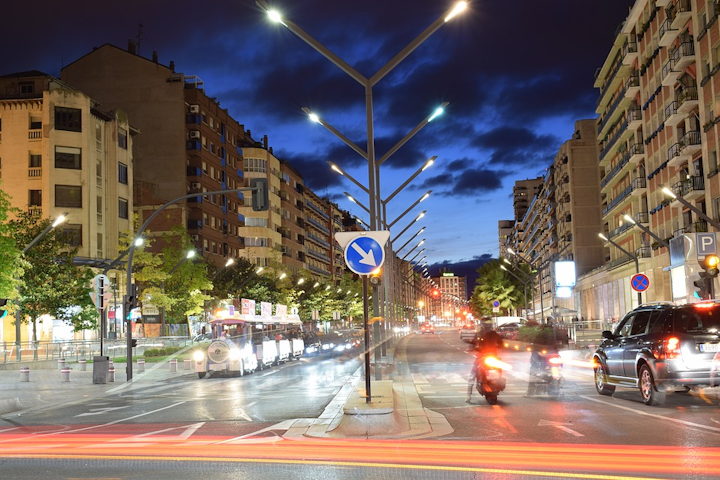 As always, the Illuminating Engineering Society (IES) Street and Area Lighting Conference (SALC) featured a broad array of presentations focused on improving the nighttime lit environment, leveraging connected and smart lighting technologies, the importance of sensors, and even the impact of LED lighting on crime in cities. But the Sept. 22–25 event that took place in San Diego, CA will also be remembered for a capitalistic undercurrent where municipalities and utilities that own street-light poles have realized that those poles represent valuable assets and provide the potential for new revenue streams — streams that may or may not have anything to do with lighting. And yes, of course the Internet of Things (IoT) was a steady mention, although many presenters are trying to figure out exactly what the IoT is.
We've published a feature article on SALC most every year going back more than a decade. During a couple of years, conflicts with other events prevented us from attending, but for the most part we have seen this event steadily embrace and pursue the concept that smart and connected solid-state lighting (SSL) systems could also host other applications ranging from monitoring parking to gunshot detection to improving traffic flow. The common theme has mostly been  install a network and control system that delivers additional savings relative to the operational costs of street lighting — and then try and use that network for other things.
The above scenario has and is happening. But the path forward is changing. We noted the change in a story on a Portland, OR trial of networked-camera-centric technology back in the summer of 2018. The smart-camera–enabled nodes were mounted adjacent to the luminaires on poles, but they relied on a dedicated, high-speed, wireless network separate from street light connectivity. It was the ubiquitous pole that was the important asset that provided reliable power and a bird's-eye view for cameras and other sensors. That trend has grown, as we will discuss in a moment, and even advanced where pole owners have a bit of a gold-rush mentality as to how to monetize poles such as in hosting 5G small cell infrastructure or even Wi-Fi.
America's Finest City
As tradition would have it, the first speakers to take the podium on Monday morning at SALC were from the host city of San Diego. Erik Caldwell, deputy chief operating officer for the city, welcomed the crowd. We had previously interviewed Caldwell about his role in the installation of camera-enabled smart nodes on street light poles in San Diego. At SALC, Caldwell spoke more in an ambassadorial role touting the virtues for what locals have long called "America's Finest City."
Caldwell did mention the many contributions the city has made to technology over the years, starting with aerospace and including Qualcomm as a key innovator in mobile communications and Cubic for its work in mass transit. When we had previously interviewed Caldwell about the camera nodes on street light poles, he had downplayed their role in law enforcement, although he admitted that the cameras had been used to solve crimes. But Caldwell had told us that the police were not accessing the cameras routinely, only in the case of special requests for assistance in crime solving.
The keynote speaker who followed Caldwell to the podium was Captain Jeffrey Jordan of the San Diego Police Department, who serves on the staff of the chief of police, handling special projects and legislative affairs. Jordan covered some of the ground we had written about previously, including the fact that energy and maintenance savings from an early transition to LED street lights had enabled the city to pursue the smart-pole installations (Fig. 1) that include more than 3200 poles and that will reach 4000 or more soon.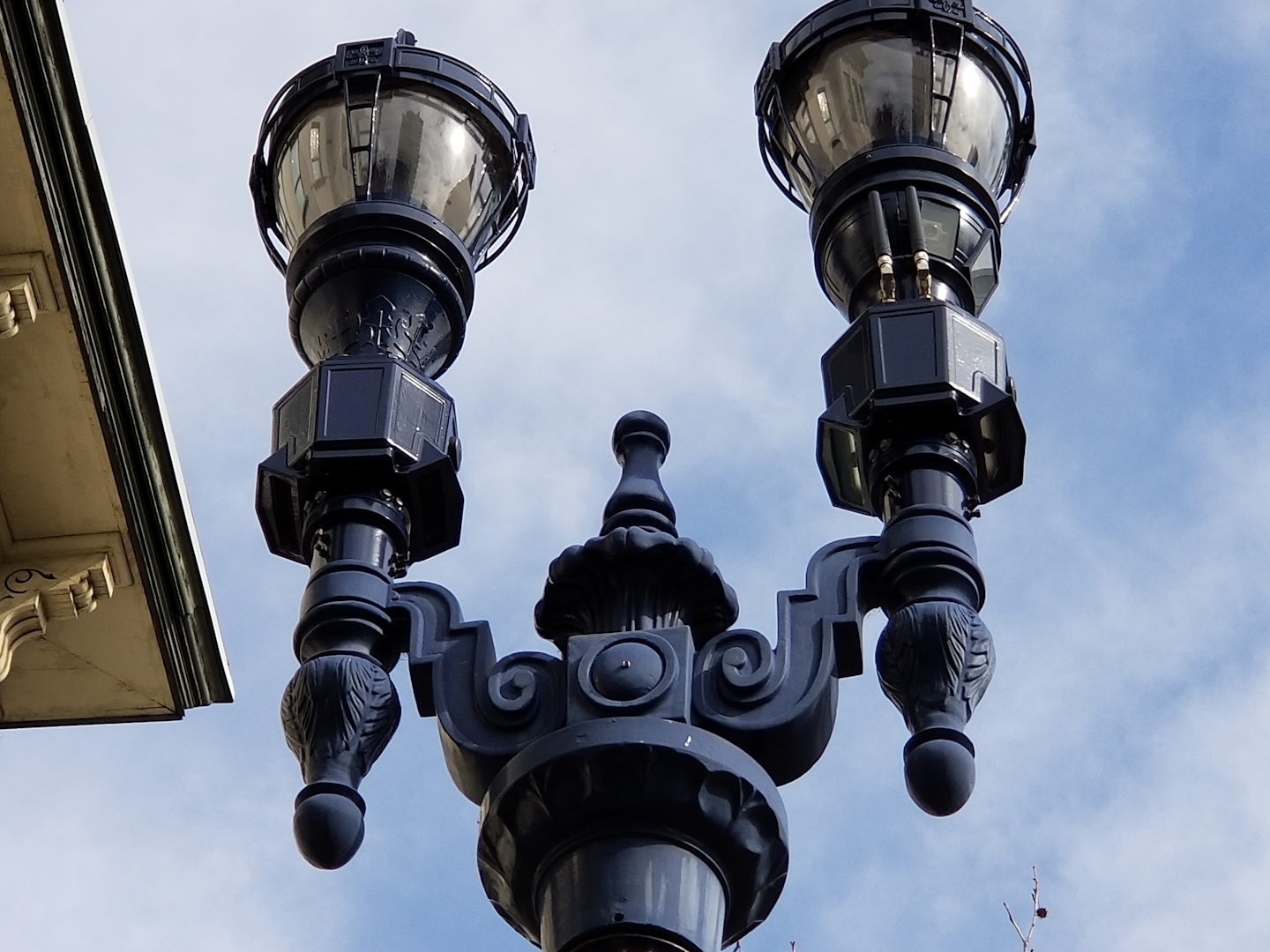 FIG. 1. More than 3000 street-light poles in San Diego, both decorative post-top and cobra-head, have wireless smart nodes with 360° cameras. (Photo credit: Image courtesy of Maury Wright.)

Precision policing
Jordan said the city is finding use cases for the data collected by the smart nodes across all city departments. The data goes beyond video including environmental data. But the cameras are enabling what Jordan termed precision policing as a peer of tools such as DNA testing and fingerprinting.
The police department is using the video and sensor capability in a manner that protects citizen privacy, according to Jordan. San Diego has drawn attention from the American Civil Liberties union (ACLU) relative to the cameras. But Jordan emphasized some points we made in our original article that the cameras do not capture footage on private property, the system is not utilizing face detection or capturing auto license numbers, and there is no audio recording.
Jordan said data from the system has been utilized in 164 active criminal cases over the period of one year. There were 35 homicide or attempted homicide cases. But the list includes more mundane things such as vandalism. The system has helped exonerate as well as convict suspects, including at least one homicide suspect that was cleared of that specific crime. And perhaps most significantly, the cameras can speed investigations and cut court costs. The expectation is that the system will also deter crime going forward.
Cellular opportunities
Now the San Diego smart nodes are using 4G cellular technology to transmit video and environmental data, whereas a previously-installed slower wireless scheme controls the luminaires. And many other municipalities have chosen cellular connectivity as the simplest path to smart street lighting. Looking forward, however, the municipalities and utilities are seeing dollar signs in cellular technology from a different angle.
A joint presentation by David Baum, director of business development at Valmont Industries, and Bryan Goldberg, director of small cell real estate at Verizon, provided a detailed look at how cellular technology is evolving and how street lights fit into the picture. The summary of their message is that 4G LTE technology has been a fantastic success delivering data rates that almost match wired broadband performance, and that 5G will build upon that 4G base but not supplant it for many years (Fig. 2). But 5G technology is a critical development in terms of opportunity for street light owners.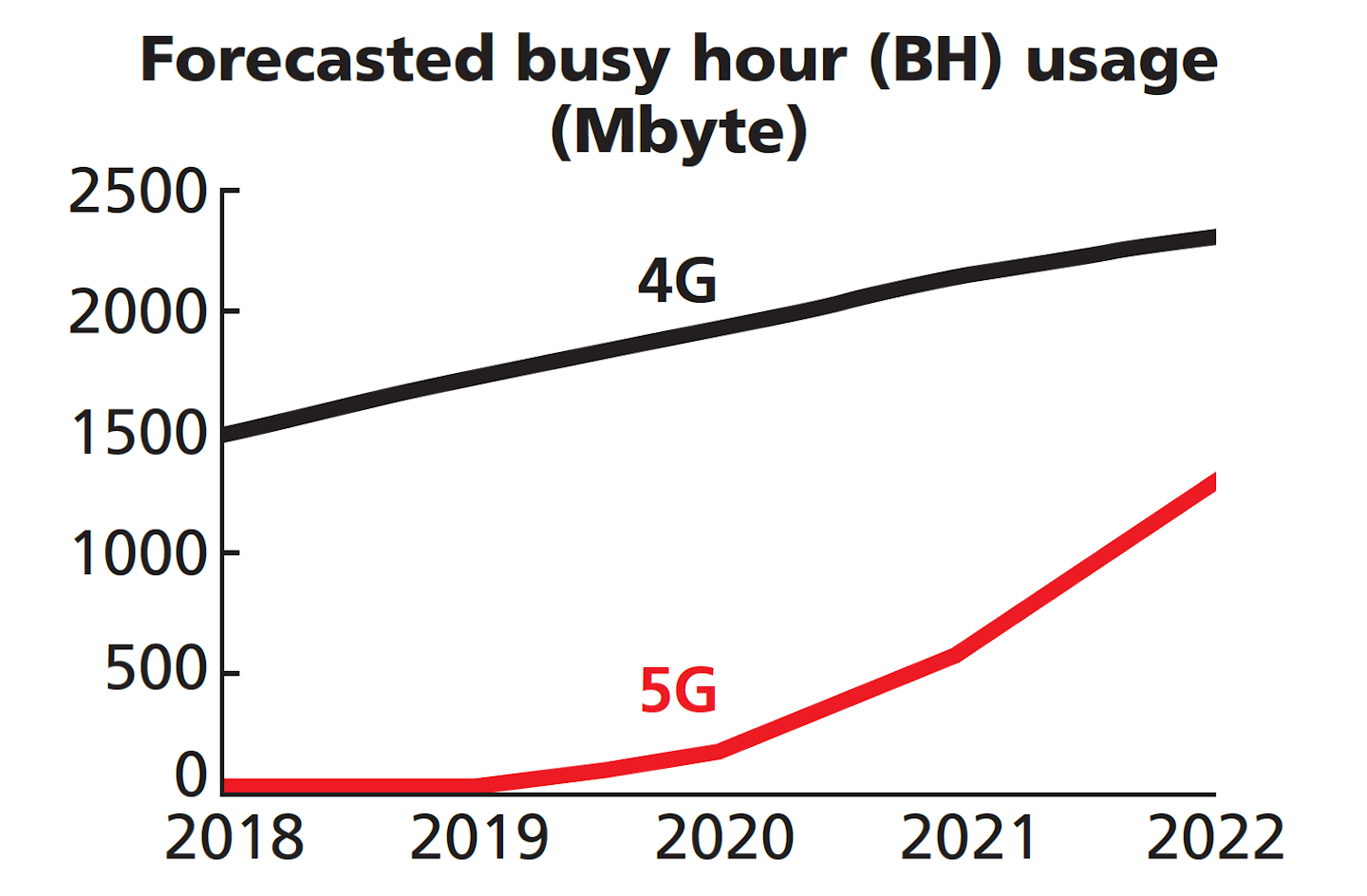 FIG. 2. The 5G rollout is garnering headlines, but in the near term the technology will rely on a 4G foundation, yet 5G small-cell technologies will open opportunity's door for street-light owners. (Image credit: Illustration courtesy of David Baum and Bryan Goldberg.)

Looking back, cellular technology has relied on relatively far-reaching radio towers typically mounted in high places that Baum and Goldberg referred to as "macro towers." Such towers would cover significant areas in, say, a city center. In 5G scenarios, small cells mounted much lower would cover much smaller areas. The small-cell approach allows more efficient reuse of spectrum and ultimately supports more users and/or faster data rates in a given area.
Moving to the smart pole
You can use a street light pole to host a 4G cell today, but the separate antennae and radio subsystems are bulky and the 4G system was not architected for such deployments. With 5G, much smaller integrated antennae and radio systems can, as the presenters said, "hide in plain sight." You might not even notice such a cellular access point on a street light pole, and the freedom of placing access points on street lights enables carriers to easily service areas where there is high demand. The cellular service provider would pay the street light owner a fee for using the pole.
Baum and Goldberg suggested that the move to locate 5G radios on poles will in fact create a smart-pole trend that enables other smart-city and IoT applications. The 5G sites will need fiber to the pole for backhaul in many cases. And the poles may need bulked-up power circuits. But such augmentation will enable pole owners to offer other services such as electric vehicle (EV) charging and even support for a transition to autonomous vehicles. And of course the list includes all of the other long-discussed smart-city applications such as parking services, environmental monitoring, gunshot detection, and more.
Utilities and municipalities
Meanwhile, municipalities and utilities will have to navigate paths to success, and the SALC audience got to hear from both constituencies. Carrie Kelly, smart services implementation manager at Georgia Power, provided insight from the utility perspective and as we've covered previously, the utility has aggressively installed LED luminaires with integrated wireless connectivity and controls. In our SALC article from 2015, we reported that the utility had found that the wireless connectivity combined with an integrated GPS function had made installation and commissioning a plug-and-play process, thereby easily justifying the added cost in the luminaire.
At SALC 2019, Kelly covered the history, noting that the utility set out in 2015 to retrofit 400,000 lights by 2020. She said 300,000 had already been installed. But she described the utility's bigger bet as the formation of a smart services offering as part of the lighting business unit in 2018. Kelly said the utility has collected 3.8 billion data points on traffic flows, environment, and parking. She said that parking and gunshot detection services offered by her organization are considered successes. The utility has also installed cameras on some poles and considers video-enabled case management — generally surveillance — a successful offer.
In 2018, Georgia Power also established what Kelly called a Colocation Platform for 5G cellular providers that includes fiber to poles. Kelly said the utility hoped to "monetize our vertical assets." But one year into the offer, the utility did not share details on any installations.
Kelly did discuss ways the utility is advancing its smart city technologies. For example, it has partnered in the Curiosity Lab at Peachtree Corners, GA north of Atlanta, along with other commercial organizations and academic institutions including Sprint and Georgia Tech. The lab has a 1.5-mi test track located in a 500-acre office park. Sprint is providing 5G services for the lab that is working on autonomous vehicle technologies (Fig. 3) and communications that support such scenarios. Smart street-light poles are involved in the research.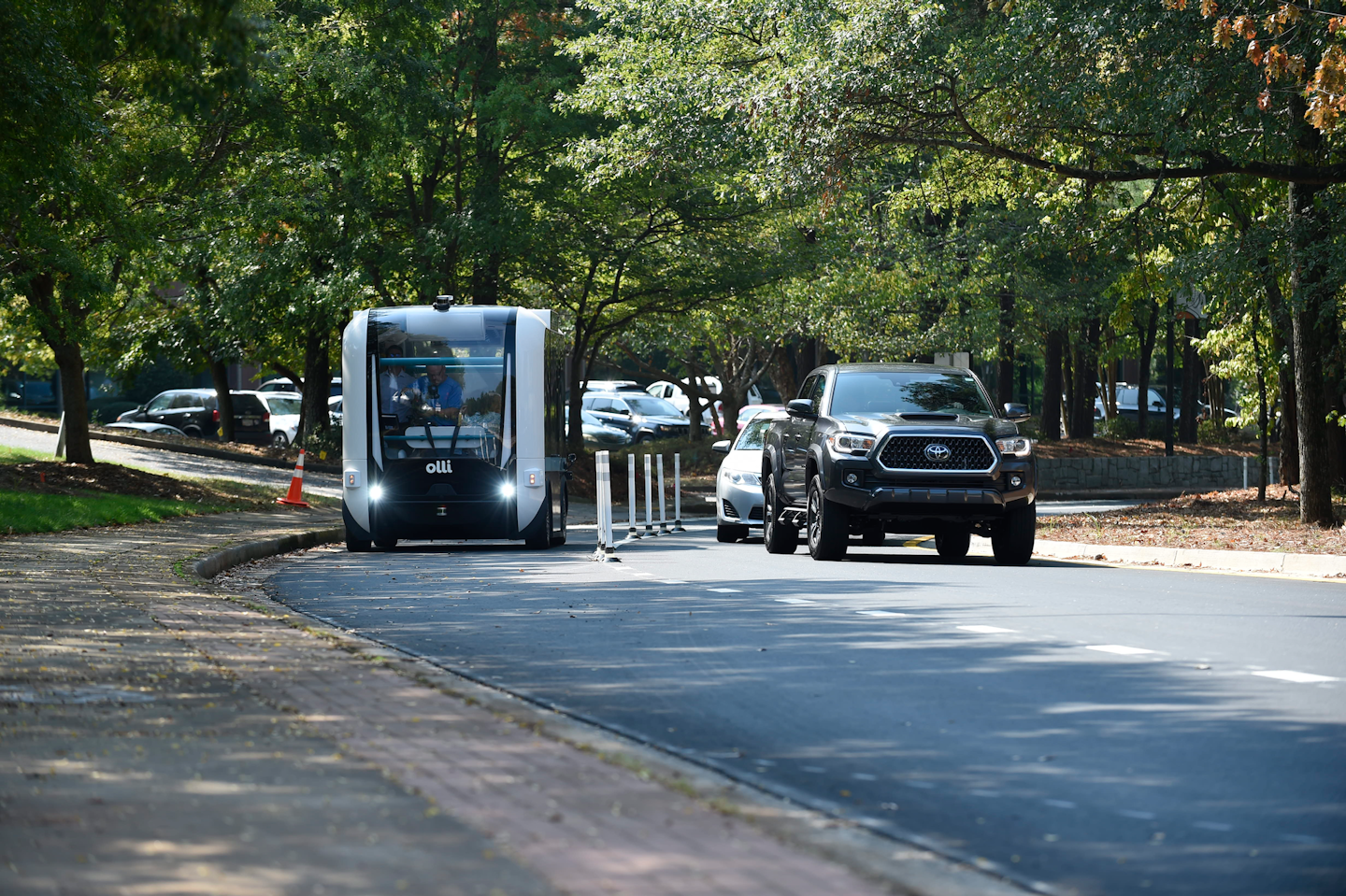 FIG. 3. An autonomous vehicle proceeds along a test track at the Curiosity Lab at Peachtree Corners, GA with 5G cellular used for vehicle communications. (Photo credit: Image courtesy of the Curiosity Lab.)

Los Angeles street lights
Representing one of the largest municipalities in the world, Norma Isahakian, executive director of the Bureau of Street Lighting in Los Angeles, CA, discussed smart city initiatives. Los Angeles has long been among the leaders globally in transitioning to LED street lights as we discussed after SALC in 2010 and updated in 2012. Moreover, the city moved early on to install wireless controls based on the Signify/Philips CityTouch platform.
Los Angeles has converted 198,000 street lights to LED sources or 95% of its inventory. The program started in 2008, and Isahakian said the city is retrofitting some of those lights for the second time. Cumulative energy savings has been 65%, equating to $10 million annually.
Isahakian lamented that politicians and others want the smart city and IoT technologies they have heard about, but frankly don't even know what it is they want. Indeed, she said that there isn't a good definition for smart city, so the Los Angeles bureau set out to create a definition — "A smart city is an Internet of Things that provides better communications, collection of data, and the ability to control infrastructure that will improve the lives of all constituents and visitors."
Why street lights?
She then described why street lights are at the center of the smart city movement in Los Angeles. Not only is there an electrical infrastructure in place to power street lights, but the transition to LED sources has resulted in excess capacity on the system to power additional applications. The lights are the right height to support wireless communications and are ubiquitous.
Los Angeles has deployed the typical smart street-light applications such as dimming, GPS-enabled commissioning, and automation of the maintenance system. The city has also enabled some other lighting-specific applications, including increasing light levels at mid-block cross walks and increasing lighting dynamically around event centers as people return to their cars.
But the city has also taken more bold strides. It has installed 282 electric vehicle (EV) chargers (Fig. 4). The chargers include utility-grade meters and customers pay $2–$3 per hour for use. There have been more than 45,000 sessions of use in three years. The city has also installed solar panels on 832 poles that deliver 250 MWh of power back to the grid.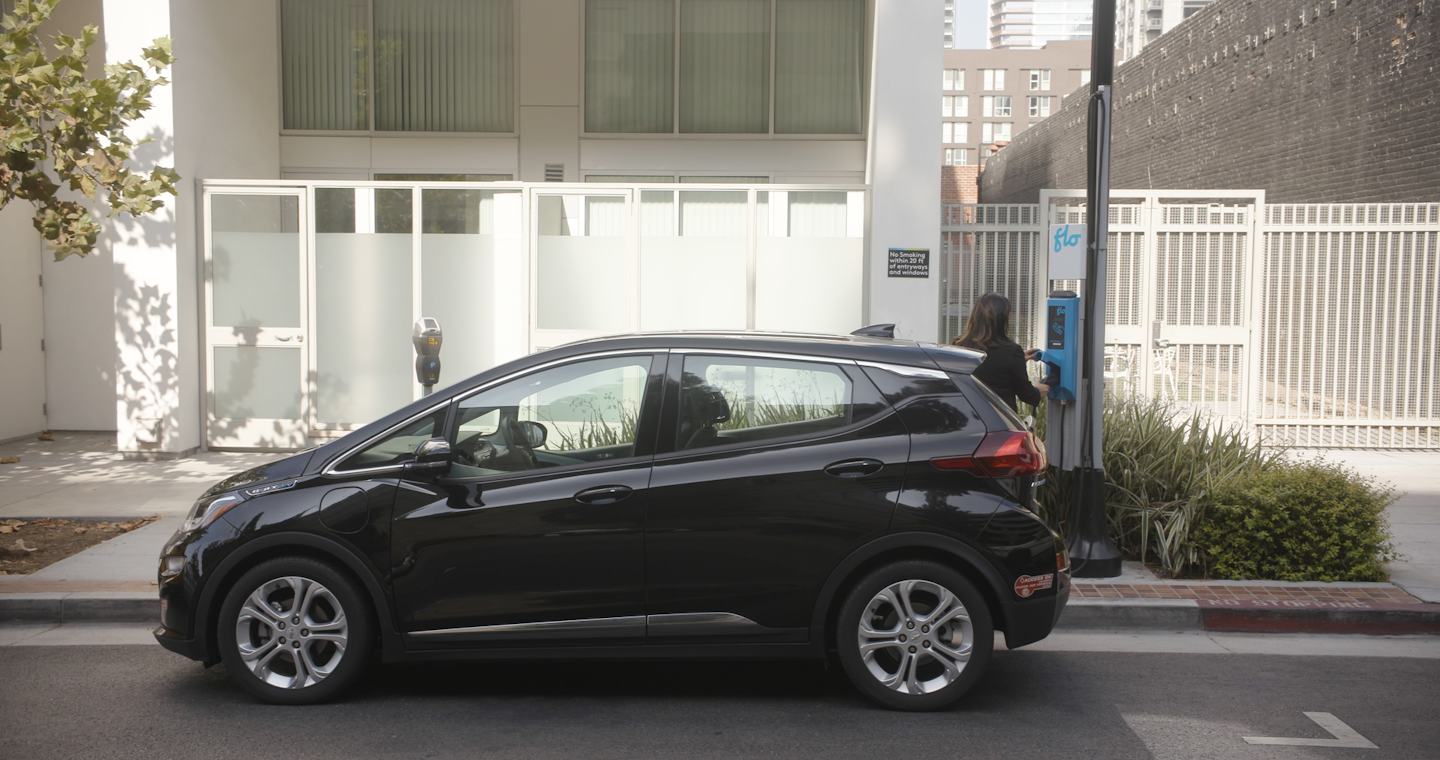 FIG. 4. Los Angeles has utilized street-light poles to install a number of smart-city technologies including EV charging stations that parkers pay to use. (Photo credit: Image courtesy of the City of Los Angeles.)

Los Angeles also has a 4G and 5G colocation program and has small cells installed on more than 2500 poles. Isahakian said the carrier agreements ensure the city is reimbursed for labor costs and receives a fee for hosting the cells. Moreover, Los Angeles requires antennae and base stations on poles to blend into the environment. The city has had a much smaller trial of video cameras on poles.
Back to lighting
At SALC, the discussion of a wireless opportunity for street light owners pervaded other presentations. But there were also compelling talks on lighting and basic controls that we should get to. The two we will detail both had ties to the US Department of Energy (DOE) Pacific Northwest National Laboratory (PNNL). Naomi Miller, a senior lighting research scientist at PNNL, and Mike Grather, president and CTO of LightLab International, jointly addressed the issue of sky glow — especially related to LED luminaires installed improperly.
Conventional light sources mounted in luminaires with drop prismatic lenses have a history of creating some uplight. Practitioners have worsened the problem by sometimes tilting the products to try and light a larger radius. Most LED-based luminaires should not yield direct uplight so long as the luminaire is mounted parallel to the ground. Unfortunately, the world has far too many instance of luminaires tilted into positions that generate uplight ranging from seeking to maximize reach, to cases where someone has bent a mounting arm to change a beam pattern, or simply cases where fixtures aren't properly installed.
What Grather and Miller wanted to convey is just how bad such tilted installations are for the nighttime environment. The presentations relied on a PNNL tool developed several years back to predict sky glow. That work revealed less-than-feared sky glow for properly-installed LED luminaires.
But a luminaire with a cosine distribution would increase sky glow by 20% if the luminaire were installed with a 20° tilt. About 1.6% of the light produced would be uplight. Increase the tilt to 45° and the uplight increase is 120% with 13.4% of lumens classified as uplight. Moreover, the percentage increases are far worse with other rectangular beam distributions commonly used in street lighting. The message is that the industry must be vigilant in ensuring luminaires get installed correctly.
Parking lot occupancy
The final presentation we will cover here came from Ruth Taylor, project manager on the Advanced Lighting Team at PNNL. Taylor described a parking-lot lighting project in which connected SSL systems were deployed to test how well the technology could handle detection of people and vehicles to autonomously control light levels.
Taylor's new project has been installed in six parking areas at the Virginia Tech Transportation Institute (VTTI) campus. The IES doesn't allow speakers to mention company names at SALC, but Taylor said the six companies that supplied systems for the six lots are the "big boys." Moreover, PNNL assembled an A-team of lighting professionals to work on the project including VTTI's Ron Gibbons, Nancy Clanton, Chip Israel, and more.
Generally, the connected systems worked fine to programmatically control the LED-based luminaires — then the sensors were introduced. The sensors brought logistics issues in installation and commissioning, which might be expected. But the team worked through those challenges.
The installed systems, however, have not worked as expected (Fig. 5). The primary culprits are the sensors. Putting such sensors on existing 30-ft poles stretches the limits of the sensors (Fig. 6). Taylor said that generally the range of the lighting exceeds the range of the sensors. Five of the systems utilized passive infrared (PIR) sensors and the sixth used radar, but none performed as expected.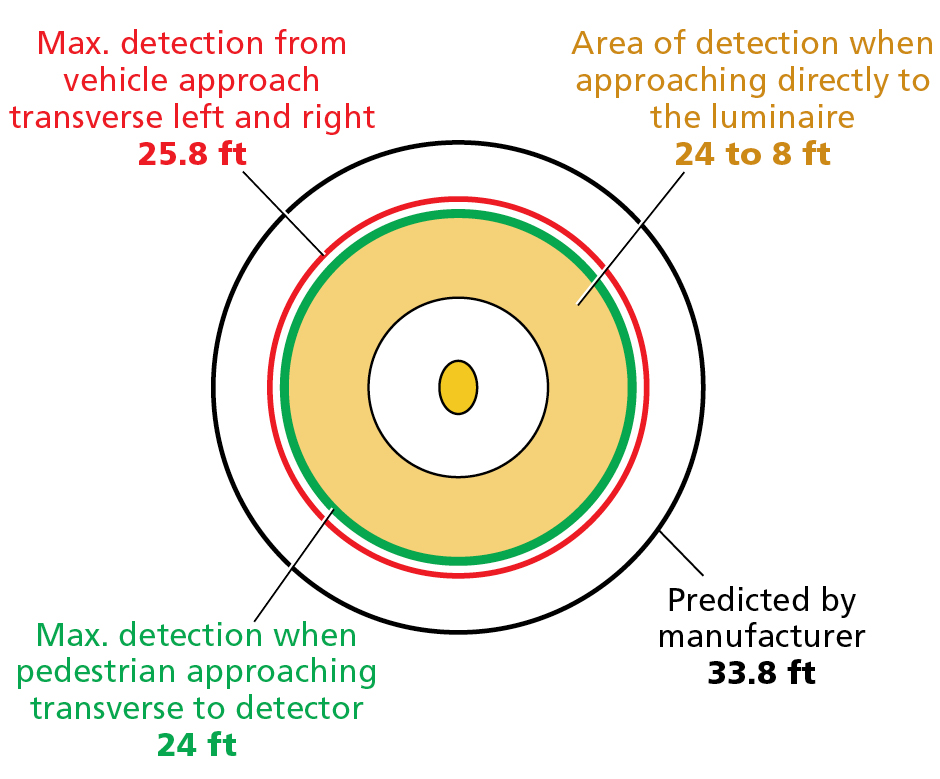 FIG. 5. Sensors in a PNNL parking-lot lighting project failed to offer the range or accuracy in detecting presence that was specified by manufacturers. (Image credit: Illustration courtesy of Pacific Northwest National Laboratory.)

The illustration in Fig. 5 details some of the shortcomings. None of the sensors met the specified maximum range of just more than 33 ft. The sensors detected a person walking toward a light pole at distances varying from 8–24 ft. Detection of transverse vehicular traffic was almost 26 ft.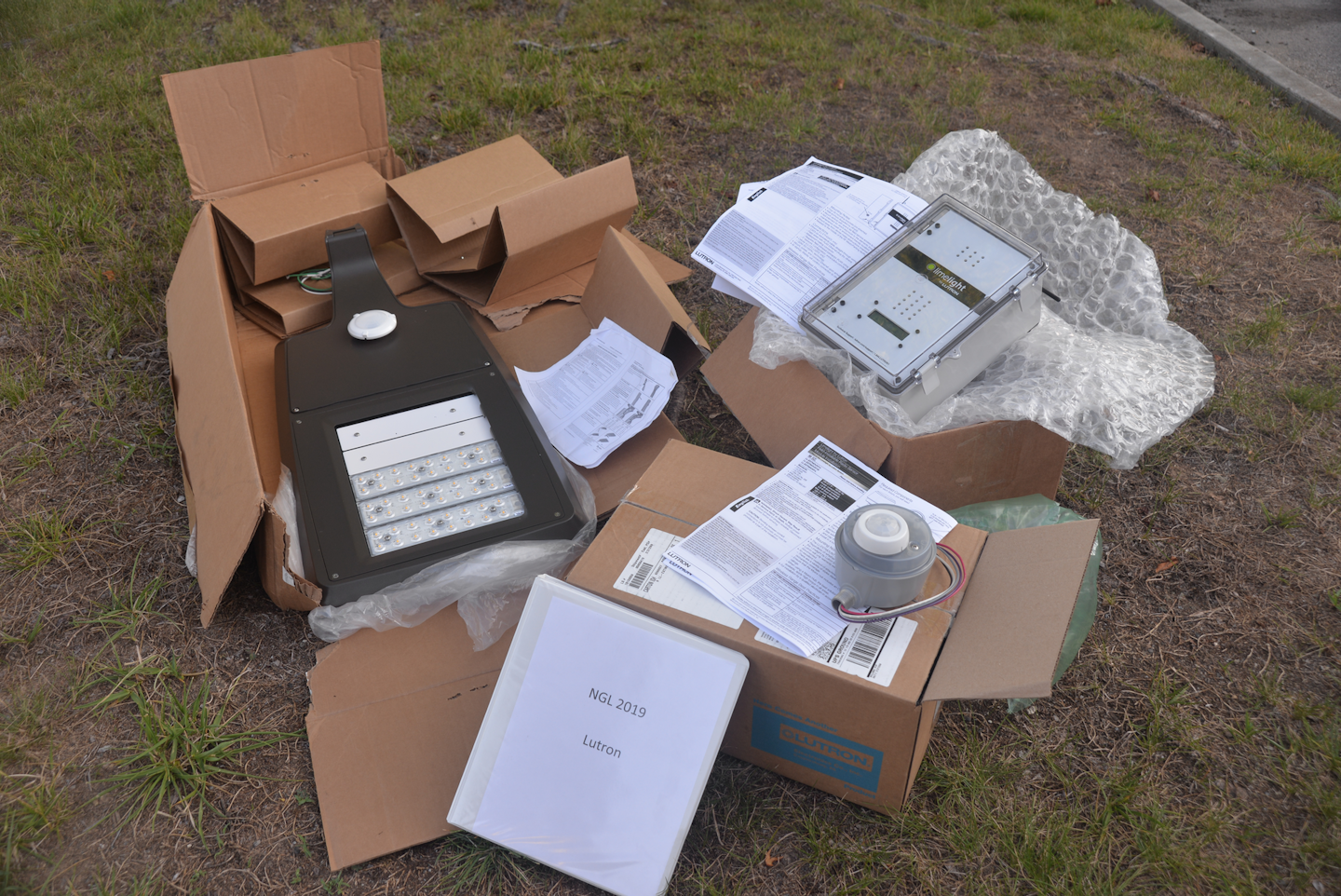 FIG. 6. The team working on the PNNL parking lot presence-detection systems had a significant systems integrations task in installing technology including luminaires, sensors, and controllers. (Photo credit: Image courtesy of Pacific Northwest National Laboratory.)

PNNL will continue to study this problem. The situation is much different in parking garages where sensors are mounted at lower heights and there is no effect from wind or trees. And while the sensors remain the primary concern, the report suggests that the manufacturers need to do a better job of system integration.
There was much more of value at SALC. We hope in the coming issues to bring you some contributed articles from speakers that will address ongoing issues with lumen and chromaticity maintenance, and also the continuing debate over the ideal spectral power distribution (SPD) for outdoor lighting.