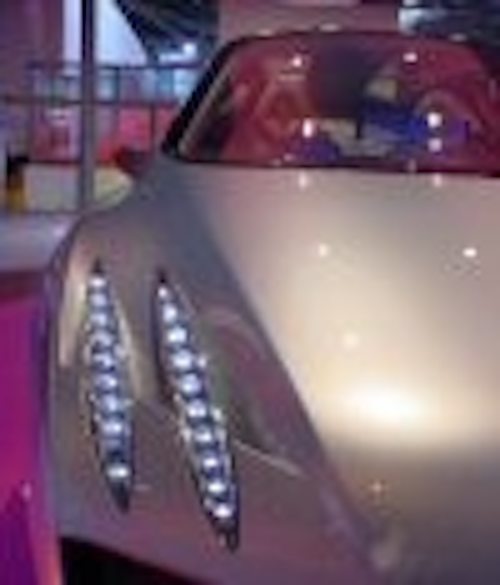 LED brake lights, and to a lesser extent indicator signals, are a relatively common sight on cars, motorbikes, trucks and buses, but LED headlights are yet to be introduced on production vehicles.
However, following the introduction of the first white LED daytime running light on the new Audi A8, it seems only a matter of time before car makers begin to introduce models that utilize white LEDs for the main headlight function.
Several manufacturers displayed experimental cars with LED headlights at the recent International Motor Show in Birmingham, UK. The vehicles ranged from luxury models showcased by Lexus and Rolls-Royce to less expensive models exhibited by Kia, Suzuki and others.
Vauxhall
unveiled its Insignia concept car, which makes extensive use of LED lighting technology in the front and rear lights and also in its illuminated dashboard.
On Hyundai's stand, visitors were able to see the HCD8 sports prototype, first unveiled at the Detroit Motor Show in early 2004. The car features LED lights supplied by Osram Opto Semiconductors (see Hyundai HCD8 sports coupe demonstrates design innovations enabled by LEDs).
Lexus
showed several concept cars, including the LF-X (Lexus Future - Crossover), which utilizes LED lighting technology to create "jewel-like" front and rear lamp arrangements.
Rolls-Royce displayed its 100EX experimental car built to celebrate the centenary of the luxury British car maker, which is now part of the BMW Group. The car features white front positioning lights, rear indicator lights and side turn indicators incorporated into the door handle. According to chief designer Ian Cameron, LEDs are used because of their small size, low heat production and reliability, while the distinctive appearance created by individual LED devices is not deemed important.
Audi
is offering LED brake lights as an option on its new A6, launched at the show. The company cites a number of advantages of LEDs, including the long service life of at least 10,000 hours and the energy consumption, which is reduced by up to 80 percent compared to incandescent lamps. Also, while conventional bulbs take about 200 milliseconds to develop their full brightness, LEDs build up their full intensity in less than one millisecond, enabling drivers following from behind to recognize the brake lights a lot more quickly.
The Mercedes-Benz SLR McLaren, one of the stars of the show, featured LED rear lights, as one might expect for a vehicle costing some £313,000 ($580,000).