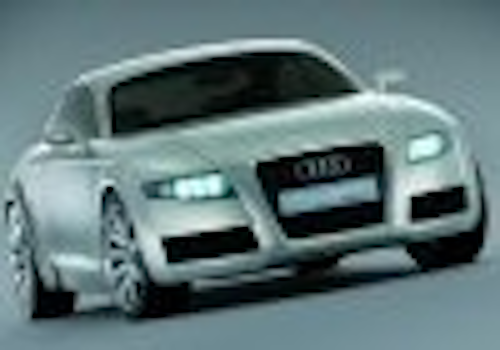 Ron Steen, director of lighting R&D at Schefenacker Research, a US subsidiary of a German tier-one automotive supplier, told delegates at the 2004 Strategies in Light conference that there is still some way to go before LED headlamps enter production.
According to Steen, the primary reasons why automotive manufacturers are developing LED headlamps are package size, styling flexibility and superior performance over incandescent light sources. Less important reasons are the warranty cost savings associated with longer lifetime sources, and power savings that will be realized once LEDs reach the 50 lm/W level.
LED packages are significantly less deep than existing light sources, and this allows designers to reduce the front-end overhang (the distance between the front bumper and the front wheel, which is driven by the headlamp depth). All space is at a premium on a vehicle, said Steen, and the space under the hood is particularly valuable.
Styling and product differentiation are also very important to car makers, who are attracted by the possibilities offered by LED lighting. The rears of many cars are defined by innovative arrangements of LEDs in CHMSLs and taillights, providing night-time identification and brand recognition. Auto manufacturers have now started to exploit this aspect of lighting at the front of the car - a particularly good example is provided by various BMW models.
At present, LEDs offer a high cost solution with insufficient lumen output for production vehicles. High-intensity discharge (HID) lamps are currently a separately charged option on high-end vehicles, but wil rapidly become standard equipment. LEDs must rapidly improve in performance while costs are reduced, in order to overtake HID technology.
Steen, who previously worked at General Motors, also told delegates that packaging of the LED sources is a crucial issue. He said that a "chip-on-board" concept, in which the primary optic is molded over both the LED chip and metal board (see figure), will be more suitable for car headlamps than the traditional LED package. Compared with the Luxeon package, which involves 12 parts and 13 process steps, the chip-on-board architecture requires only 5 parts and 4 processes, said Steen. This technology was developed by Global Light Industries, a German LED manufacturer acquired by Schefenacker in 2001.
Steen said that at least 13 vehicles showed an LED headlamp concept at the Detroit Auto Show in 2004. "The first-to-market race is on," he said. Each global region is actively involved in this race, while the first proposed production schedule is slated for late 2006. Steen warned that there would be no production awards until the three key problem areas - optics, thermal management and tolerance - had been solved.
With the current total headlamp market standing at about 105 million units, Steen's guess was that LED headlamps will break into the market in 2007, to reach sales of about 600,000 units in 2009.
Technology push
At the same conference, Bukard Wördenweber from the German automotive lighting specialist Hella KG Hueck said that LED illumination was one of the key technological "pushes" affecting the industry. Another is the so-called car area network, which will also influence lighting, for example features such as intelligent headlights that swivel when the car is turning, enabling drivers to effectively "see around a corner".
LED headlamps stand to benefit car manufacturers in many ways. Current lighting technology in cars demands specific design changes, as a recess must be punched into the car body to accommodate the lamp. LEDs will allow much more flexible designs.
****
Sections of this article came from a longer report on the Strategies in Light 2004 meeting entitled Production ramps in Asia as cell phones push up HB-LED demand