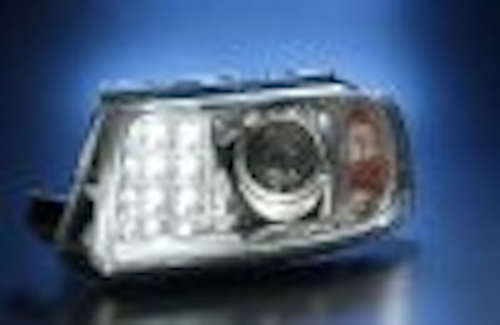 Derek Mallory, representing automotive lighting supplier North American Lighting, estimated that in the North American market around 40% of CHMSLs (center high-mounted stop lights) and 2% of rear combination lamps (RCLs) use red LEDs. Around 500,000 RCLs will be installed on North American cars in 2004, while a much smaller number of amber LEDs are currently being utilized.
As performance improvements continue, LEDs should be able to penetrate all the lighting applications in vehicles, even front headlamps. Karsten Eichhorn of Hella, a German supplier of automotive lighting and electronic parts, described the use of white LEDs in headlamps. Examples ranged from daytime running lights (DRLs) to full headlamp prototypes. These have already appeared on a number of concept cars displayed at motor shows around the world.
LEDs offer design and styling options as well as long lifetime which leads to low or zero maintenance. Other factors valued by vehicle OEMs are space savings and efficiency, while customers appreciate added safety, higher performance, cost reduction and reliability.
White LEDs are already being used as parking lights and as DRLs within headlamps. Eichhorn described a DRL that employs five LED chips each producing 30 lm; by 2006, this is expected to migrate to two chips at 70 lm each. Other applications such as fog lamps and the main headlamp function are even more demanding, requiring large numbers of chips, sophisticated heat sinking and special optical concepts to achieve stringent light distribution patterns.
Eichhorn estimated that low-beam headlamps can require a luminous flux ranging from 350 to 1000 lm, which means about 45 LED chips today, and 19 chips in 2006. Multichip LED arrays will lead to headlamps incorporating functions such as the ability to illuminate around corners as the vehicle turns. However, the introduction of LED-based headlamps is dependent on legislative, as well as cost/performance, issues.
Mallory concluded his talk with a summary of requirements for LEDs in automotive applications. Red LEDs are expected to reach a luminous flux of 100 lm at a cost of less than $2, while amber needs to reach 240 lm at less than $4. White LEDs need to reach targets of 150 lm and 100 lm/$; other speakers at the conference indicated that the latter figure is around 10 lm/$ today.