Luxeon LEDs used in Audi R8 headlamps
Philips Lumileds' LEDs provide new design possibilities in forward lighting for the new Audi R8.
Feb 28th, 2007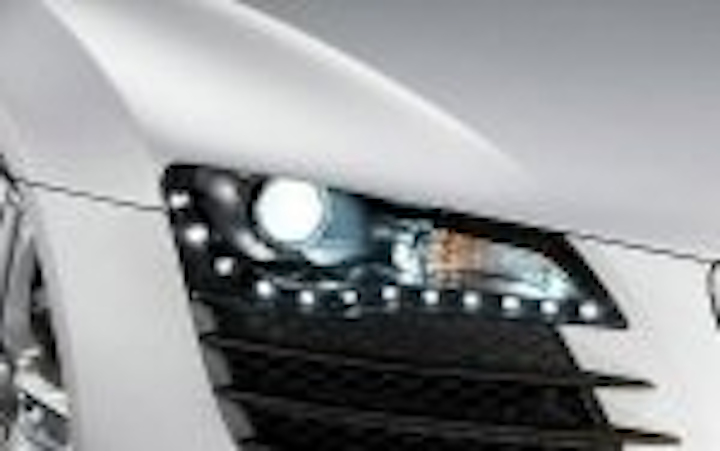 Philips Lumileds has reported that its Luxeon Automotive LEDs are being implemented on the new Audi R8. The LEDs enable revolutionary design possibilities for forward lighting (high beam and low beam) and deliver life-of-vehicle performance.
From late 2007, the Audi R8 will be available with all-LED forward lighting LED headlights available on Audi R8 from late 2007 (October 2006)). The LED headlamp assemblies were developed by German manufacturer Automotive Lighting.
Research and technology advances at Philips Lumileds have resulted in LEDs that deliver the flux and luminance required to achieve a legal headlamp beam with a small number of LEDs, while also meeting stringent color and reliability requirements.
The four key technology areas addressed in the development of these automotive LEDs were:
Flux improvement through advances in the semiconductor epitaxial process.
Surface brightness (luminance) improvements by incorporating Thin Film Flip Chip (TFFC(R)) technology.
Phosphor capabilities that deliver colour control and stability over the life of the vehicle.
Packaging advancements that deliver the ruggedness required in harsh thermal environments.
Lumileds says that the linear array of chips inside each Luxeon Automotive LED is the result of years of technology development and research into the optimal dimension and packaging for each light source.
Using these LEDs, headlamp suppliers such as Automotive Lighting can engineer and create the optical systems that deliver the required amount of light, and at the same enable a unique appearance to enhance the design of the vehicle in both the lit and unlit state.