Innovative LED lighting from Hella stars in new BMW 5 Series
A highly distinctive LED light guide system forms the tail-light of the redesigned BMW 5 Series.
Apr 13th, 2007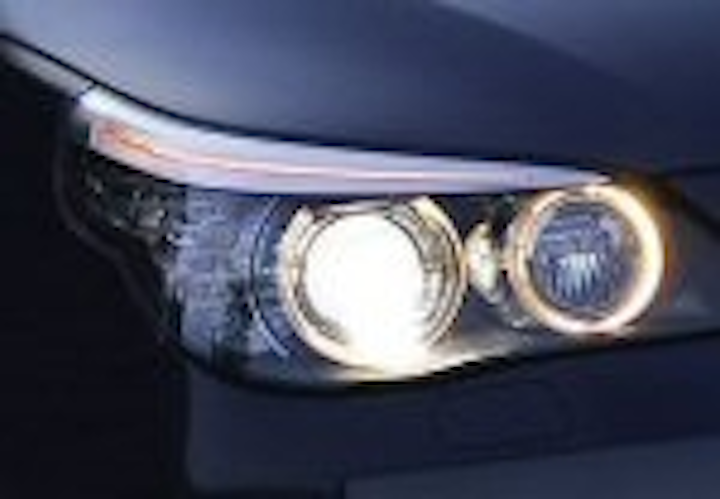 Three and a half years after its introduction, the BMW 5 Series has been given a facelift with characteristic design accents at the front and rear, several of which are based around LED lighting systems developed by Hella.
The front headlamps have yet to switch to LEDs, but a side marker lamp has been implemented in the "eyebrow" above the headlamp and direction indicator, which is made up of a total of seven high-power LEDs. Six LEDs radiate their amber light directly forward and to the side. The seventh LED feeds its light into a light-guide rod which is above the front headlamp area and extends the side marker lamp towards the front.
The rear-end of the new BMW 5 Series also presents a discreetly but effectively modified look. Non-patterned cover lenses are now also being used for the combination rear lamps, thus matching the headlamps. The new design makes the high-quality, innovative lighting technology visible.
On the sedan, 18 LEDs form two rows for the direction indicator at the upper edge of the combination rear lamp. At the side, the direction indicator merges into a side marker lamp which has been realized using four more LEDs plus a reflex reflector.
The outstanding design feature is the beam-shaped tail light, made up of five light guides, each of which is fed by one LED as a light source. There is also a round reflector with bulb positioned next to the light guides. If necessary, it takes over the function of the rear fog lamp.
Behind the light guides, the two-stage stop light has been realized with two concealed bulbs as light sources. A red reflex reflector and a white back-up light (bulb) complete the combination rear lamp of the 5 Series sedan.
In the case of the Touring version, the combination rear lamp is divided into two parts. In the outer part, the direction indicator has also been implemented with 18 LEDs. In addition, there are two further LEDs plus a reflex reflector in the outer lens for the side marker lamp.
The tail light is formed by four parallel light guides in the inner and outer part of the lamp. Thanks to the specially developed, variably designed geometry of the light guides inside the lamp, it has been possible to route the light guides to the very outside edge of the lamp, thus producing an almost interruption-free signal pattern of the two-part tail light without an optical separating joint.
The two-stage stop light (outer) and rear fog lamp (inner) are located behind the tail lights. Reflex reflectors and back-up light round the lamp off at the lower edge.