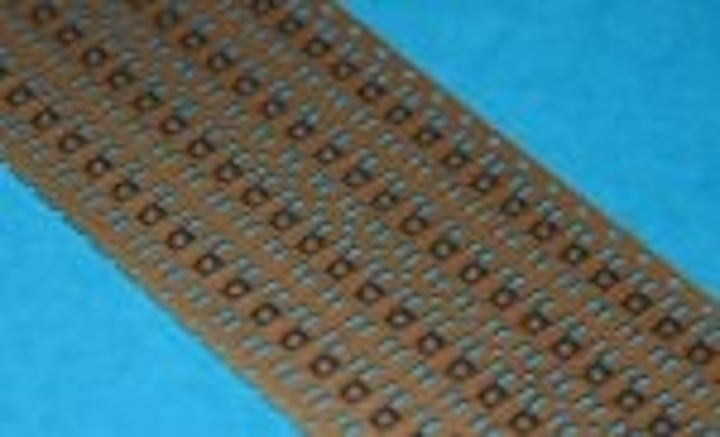 Injection-molded LED packages for high-brightness lighting applications must withstand temperatures above 260°C during lead-free soldering. They should also be produced in fine detail with great precision.
Spectrum Plastics, a business of Barnes Group Inc based in Ansonia, CT, produces millions of open-cavity LED packages each year. The company has now started to use the Vectra® S series liquid crystal polymers (LCP) from Florence, KY-based Ticona, the engineering polymers business of Celanese Corporation.
"Polymer performance is critical for our high-brightness and ultra-high-brightness LED cavities," says Rob Zimmerman, manager of new technology development at Spectrum Plastics. "These are often used in applications such as automotive lighting, consumer electronics and mobile phone handsets, and must perform reliably for the life of the product."
The high-flow of Vectra S grades produces LED packages with typical outline dimensions of 2 to 7 mm square, that have complex geometries and tight tolerances. These resins withstand temperatures well above 300°C, and undergo minimal dimensional change in molding and end use. They also have negligible outgassing, so their volatiles do not fog lenses or degrade contacts.
Zimmerman says that Vectra S resins give Spectrum Plastics a unique set of capabilities. "Unlike most other materials, including other LCPs, they provide a wide thermal margin during lead-free reflow soldering. They also give us high yields at high volumes for they have a wide processing window, rapid cycle time and create almost no flash."
Spectrum Plastics fabricates LED packages in a continuous molding process using its proprietary reel-to-reel technology. This overmolds open cavities onto strips of lead frames in a multi-station line using multi-cavity tools.
The customer then populates the cavities with LED die, wire-bonds the unit, adds a lens (also molded by Spectrum), and stamps the completed package out of the strip.
Spectrum molds the lenses from an optical grade of silicone rubber that withstands reflow soldering. In a process it innovated, Sepctrum overmolds lenses on metal rings on a stainless steel strip. The ring supports the lens when the customer assembles it to the LCP cavities. The use of lead-frame molding principles provides for a high-volume, automated process that minimizes part handling and enhances quality.