Letter from Frankfurt: LEDs at the Motor Show
LEDs were much in evidence at the Frankfurt Motor Show, both on the cars and also on the booth displays.
Sep 21st, 2007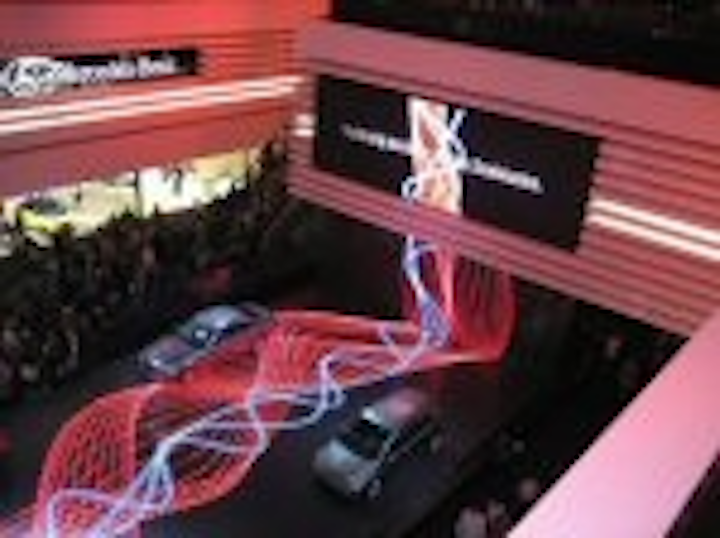 The Frankfurt Motor Show (also known as the
IAA
) takes place every two years, and your editor selflessly volunteered to spend a day wandering around looking for LEDs and signing the waiting list for the new million-Euro Lamborghini.
Very few companies specifically mentioned LEDs in their exhibits or literature. Many exhibits focused on energy efficiency and alternative drive technologies – for example BMW's Efficient Dynamics program and its Active Hybrid and Clean Energy hydrogen-combustion developments.
Which is not to say there weren't any LEDs at the show – in fact quite the opposite.
Anyone going into the DaimlerChrysler pavilion couldn't fail to notice the amazing presentation, with LEDs running across the entire floor (a series of linear MiSTRIP fixtures from Barco) and continuing up the wall in the form of two displays, one semi-transparent and the other a more conventional LED screen.
Barco had a number of other installations (see press release) and other companies such as Element Labs, G-LEC and Hibino were also represented.
On the cars themselves, many manufacturers showed concept vehicles with all-LED lighting, including low- and full-beam headlamps.
Rear lighting on production vehicles is becoming more widespread but by no means ubiquitous – many new models continue to use the traditional technologies.
Audi now has five models that make use of white LEDs, in different configurations, for daytime running lights (DRLs) on the front of the vehicle. These were also seen on vehicles from Porsche and Aston Martin, as well as the luxury VW Phaeton.
Going one step further, Lexus is set to become the first company to sell in the European market a model with LEDs for the low-beam headlamps. The LS hybrid also has a more conventional xenon lamp for the high-beam function. A Cadillac model will be available by the end of the year that uses a similar (LED + xenon) combination.
Audi previously announced that full LED headlamps (low and high beam) would be available as an optional extra on its new R8 model. The version on the Audi stand in Frankfurt didn't show this option, but boasted LED-based DRLs. Availability of the LED lighting option was said to be "early 2008."
The November/December issue of LEDs Magazine will feature a comprehensive report on the LED displays in Frankfurt, and will discuss progress in LEDs for automotive headlamps.