LEDs continue to penetrate vehicle applications
Applications in rear lighting, interior lighting and even in-vehicle displays are all proving fruitful for LEDs.
Jan 25th, 2007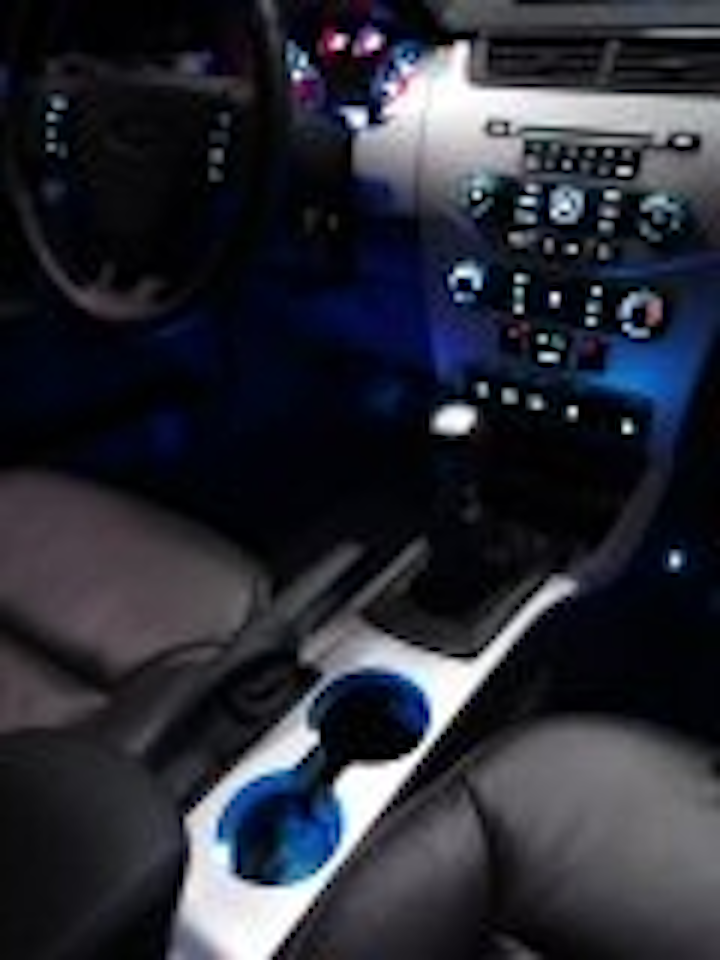 As the recent Detroit Auto Show (NAIAS) highlighted, the value of attractive lighting with a positive brand message is becoming a key feature of new vehicles.
LED maker Osram Opto Semiconductors Inc., for example, has been contracted by Ford Motor Company to provide LED lighting for the automaker's newly upgraded interiors using a Ford-specified "Ice Blue" backlighting color theme.
Osram Opto will provide LED technology that will give a number of future Ford products the same harmonious, Ice Blue interior lighting in instrumentation, radios, climate control and switches. Ice Blue is Ford's newest interior brand color – a blue hue that will be incorporated into many new vehicles including the 2008 Ford Focus and the 2008 Ford Escape. In the past decade, Osram has collaborated with Ford to bring distinctive interior lighting into many products. Past programs have included Ford's corporate green LED lighting in the late 1990s and a more sophisticated white interior with satin nickel accents for the Lincoln Navigator.
Osram Opto has also supplied a large number of LEDs for the Lincoln MKR concept car, which is the subject of an article in the forthcoming issue of LEDs Magazine (Jan/Feb 2007) by Robert Miller, the vehicle's lighting designer.
The MKR has a unique rear lighting system composed of a series of reflecting light chambers, each containing four red LEDs. These chambers are separated by spacers that can be illuminated by amber LEDs to create the turn signal.
At NAIAS, Miller also viewed a number of interesting lighting designs using LEDs. "Powerful interior lighting statements were also shown on the concept Jaguar C-XF with its wrap around illumination light guide gracing the entire interior," says Miller.
"Elsewhere, the Volvo XC60 concept with its extensive use of Precision Light Guides (PLE by 3M) in over 21 different interior areas provided functional mood illumination that is right for the future of lighting. It is a very exciting time for lighting!"
Perhaps the most unusual use of LEDs was in the Ford Airstream Concept vehicle. In the rear passenger compartment of the vehicle is a 360-degree LED display supplied by DynaScan (www.dynascanusa.com). The system contains a module of LEDs on the central axis that spins rapidly to illuminate the circular display.