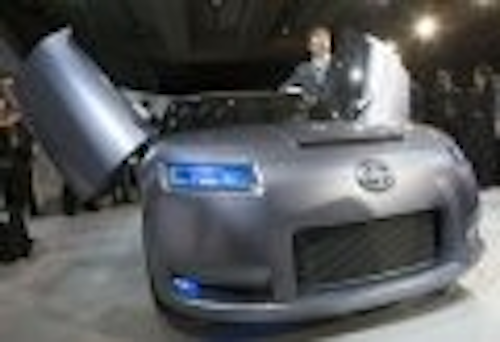 Visopia, a Los Angeles-based advanced lighting design company, has incorporated PerkinElmer's ACULED™ (All Color Ultrabright LED) into its lighting scheme for the Scion FUSE 2006 concept car.
Visopia used ACULED's multi chip-on-board (COB) LEDs to create a multi-element headlamp, including high beams, low beams, fog lamps and an innovative color-changing decorative surround.
"PerkinElmer's ACULED is a distinctive product that combines the power, color and size qualities we needed to create the concept car's distinctive signature circuit-board design," said Carlo Quiñónez, lighting designer for Visopia. "The ACULED's precise white-point selection and an infinite palette of color lighting have enabled us to create the perfect balance of ambience and functional lighting."
Ronny Bagdadi, another partner at Visopia added that the ACULED's compact size contributes to greater design freedom, allowing for integration of lighting functions into the overall front-end design. "We believe that the innovative features and performance benefits of the ACULED will ultimately differentiate Scion's new FUSE model from other vehicles," said Bagdadi.
Mark Templin, Scion vice president poses with the all new Fuse, after he unveiled the Sports Coupe Concept at the New York International Auto Show Wednesday, April 12, 2006. "The idea of the all new Fuse Sports Coupe is a reflection of the boundless limits and creative envelope that embodies all the vital personalization components of a Sicon Product," Templin said. Photo by: Joe Polimeni/Toyota
Saab Aero X
The Saab Aero X concept car, unveiled earlier this year at the Geneva Motor Show, uses LED lighting throughout the vehicle, with the front headlamps integrated in the radiator grill to enhance the aircraft look.
Only two high-power Ostar LEDs were used for the high-beam, with a further device required for the dipped-beam function. The 13.5 x 33 mm Ostar LEDs, in this case containing 5 chips, provide 350 lm at 700 mA. The small size of the devices gives enormous design freedom and the LEDs can be recessed in surfaces and integrated into design elements.
Osram Golden Dragon LEDs in red and yellow provided the indicator and tail lights.
The interior of the Aero X is driver-oriented and also reminiscent of the cockpit of a jet aircraft. Smooth glass-like surfaces are used instead of switches and buttons to give a high-tech futuristic look. The displays seem to hover in space through various acrylic layers and polished surfaces, and are illuminated with three-chip (RGB) Multiled LEDs from Osram.