LED headlights available on Audi R8 from late 2007
A new Audi vehicle will offer the option of all-LED lighting from the end of 2007.
Oct 17th, 2006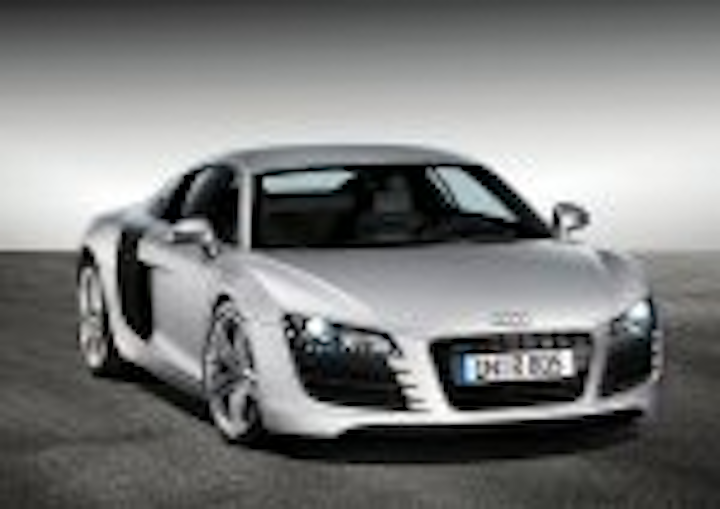 Audi says that its new Audi R8 mid-engined sports car will be the first series-production car to offer the option of ordering all the headlight functions – dipped beam, main beam, daytime running lights and indicators – as LEDs. The option will become available from the end of 2007 onwards.
Although LEDs will not be approved in the European region as a light source for headlights until 2008 at the earliest, Audi has applied for an exemption that will allow it to use LED technology before then. There are no such restrictions in North America, where Lexus plans to launch a vehicle with LED headlights in 2007.
The R8 is based on the Audi Le Mans quattro concept car, which featured LED lighting. Audi says that LEDs offer a much longer life and take up less space than conventional lights, providing designers with greater freedom to be creative. The main headlights of the R8 have a particularly strikingly three-dimensional appearance.
Audi describes the light unit as having a design reminiscent of an open pine cone. Reflector shells arranged concentrically one behind the other, in conjunction with a powerful LED projection system, concentrate the light from one multi-chip LED emitter, producing a high-luminosity, uniform driving light.
The daytime running lights delimit the underside of the headlight as narrow strips of light – delivering distinctive signals and providing an innovative visual touch.
Rear lights, including a third brake light strip running across virtually the full width of the roof, are also implemented with LEDs. An additional feature is distinctive, indirect engine compartment lighting that also uses white LEDs.