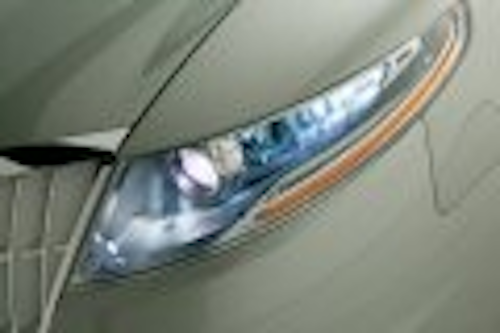 Ford Motor Company is unveiling its new adaptive forward lighting technologies using LEDs at motor shows in the US this week.
The adaptive front lighting system, which is being showcased on a Lincoln concept car, combines two independent light sources: a high-output halogen projector for the main beam and a secondary row of LEDs that stretch around the sides of the vehicle.
The system senses when the vehicle is approaching a curve and directs the row of LEDs to switch on sequentially. As the vehicle turns, the LEDs illuminate at a rate and intensity determined by the degree and speed of the turn.
Electronic sensors analyze inputs from the steering wheel and the vehicle speed to determine how and when to illuminate the LEDs. The LEDs automatically switch off when the road straightens out. Meanwhile, the main beam continues to illuminate the overall road.
"The result is more light, precisely placed," says Mahendra Dassanayake, staff technical specialist in charge of optical electronics. "We're not taking light from one spot on the road and moving it to another, as today's cornering systems do. We're adding light for more visibility during nighttime driving.
"Besides being a beautifully designed light, the system helps drivers to take corners and curves more safely – and consume less energy while doing so," adds Dassanayake.
In contrast, the all-new Lincoln crossover utility vehicle, which goes on sale in the fall of 2006, features the current state-of-the-art adaptive front lighting system. This features halogen projector-beam headlamps, mounted in a cage that pivots from left to right. Based on vehicle speed and steering wheel angle, an electric motor swivels the cage, shifting the entire light pattern as much as 11 meters left or right in a curve.
Boeing uses LEDs in 747-8 interior
Boeing has unveiled the redesigned interior for its new jumbo jet, the 747-8. Mood lighting using LEDs will replace harsh fluorescent lighting, and will allow the cabin crew to create a different interior look and feel at will.
The same LED lighting system will be used on Boeing's 787 Dreamliner, due to be introduced in 2008, one before the 747-8 (see DLE to supply Boeing with LED lights for 787).