LED Suppliers Directory to be published in April
The next issue of LEDs Magazine Review will be a printed Directory of the key suppliers in the global LED market.
Mar 6th, 2006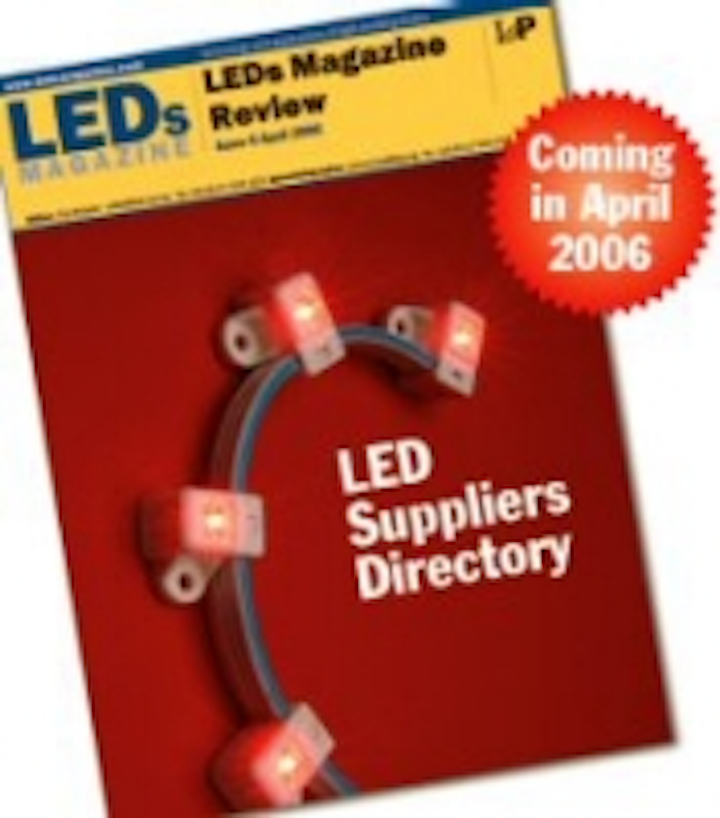 LEDs Magazine is pleased to announce the
LED Suppliers Directory
, a comprehensive and indispensable guide to companies serving the LED supply chain, from LED light sources, drivers and optics to LED-based lighting, signaling and display products.
The LED Suppliers Directory will be supplied to all readers - more than 12,000 in total - of our bimonthly magazine (LEDs Magazine Review) and our weekly email newsletter (LEDs Magazine E-News). It will be available as either as a printed publication or in electronic format (PDF file).
The Directory will be distributed as a printed publication at a number of high-profile LED-related events during 2006, including:
• Light+Building (Germany)
• euroLED (UK)
• LED Expo (Korea)
• Automotive Lighting Design & Technologies (USA)
• Lightfair (USA)
• LED Lighting Taiwan 2006 (Taiwan)
• The Future of LEDs (UK)
• PLASA (UK)
• LEDs 2006 (USA)
• LDI (USA)
The Directory will also be promoted extensively on the LEDs Magazine website, which receives more than 20,000 unique visitors and 210,000 page views per month (view the latest LEDs Magazine stats here).
In addition to the benefit of being instantly available via the Internet, the electronic version of the Directory contains live hyperlinks direct to participants' websites. Various mailings of the print version of the Directory will be announced shortly.
After its initial publication in April 2006, the Directory will be updated in summer 2006 and reprinted later in the year.
Visit http://www.ledsuppliersdirectory.com for further details and pricing information.
Download a PDF file showing a sample page of the Directory