LED makers extend performance boundaries
Several announcements from leading LED makers including Cree and Lumileds demonstrate further improvements at the device level.
May 1st, 2009
Cree LED achieves 139 lm at 350 mA
Just before Lightfair, Cree announced the XLamp XP-G LED, described as "the industry's brightest and highest-efficiency Lighting-Class LED" (see press release).
It is important to note that the XP-G is not yet commercially available, however Cree is currently taking sample requests and says products should be available in the third quarter of calendar 2009.
The cool white XLamp XP-G provides 139 lumens and 132 lm/W at 350 mA, and 345 lm at a current of 1 A. Presumably, these figures relate to the highest available bin.
Cree claims that the XP-G LED has "the highest lumen density of any available lighting-class LED." The product is based on the XLamp XP family package, with dimensions of 3.45 x 3.45 mm. Cree's XR family package measure 7.0 x 9.0 mm.
"The XLamp XP-G again raises the level of performance available from our XLamp LED family," said Paul Thieken, Cree, marketing director, LED components. "This product is designed for customers requiring the highest levels of brightness and efficacy."
Luxeon Rebel ES specified for 100 lm/W minimum
Meanwhile, Philips Lumileds announced the Luxeon Rebel ES, which it described as "the world's first power LED specified for minimum 100 lm/W performance" – see press release.
The product is available from Future Lighting Solutions with standard lead times.
Efficacy of 100 lm/W is a great number, but not unique. The point with this press release appears to be that Lumileds has decided to specify the minimum efficacy, rather than the minimum lumen output (i.e. luminous flux in lm).
Lumileds says that, by specifying a minimum efficacy, it is "focusing on the performance characteristics that are most important to the lighting industry" and "simplifying LED product selection…for lighting designers."
The idea is that flux binning and forward voltage (Vf) binning selections are pre-determined to deliver 100 lm/W efficacy, which means that the only remaining selection is color (i.e. correlated color temperature, CCT).
Colored LEDs for Cree
Cree has also released various high-power RGB multichip and colored LEDs recently – see press release.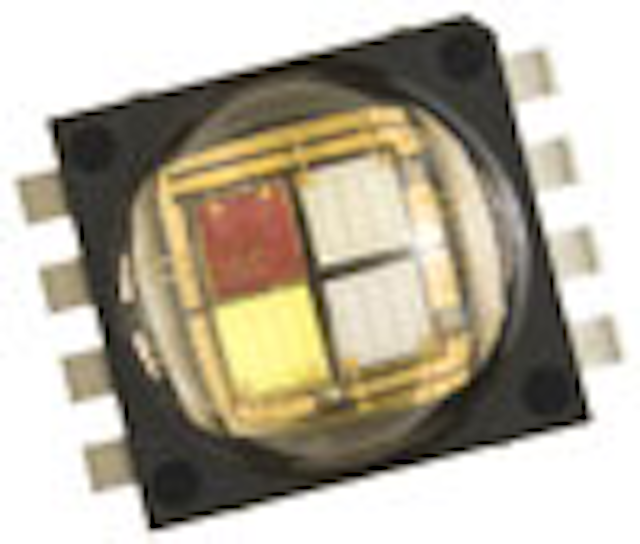 Cree MC-E color
The XLamp MC-E color is a multichip LED combining white, red, green and blue LED chips in a single packaged component.
Cree described this as "the first of its kind in the industry" and although we have seen similar products (such as PerkinElmer's ACULED series) these do not include white LEDs, which is where Cree is claiming to be unique. The difficulty comes in placing the phosphor onto the white emitter while making sure that the other chips do not come into contact with the phosphor.
Cree's MC package measuring 7.0 x 7.5 mm is extremely compact, and Cree says this provides design flexibility for color-changing LED applications that require high flux from a small lighting source, such as entertainment and architectural lighting.
Cree also released XLamp XP-E color LEDs in royal blue, blue, green, amber and red. The products provide more flux than existing color XR products and are in the much smaller XP package.
Again, this is a pre-launch announcement; Cree is sampling the MC-E and XP-E color LEDs, with production quantities targeted for Q3 calendar 2009.