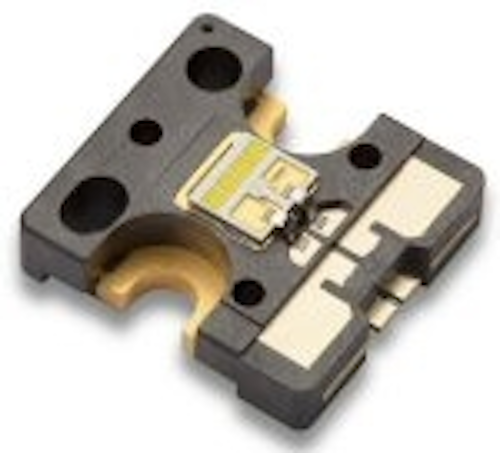 The Frankfurt Motor Show (
IAA
) kicks off later this week in Germany, and we're expecting to see further evidence of the penetration of LEDs into various automotive lighting functions.
Following close behind the Motor Show is the International Symposium on Automotive Lighting (ISAL 2009), which takes place in Darmstadt, Germany on September 28-30.
If you're attending either the Frankfurt Motor Show, or ISAL, and would like to report on LED-related products and technology for LEDs Magazine, please contact us.
In the run-up to the show, both Osram and Lumileds have unveiled new LEDs specifically designed for different applications in this marketplace.
Luxeon Altilon for low- and high-beam functions
Philips Lumileds officially released its Luxeon® Altilon power LED, which has already been implemented in the Audi R8 for low and high beam functions.
The four-chip Altilon can deliver more than 850 lumens and 60 MNits at 1000mA, and is AEC-Q101C qualified. The color temperature is 5600K and conforms to both ECE and SAE specifications.
"Luxeon Altilon enables our automotive customers to provide forward lighting solutions that deliver never before possible performance and features while at the same time providing unique visual identities for their vehicle brands," said Steve Barlow, Executive VP of Sales and Marketing for Philips Lumileds.
The Altilon press release says that the product's small size, high brightness, and lower energy consumption make it "a perfect choice for the next generation of advanced forward lighting solutions, high and low beam applications, daytime running lamps, static bending lamps and position lamps."
Osram compact LEDs for DRLs in mid-range vehicles
Osram Opto Semiconductors has introduced the Oslon MX ECE and Oslon SX ECE LEDs – new, low-cost, high-power ceramic-packaged LEDs designed for use in daytime running lights (DRLs) in the front light clusters of mid-range vehicles.
Both LEDs have a 3x3 mm
2
package size and can be operated at temperatures up to 150°C. The Oslon MX ECE LEDs are 1 W-class devices and provide a light output of 70 to 95 lm, while the Oslon SX ECE is a 0.5 W device with a light output of 40 to 60 lm. Their small dimensions enable both LEDs to be integrated into compact, low-profile designs.
Mike Godwin, Director of Visible LEDs at Osram Opto Semiconductors, Inc. said, "Like all our automotive LEDs, the Oslon MX ECE and the Oslon SX ECE are tailor-made to meet the demands of the automotive industry. Both these ceramic components are ideal for daytime running light (DRL) applications. They can be installed in headlight systems or incorporated in fenders as individual lights."
In addition to the two new models in the Oslon series, Osram offers a portfolio of LEDs for the automotive sector that includes light sources in various versions and performance classes to meet different customer requirements – from the Advanced Power TopLED for DRLs to the Ostar Headlamp for low- and high-beam headlights. The Osram range fully covers the brightness range from 25 to 1000 lm.