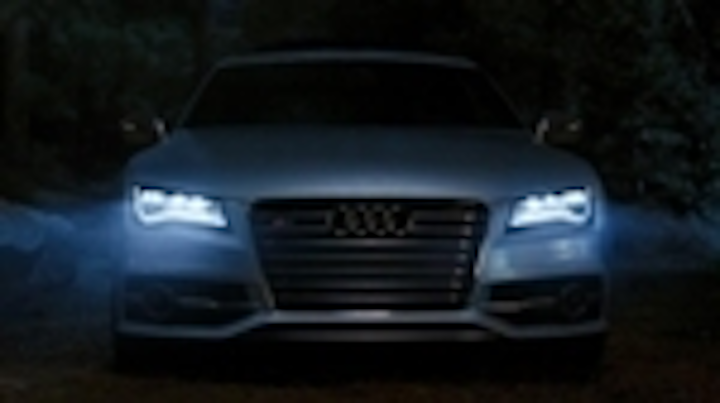 Audi has released its latest advertisement that demonstrates the distinct LED headlight design used on its automobiles. The ad will air during the first quarter of the Super Bowl football game this Sunday.
The video shows an outdoor party of teen vampires and a fellow vampire who attempts to join the party as he drives up in the new Audi S7, only to have the LED headlights, which mimic daylight, zap the party-goers into thin air.
"In the spot, Audi LEDs – which at 5500 Kelvin produce the closest recreation of daylight available – put an end to the vampire party, and perhaps, to the greater vampire trend in pop culture," said Scott Keogh, chief marketing officer of Audi of America.
Keogh added, "Given the power of the Super Bowl platform, we wanted to create an entertaining spot that clearly focused on our LED headlights - one of our key product attributes - while also sparking conversation about whether or not it's time for us to move on from the omnipresent vampire trend into something new and even more exciting."
Audi first featured a full-LED headlight design in 2008 on its R8. They are also used on the A6 luxury sedan. On the A8, ten LED modules make up the low beam in a wing-shaped pattern, while an underlying string of 22 white and 22 yellow LEDs constitute the daytime running lights and turn signals. The white LEDs use a color temperature of 5500K to match daylight and enhance contrast of roadway objects.
The LED luminaire design is combined with intelligent features such as a high-beam assistant that automatically detects the headlights of oncoming traffic and the rear lights of other road users and responds by varying the position and width of the LED headlights accordingly.
Audi has stated that in the first year of sales, cars equipped with LED headlights accounted for a reduction of 25,000 tons of CO2 emissions. LED headlights are four times as efficient as halogen lamps and they require the vehicle's alternator to replenish less energy, saving fuel.