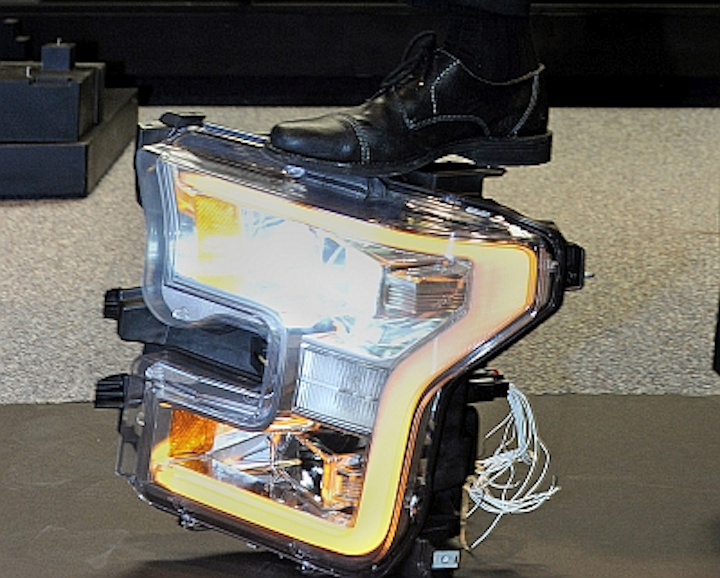 Ford has announced that the light-duty F-150 truck line will now have LED headlamps that are designed to last longer than headlamps based on legacy sources while also delivering superior reliability. Osram and automotive OEM Flex-N-Gate worked with Ford developing the headlamp unit that the three companies assert will deliver superior lighting on the road while using less energy.
LED headlamps have become commonplace on luxury autos, but the technology is just entering the mainstream market; Ford is the first to make LED lighting a factory-supplied feature on a truck. The company said that the previously-used halogen and high-intensity discharge (HID) headlamps could require replacement at 40,000-mile intervals, especially in harsh workplace environments. The company expects the LEDs headlamp unit to last five times longer.
"Stand on it," said Ford lighting specialist John Teodecki as indeed he did on top of the 11-pound F-150 headlamp unit. "This lens just won't break. We fire stones at it, expose it to extreme sun, soak it in saltwater, shoot rocks, rock salt and ice -- this thing is very tough to crack."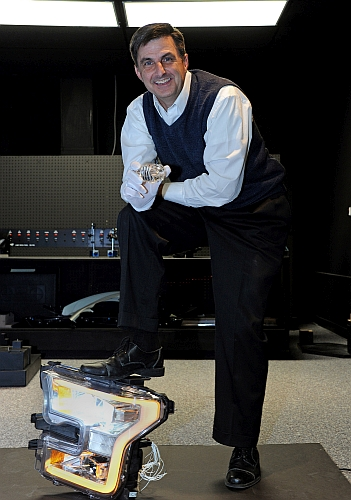 Perhaps more significantly, Ford says that the LED-based design will outperform traditional headlamps optically. Ford's engineers took advantage of the small size of LED sources to create a unique design that relies on 16 precision surfaces and 80 facets on the lens to spread the light evenly on the roadway.
Teodecki said that the headlamps use 63% less energy than competitive designs based on legacy sources. The energy savings combined with the expected longevity convinced Ford to make the switch from the mainstream vehicle.
Still, there was a styling angle behind the choice. The headlamp unit features an LED-lit light guide that surrounds the perimeter of the design that Ford says will deliver signature styling. "It looks so cool," said Teodecki. "I'm telling you, this LED light tube is going to be the next big thing. Our new F-150 owners will be longing for dusk every day, just to show off their trucks in dramatic lighting."