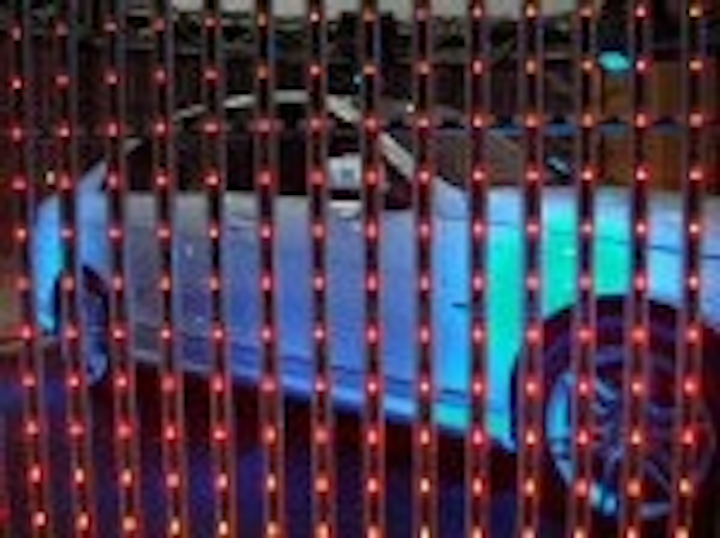 Martin LEDs reveal newest Mercedes
When Mercedes Benz decided to launch their new C Class car into the Australian market they turned to James Klein of Atmosphere to technically produce the event and design the reveal component in an innovative and creative manner. Klein's idea was to wrap the car in video and he used Martin LC Series LED panels.
"The LC Panels also brought a new element into my design; they allowed me to light up the car while the video was still playing around it," said Klein. "This meant there were three stages to the reveal; the complete block out where you couldn't see the car through the video, we then turned lights on while the video screen was down so you could see the car through the video, and finally the whole screen rose up into the roof revealing the car."
Further details can be found in the press release for this story.
Creative wins LED Zep award
Creative Technology has won the "Most InAVative Rental & Staging Project (Entertainment)" for the company's involvement with the recent Led Zeppelin show at the O2 Arena in London, UK. The award was organized by InAVate magazine.
Installation of the 28m wide x 10m high Stealth LED screen (the largest installed at the O2) was project managed by CT's Alex Leinster, who comments "This was an immense event and incredibly high profile. With such a tight rig time at the O2, we picked a product that was quick to rig and exceeded the high standards previously set by us, with the Elton John concert at the O2. Stealth [from Element Labs] was by far the best solution, the end result looked great".
Meanwhile, CT Creative Technology Germany has supplied Audi with professional media technology, including LED displays, for its international automotive shows and press conferences in the last several months. Displays included a 6 mm Hibino LVD-638B32 Black Face LED screen, as well as several 103-inch plasma displays from Panasonic and Barco DLP projectors. LED strips were specially built due to customer demand with OLite 510 LED modules from Barco and were used for the exhibition stand.
Lumileds wins supplier award
Automotive Lighting, a leading German manufacturer of automotive exterior lighting, has recognized four companies for their outstanding contribution to automotive lighting in 2007. Philips Lumileds received the supplier Innovation award after the company's Luxeon LEDs enabled the first full LED headlamp development on the Audi R8.
"Automotive Lighting is recognizing and awarding suppliers that have shown outstanding performance," said Stéphane Védie, Vice President Purchasing. "The recipients not only showed their commitment to the highest quality standards but also their outstanding ability to focus on affordability, innovation and excellence."