Osram Sylvania to introduce LED headlight package
The Joule LED standardized module product line is expanding to the front of the car in 2009.
Dec 10th, 2008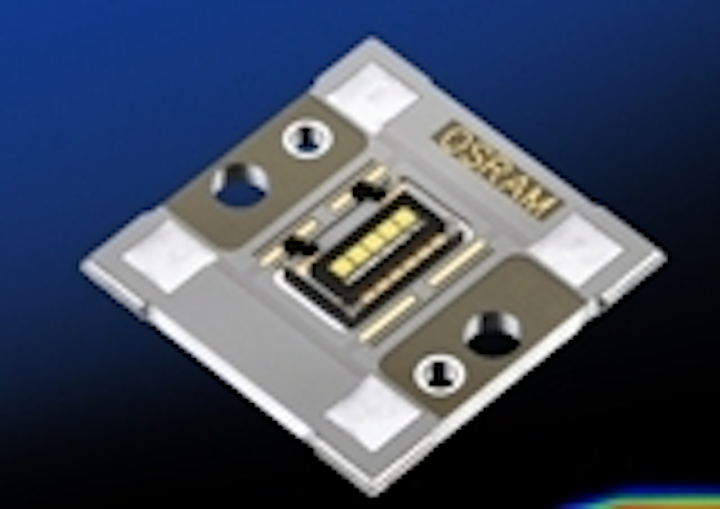 In 2009, Osram Sylvania will be introducing the latest product in the Joule system line-up: the JFL2 headlamp system. It is a 50mm standardized automotive LED system designed for high-performance forward lighting applications, revealed an Osram spokesman in a press conference today.
"The JFL2 is well suited for daytime running lights and fog lights, but very clearly also functions for headlamp apps of the future. It's amazingly compact. It has very long life. The quality of the light output - very crisp clear light - will also be very attractive," said David Hulick, global product marketing manager at Osram for its Automotive LED Systems Strategic Business Segment.
The forward lighting system headlight module is a plug & play standardized system. It is based on Osram Opto Semiconductors' Ostar platform, and will be a 15W device with 5 high-power chips.
"It's important to note that forward lighting is coming along. There are a number of cars on the market that do have LED forward lighting, and they certainly show where technology is going to go. But this is a very complex and expensive solution so it will not come along as quickly as signal lighting. Nevertheless, within the next decade, we expect it to make a significant toehold and also will come to represent a styling feature on the vehicle," said Hulick.
Adoption rate depends on two variables: cost and environmental pressure. New technology costs more, but sustainability offers opportunity to reduce energy, said Hulick.
Most of the press conference centered on the 2010 Ford Mustang and the new Osram lighting in it that was announced last month. (See separate story).
The 2010 Ford Mustang will have six Osram Joule signal systems in the rear combination lamp (RCL). Inside is the MyColor instrument cluster with OSRAM Opto Semiconductors RGB MultiLED devices and interior LED illumination with TopLED devices. The car will also have sequential turn signals, which is an "eye-popping feature and provides a clear signature at night," Hulick said.
Hulick added that the Joule modules reduce consumer RCL replacement cost. Osram found that the average dealer price of custom LED array RCLs was almost $300, 71% more than the $174 Joule average for its standardized module.