Packaged LED news: Samsung, Lumileds, and Cree add SSL components
Samsung has added CSP LEDs to its automotive-targeted LED portfolio while Lumileds expands its color LED portfolio and Cree boosts performance for packaged LEDs that target high bays.
Jun 28th, 2016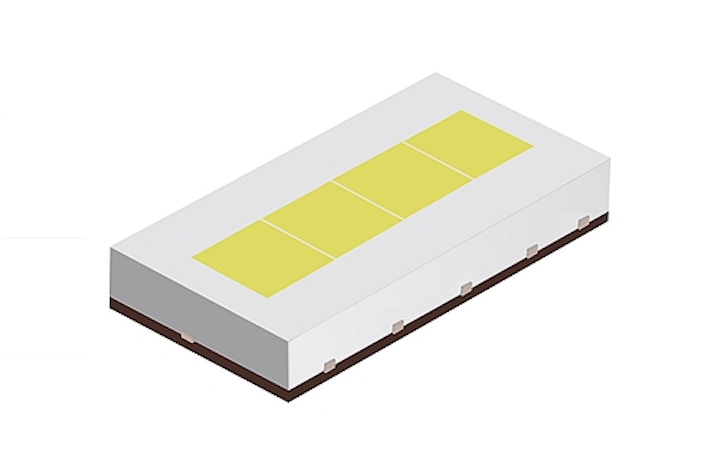 Samsung has added CSP LEDs to its automotive-targeted LED portfolio while Lumileds expands its color LED portfolio and Cree boosts performance for packaged LEDs that target high bays.
Samsung has announced the Fx-CSP family of LEDs in a chip-scale package (CSP) with the single LEDs and arrays targeting forward-facing, exterior, automotive-lighting applications. Lumileds has expanded its established Luxeon C color LED line adding mint, far-red, and deep-red LEDs and increased performance across the family. Cree has announced a high efficacy version of the XLamp XT-E packaged LED that will bring high-bay luminaire efficacy to 130 lm/W.
Interested in articles & announcements on packaged LEDs?
CSPs for auto
In the Samsung announcement, it's exciting to see yet more CSP LEDs emerge in commercial applications. As we covered last year in a feature on the package-light movement, CSPs have been slow to gain a foothold in volume applications. But at LightFair International (LFI) earlier this year, Samsung said it was shipping CSP LEDs in mobile phones and would do so soon in general lighting products. And now the company has the Fx-CSP line for automotive applications.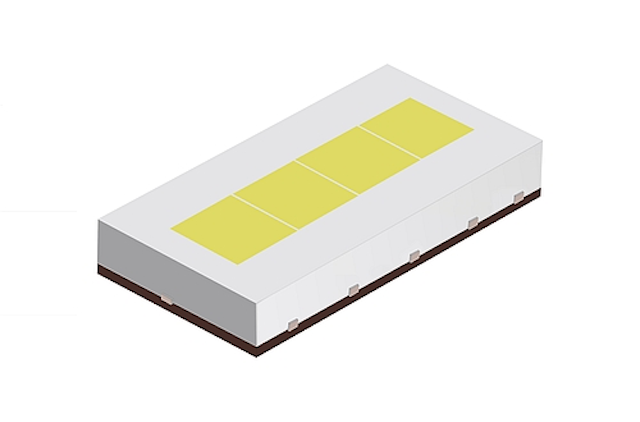 Packaged LED news: Samsung, Lumileds, and Cree add SSL components
One of the main advantages for the forward-facing automotive application is the flexibility of using individual emitters or multiple-emitter arrays. Indeed, the Fx-CSP line includes both with Samsung offering 1×4 and 2×6 arrays. The single-emitter Fx1M and Fx1L LEDs range from 1–3W while the four-emitter Fx4 is rated for 14W and the 12-emitter Fx2x6 is rated for 40W. The single-emitter LEDs target applications such as daytime running lights (DRLs) while the arrays can be used in light-guide-style DRLs or headlamps. Indeed, Samsung said the Fx2x6 can be used in a multibeam headlamp design.
Ultimately, the CSP option could enable lower-cost LED-based headlamps along with flexibility. "Our new Fx-CSP lineup will bring greater design flexibility and cost competitiveness to the automotive lighting industry," said Jacob Tarn, executive vice president of the LED Business Unit at Samsung Electronics. "We will continue to introduce innovative LED products and technologies, such as multichip array technology, that can play a key role in the growth of the automotive LED lighting industry."
Samsung said the Fx-CSP LEDs have already been selected for use in a compact-car headlamp by a major global auto manufacturer. The company also said that more CSP LEDs will come to market in the second half of the year.
Color LEDs
Lumileds, meanwhile, said it was expanding what it termed "the LED industry's broadest portfolio of color emitters" with new Luxeon C packaged LED products. Osram Opto Semiconductors may argue that Lumileds claim, but both companies have leading color-LED portfolios that serve in a variety of applications as we covered in a color-LED feature article last year.
Lumileds launched the high-power Luxeon C line in September of 2015, essentially supplanting the prior Rebel color line. The Luxeon C advantage was higher performance, more center beam candle power (CBCP) for better punch, and consistent focal length and component height in all colors for uniform color mixing in RGB-type applications.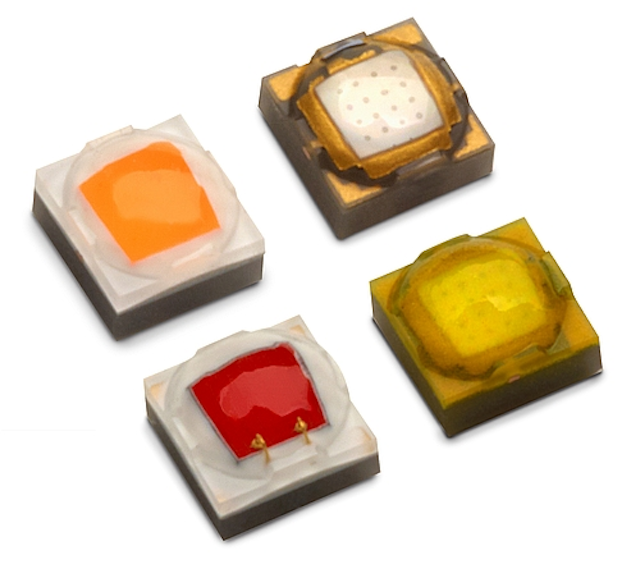 The new color options include a mint packaged LED that is most likely going to prove advantageous in delivering better efficacy and higher-quality white in RGB applications. The new red LEDs will likely serve in horticultural applications, on emergency vehicles, and also possibly in RGB schemes. "Lumileds has filled out the spectrum on an LED color line that really sets the standard in color mixing," said Jennifer Holland, product manager for the Luxeon C color line. "We're delivering seamless color mixing and the right colors for every application, including studio and stage lighting, architectural lighting, emergency vehicle lighting as well as color tunable lamps/fixtures."
Lumileds also said it had increased performance in the line. For example, the standard red and blue LEDs have been upgraded by 12% in typical flux. Moreover, the line includes an expanded selection of white LEDs for RGBW applications including more CCTs and 90-CRI options.
Cree also added to its XLamp XQ-E color LED line recently, primarily for horticultural applications. In a separate article, we covered a new 660-nm LED that it calls Photo Red because it's intended to deliver maximum Photosynthetic Photon Flux (PPF) for applications such as vertical indoor farms.
Cree XT-E upgrade
Cree had further upgraded its XLamp XT-E white packaged LED recently. The XT-E family was originally launched back in 2012 as a higher-efficacy follow-on to the XP-E LED in the 3.45×3.45-mm form factor. Now the XT-E line has received a boost through a High Efficacy (HE) option that improves performance by 25%. The company said that new LED will achieve 164 lm/W at 85°C and 350 mA of drive current. Presumably, that component performance will yield system efficacy in the 130-lm/W and higher range.
As is often the case with Cree LED component upgrades, customers get an immediate option to boost luminaire performance. "We are committed to building the most energy-efficient industrial lighting systems and the newly improved High Efficacy XT-E LED enables us to do that without any additional investment or requalification," said Colin Piepgras, vice president of engineering at Digital Lumens. "With the new XT-E LED, we are able to leverage existing optical, mechanical, and electrical design elements to quickly improve our portfolio of intelligent lighting solutions."