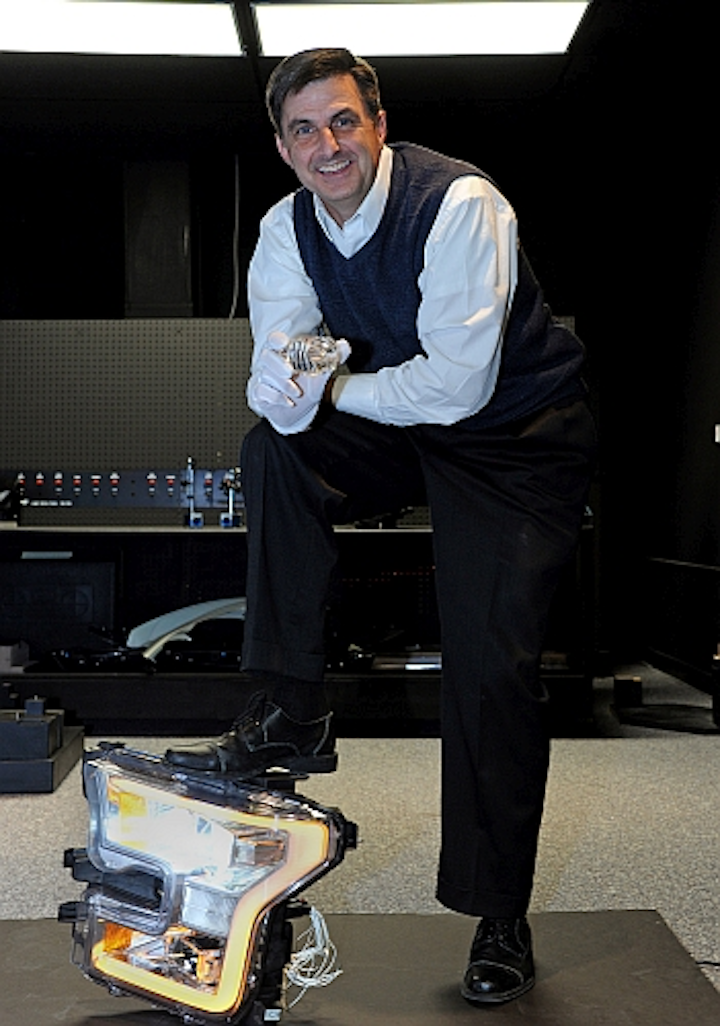 Osram Sylvania has announced plans to build automotive LED modules in the US, while parent Osram and Nanoco have extended a joint-development agreement; and Digital Lumens' Tom Pincince is lauded at business conference.
In today's LED business news, Osram Sylvania has announced expansion of its Hillsboro, NH manufacturing facility and plans for making LED modules in the plant that are targeted at automotive solid-state lighting (SSL) applications. Meanwhile, parent company Osram and quantum-dot specialist Nanoco have announced an extension of their prior joint-development agreement focused on the use of quantum dots in general illumination products. In the connected luminaires space, Digital Lumens has announced that its CEO Tom Pincince has been named as one of the 100 Most Intriguing Entrepreneurs by Goldman Sachs at the Builders + Innovators Summit.
Interested in more articles & announcements on lighting and applications?
Osram LED module manufacturing
The Osram Sylvania manufacturing announcement is unique in that it brings a manufacturing operation to the US. The SSL modules assembled at the facility generally will use surface-mount device (SMD) LEDs and require precision manufacturing equipment and other resources that required a significant investment by Osram. For instance, the company said it invested "millions of dollars" in an ISO Class 8 Gray Room used by workers to don clean outer clothing before entering the sensitive manufacturing environment.
"Innovative designs and state-of-the-art surface mount technology lines, such as the new one installed in New Hampshire with tight tolerance LED placement capabilities, make it possible for Osram to deliver the precision, quality, and supply that our global customers demand," said David Hulick, global OEM SSL marketing director. "With the implementation of this new production capability in the NAFTA region, we can better service our local customer base by providing the best local LED lighting production."
Osram said the first modules manufactured on the new line are already on the road in the headlamp of 2016 model year Ford Explore SUVs. Osram and Ford had previously made news when the 2015 F-150 truck was launched with LED headlamps as a standard feature (as seen below). Osram is also the LED manufacturer behind the Matrix headlamps used in some Audi vehicles sold in Europe.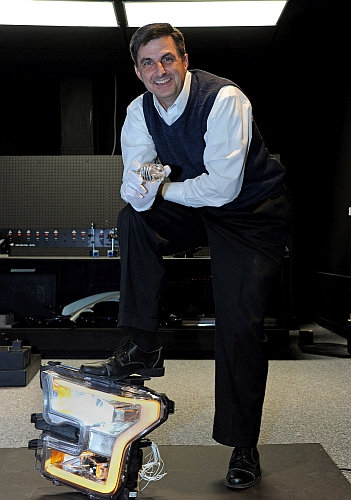 LED business news: Osram builds US SSL factory, strikes development deal; Digital Lumens CEO
Osram sees the expanded capabilities in the US as an avenue to work closely with all of the US-based automakers on new exterior lighting designs. "As the leading automotive light source designer and manufacturer, Osram Automotive Lighting provides OEM customers with a portfolio of top-quality interior and exterior lighting solutions, ranging from individual LEDs to standardized LED systems as well as HID systems, auxiliary light sources, and advanced halogen products," said Julian Dench, senior vice president and general manager, SP Americas Region at Osram. "This production facility will allow us to immediately respond to all of our customers' demands as a full service automotive lighting leader and deliver the future of LED automotive lighting."
The expanded US facility is one of three sister plants dedicated to automotive LED lighting. Osram has sister facilities in Europe and Asia.
Quantum dots
Moving to general illumination in our LED business news report, quantum dots hold the promise of allowing lighting manufacturers to deliver more-efficient, warm-CCT products with high CRI. For background on the technology, see our most recent feature article on the topic. The technology is already being used in display backlighting but has not been widely deployed in general lighting.
The joint-development agreement between Nanoco and Osram is focused on the lighting application. The duo began the work in 2011 and reports substantial progress on characteristics such as lifetime and thermal stability.
The extension covers an additional one-year period and is focused on advancing the technology to commercial usage. "We're delighted to sign this latest joint development agreement with Osram and we are very excited about the potential of our technology in general lighting," said Nanoco CEO Michael Edelman. "We have worked with Osram since 2011 and have made significant technical progress towards the development of an LED incorporating cadmium-free quantum dots and offering substantially improved color performance."
Connected lighting
The Digital Lumens announcement, meanwhile, focused on the recognition of Pincince's entrepreneurial leadership that has seen the startup company establish itself as a leader in the networked lighting space. We first covered Digital Lumens in 2010 and led that story with a Pincince quote promising that the company's networked controls could deliver 90% energy savings in many cases.
The company has since made public many networked SSL projects. The latest was at Ashland Foundry & Machine Works in Ashland, PA, where the new lighting has improved working conditions in the factory while delivering 85% savings relative to the prior metal-halide lighting.
Clearly, the Goldman Sachs recognition is indication of Pincince's work at Digital Lumens and the evolving support for networked controls throughout the industry. "We are honored to recognize Tom as one of the most intriguing entrepreneurs of 2015," said David Solomon, co-head of investment banking at Goldman Sachs. "This is an exciting time for entrepreneurs. This is the fourth year that we've hosted the Builders + Innovators Summit and continue to be amazed by what happens when a diverse group of seasoned and emerging business leaders — the builders and innovators – come together to discuss how to drive innovation, create jobs, and build enduring organizations."