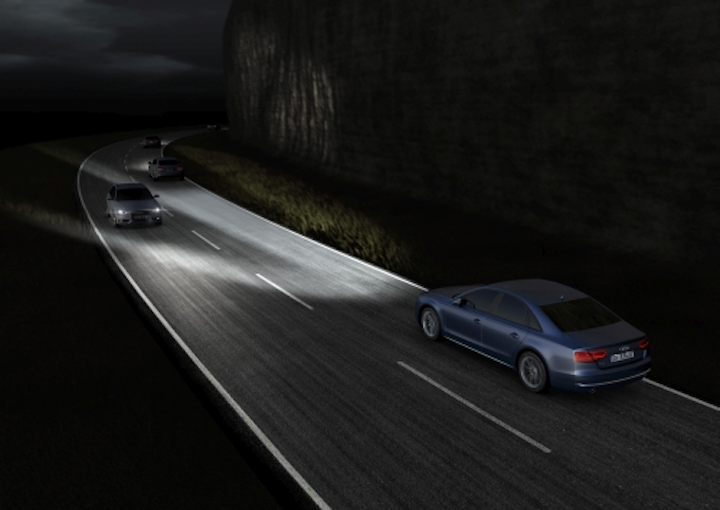 Thus far the US has not approved deployment of Matrix-style LED high beams that use adaptive control to ensure that LED headlamps don't disrupt oncoming drivers.
The Lighting Research Center (LRC) at Rensselaer Polytechnic Institute (RPI) has announced a new research effort focused on the use of advanced LED headlamps and adaptive control of the high beams for driver safety as opposed to use the use of separate low-beam lighting. The work will be handled by the LRC Transportation Lighting and Safety program and is being sponsored by the Transportation Lighting Alliance (TLA), consisting of vehicle and lighting manufacturers Audi, Automotive Lighting, Hella, Osram Sylvania, Philips, and Varroc Lighting.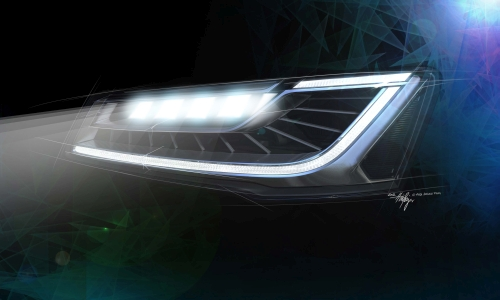 Audi has easily been the most advanced automotive manufacturer in terms of utilizing solid-state lighting (SSL) technology to improve driver safety, whereas many LED-based headlamp projects have been more focused on energy savings and therefore fuel economy, and more durable lower-maintenance designs. Audi has used LEDs to make a fashion statement and to add functionality. Indeed, the Matrix headlamps can steer the individual LEDs in the high-beam light engine, based on input from a forward-facing camera and the GPS, to ensure that the high-beam lights don't distract oncoming drivers and to even help guide a driver safely around corners.

The Matrix design essentially means that there is no need for a separate low-beam headlamp. In the US, however, automotive industry standards have dictated inclusion of a low-beam-inclusive design, and Audi has yet to deploy Matrix LED headlamps in the US, although the SSL technology has been widely deployed elsewhere.

Now the LRC will study the claims made by proponents of Matrix-style LED headlamps that adaptive high-beam implementations, used full time at night in place of low beams, benefit drivers — both the driver of the auto with the adaptive lamps and oncoming drivers. Audi has provided the LRC team with an Audi A7 test vehicle equipped with the Matrix design. The research that started this month will be fully focused on safety, and the project is being led by Director of Transportation and Safety Lighting Programs John Bullough and LRC Director Mark Rea.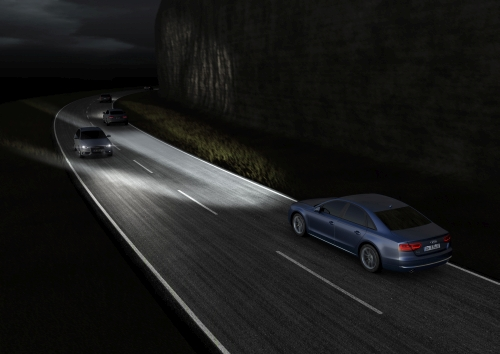 LRC will evaluate adaptive LED headlamps, studying the European Audi A7
"Our expectation is that testing at Rensselaer of the Audi MatrixBeam system used in Europe will help ongoing standards development efforts in the US," said Stephan Berlitz, head of development, lighting functions and innovations at Audi. "We believe the introduction of this technology in the US would be very well-received by customers, just as it has been in Europe and elsewhere, so we are happy to do all that we can to support standards and test procedure development for the US market."
The new research is not the first time that the LRC has studied auto headlamps, although perhaps the center is better known for its work on roadway lighting when it comes to transportation. Indeed, the LRC provided key research that led to replacement of high-pressure sodium lights with LED technology in street-light applications. The LRC has continued to work in the roadway area with a recent National Academies report.

But the center also previously completed a report to the US Congress on nighttime glare and driving performance that in part considered the use of adaptive, high-beam LED headlamps. "At that time, because of driver glare complaints and high nighttime crash rates, we wanted to investigate whether dynamically changing the forward light distribution in response to real-time road and traffic conditions could provide drivers with increased seeing distance without causing increased glare," said Michael Perel, retired chief of the National Highway Traffic Safety Administration (NHTSA) Human Factors Division who initiated the project. "The study did find potential benefits with this concept, variations of which are now being implemented by Audi and other manufacturers."