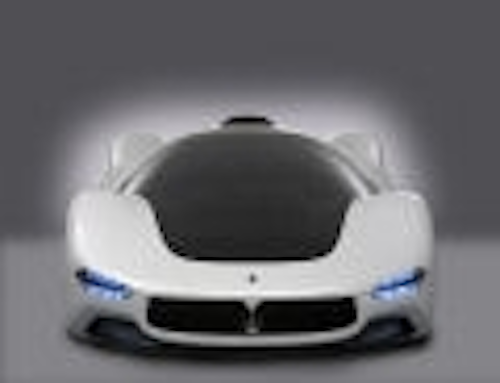 White LEDs from Osram Opto in Maserati headlights
Narrow bluish LED headlights fit perfectly in the stunning overall design of the Maserati Birdcage 75th, which was premiered at this year's Geneva Motor Show.
The concept headlights feature twelve high-power Ostar LEDs from Osram Opto Semiconductors for exceptional brightness. Colour effects around the edges of the headlights add to the excitement and sensuality of this unusual vehicle.
In the concept headlights - a joint development between car designers Pininfarina and Osram Opto Semiconductors - the twelve high-power Ostar LEDs provide intense bluish-white light. These RGB light sources consist of one red, one blue and two green thin-film chips, a metal core board for connecting to the heat sink and ESD (electrostatic discharge) elements that provide reliable protection against overvoltage.
The headlight housings are milled from solid blocks of aluminium to remove the heat from the LEDs. The concept headlights do not meet legal requirements as they lack the appropriate optics and cover glass, but they showcase what spectacular new designs featuring high-power LEDs will look like.
The corners of the headlights contain white and amber Power TopLEDs for position and indicator lights. Flexible boards equipped with red Power TopLEDs, which follow the contours of the vehicle perfectly, were chosen for the rear light cluster. MultiLEDs with amber and red chips provide the rear indicator and brake lights.
Hella provides rear lights from Presidential limo
Among the technology innovations on the White House's newest Presidential limousine is an advanced LED-based rear lighting system designed and built by Hella.
Hella, one of the world's leaders in LED technology, developed the system with lamp units on each side that combine 31 red LEDs for the functions of tail, brake, turn indicator and side-marking lights and two white LEDs for reverse lights. The LEDs are not bullet-proof, but the system includes on-board diagnostics to register possible outages.
The brand-new Cadillac DTS limousine ran its first public miles at President Bush's second inaugural parade in Washington, D.C., on January 24, 2005.
The limousine's rear lamps are an LED-based system developed by a global team in three countries - Germany, Mexico and the US - and was manufactured by a Hella subsidiary in Mexico.