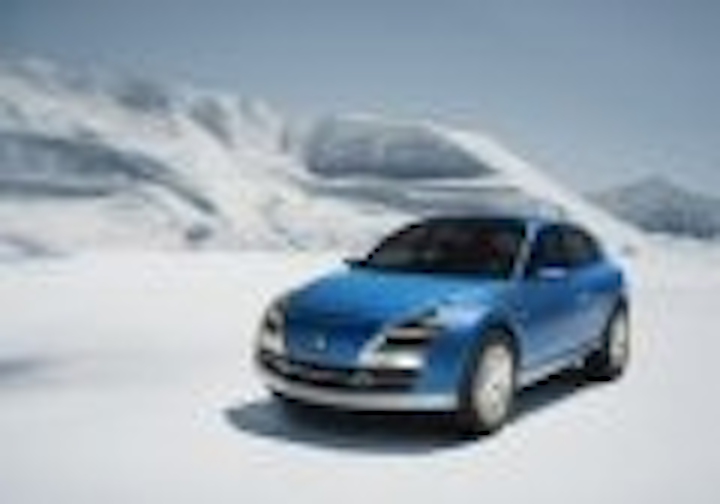 Egeus, Renault's SUV concept-car, boasts an all-wheel drive system and an elegant, dynamic silhouette worthy of a top-end coupé. The vehicle was introduced at the IAA motor show in Frankfurt, Germany last week.
The front-end design features impressive boomerang-shaped LED headlights developed in partnership with the French automotive supplier Valeo. LED lighting was also featured on a previous Renault concept car, the Fluence.
The lighting system uses LEDs for low and high beam, progressive bending lights, daytime running lights and turn indicators.
Renault says that with their small size, powerful light emission, extreme reliability, low energy requirement, and long lifespan, LEDs are the technology of the future for automotive lighting.
With a light color close to that of daylight, the LED headlights increase visual comfort and road visibility.
In the directional lighting system, the electronic LED control unit adjusts the amount and direction of light according to the steering angle. On a winding road, the direction of the beam is electronically managed, while on the motorway, the LEDs are activated and controlled automatically to provide optimal range without dazzle at all times.
Adaptive front lighting
At IAA, Valeo demonstrated a number of LED products, including its XLED headlamps which featured on its V360 vehicle demonstrator.
XLED combines LEDs with a xenon module, which provides low- and high-beam functions and a (mechanical) dynamic bending light.
The LEDs together with sensor and actuator technologies respond to different road and weather conditions and adapt the lighting patterns accordingly. A daytime running light, a progressive bending light (providing optimized illumination around curves and at intersections) and a motorway light (providing enhanced visibility on highways) are all enabled by the LED lights.
Valeo says that the adaptive front lighting system can be custom-designed for applications on a wide range of vehicles, and that regulatory approval is anticipated shortly for a lunch on 2007/2008 vehicle programs.
Microoptics technology for rear lighting
Valeo has also introduced a new Microoptics technology based on LEDs and light guides, which can be used to create a homogenously illuminated surface appearance. For example, says the company, a tail lamp could have the whole surface lit up in red.
Meanwhile, the technology can be used to build center high-mounted stop lamps (CHMSLs) with 4 LEDs to illuminate the signal, rather than having 12-16 individually-visible LEDs.
The company is also promoting its proprietary Mono-LED technology which enables all rear signal functions by using one high-power LED per function.