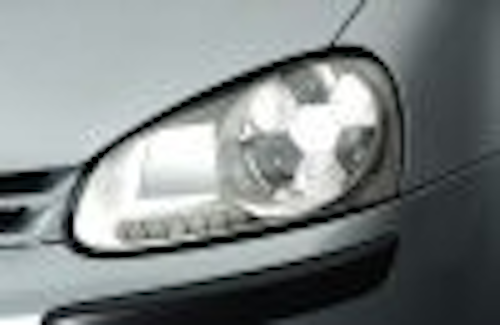 A prototype LED headlamp system developed by Hella in cooperation with Volkswagen has received top honors for innovation in a bi-annual competition held by Spain's Society of Automotive Engineers (Sociedad de Técnicos de Automoción).
Hella expects to begin production of the new LED headlamp in 2008 (see Hella develops LED headlamp prototype). The prototype achieves a luminous flux of around 1,000 lumen in low beam, creating light similar in intensity to xenon headlamps.
The award-winning design was developed in cooperation with Volkswagen for the Golf 5. It incorporates low beam, high beam, indicator and daytime running lights all implemented using LED technology.
Hella is using standard LEDs as well as LED assemblies specially developed for use in a variety of automotive lighting applications.
Hella's LED headlamp came in first among 87 entries in voting by an international panel of judges. The award was presented to Hella at the recently completed Barcelona Motor Show.
"LEDs as light sources make it possible to create completely new headlamp shapes and arrangements," notes Raymund Heinen, president of Hella Lighting North America. "The increased durability of LEDs also may lead to automotive headlamp systems that will function without the need for replacement."
Headlamps using LEDs for main lighting functions already meet applicable standards of the US Society of Automotive Engineers (SAE). Approval is expected for LED headlamps within the European Community by 2008. LED signal functions located within the headlamp are already in use both in Europe and North America.
In 2003, Hella was the first company worldwide to achieve a series application of white LEDs as a combined position/daytime running light in the Audi A8 W12 headlamp.