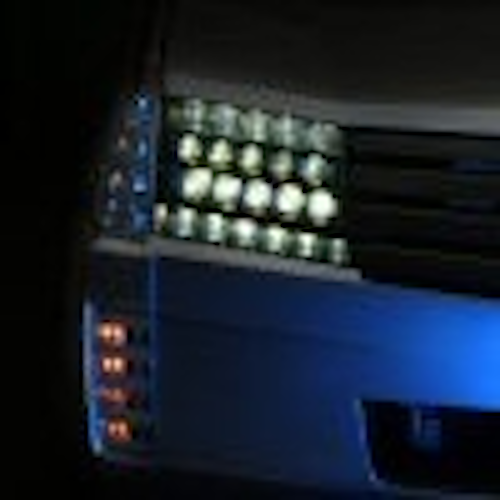 Visteon Corporation, a tier-one automotive supplier, has developed a broad range of lighting products, most recently looking at concepts for using LED technology for front and interior lighting.
The company currently produces LED rear signal lights and recently announced the development of an LED front lighting low-beam prototype with a "roadworthy" beam pattern. As an early adopter of LED technology for external light sources, the company says that it looked to LED technology as a front lighting solution after recent gains in lumen output made white LED lighting sources feasible.
LED technology is the preferred choice for long-life applications where efficiency, durability, space constraints and style are priorities. LED-based headlamps are up to 55 percent thinner than their non-LED counterparts, and this frees up space in the engine compartment or in the grille to add styling options.
In addition, LED-based front lighting sources can require up to 40 percent less power than traditional lighting sources. This allows automakers to apply the saved energy to other comfort or safety features. LEDs are a mercury-free technology, making them an environmentally friendly source. And LED technology has a lifetime of over 10,000 hours, meaning the headlamps can outlive the life of the vehicle.
While other lighting systems offer a degree of styling flexibility, LED front lighting systems may revolutionize the way designers think about front headlamp design. Arrayed LEDs not only look unique, their flexibility may eventually help designers "break out of the box" of the traditional, two-headlamp front-end design approach.
For example, since LED front lamps don't require a single packaging unit - or "capsule" - designers could potentially "submerge" the lights into the grille design so that no lighting source is recognizable during daylight hours. Unlike HID/Xenon lamps, LED-based front lamps are recognizable not only in night mode but in daytime as well. Because they are much thinner than more traditional headlamps packages, designers have that much more flexibility to design increasingly dramatic overall front-end styling.
In terms of interiors, the thin lights offer flexibility to provide lighting for functional, ambiance and styling differentiation. Visteon's concept for functional LED interior lights includes door handle lighting, map pockets, footwells and cupholders and is programmable to up to 20 different colors. This lighting application also includes translucent skins and behind-the-surface lighting for logos and trim panels, a styling feature viewed positively by consumers.
To get some further insight into Visteon's LED product developments, LEDs Magazine spoke with Prof. Dr. Burkard Woerdenweber, who leads the company's Lighting Global Advanced Engineering Team, and Dr. Rainer Neumann, who leads Visteon's Lighting Business Development and Customer Support in Europe:
What are the relative merits of LEDs in rear signal lights?
It is generally accepted that LED solutions are more expensive (by typically a factor of 2 to 4) than the incandescent alternatives. This gap will shrink as production volumes increase. The primary advantages of LEDs are small packages, less wasted energy (especially heat), and rapid response.
What are the requirements for the LED front lighting low-beam prototype?
If you want to improve illumination and design an LED front lighting system comparable to high-intensity discharge (HID) systems, today's LEDs are still not powerful enough. To reach the illuminance of an HID front lighting system would require about 30 LEDs (900 lm). This is not beneficial for styling and efficient packaging.
In terms of packaging and styling, 10 LEDs are a target number. But the performance of today's LEDs would only generate the illuminance of a halogen light and, therefore, there is currently no customer acceptance for such systems. The only driver for LED systems is styling.
Today, LEDs are capable of producing about 50 lm and this will increase to 80 lm in the near future. To make the system efficient for automotive front lighting systems 200 lm per LED would be favorable. (As a comparison, today's HID and halogen low-beam functions provide1000 and 400 lm, respectively.)
What about high-beam functions?
Visteon has developed prototypes for both low-beam and high-beam functions, and has also developed an "all-LED" front light which includes low- and high-beam functions, a daytime-running light and parking and turning lights.
The high beam is not the focus of development today. This function is relatively easy to achieve using LEDs, but is used less than 5% of the time in normal traffic. So, converting high-beam functions to LEDs is not of commercial interest - unless it is provided in conjunction with an all-LED headlamp.
Nevertheless, a headlamp with LED low beam and standard high beam will only be a transient solution as it is with Xenon. Styling ideas expect an overall LED look.
Which LED parameters need to be improved?
Major improvements are necessary in luminosity (i.e. the sharp definition of the light source itself), luminous flux (the light energy) and price.
By 2008 we would require a luminance of at least 30 cd/mm2 (note: HID systems have a luminance of about 90 cd/mm2; LED systems currently produce around 4 cd/mm2).
In terms of luminous flux, 200 to 250 lm per LED should be the target. With a minimum of 20 to 40 cd/mm2 we can design an effective system with 6 LEDs for the low beam, 6 LEDs for the high beam, 3 LEDs for the fog beam and 2 LEDs for the daytime-running light.
Are there any regional preferences for the appearance of LED headlamps?
The most interesting fact is the relative design freedom that comes with the LED. The first LED headlamps will contain multiple light sources which can be arranged in different patterns, such as lines, circles etc. The different regions have different requirements when it comes to the design of the headlamp. In particular, some regions require the headlamp to be "the eyes of the car".