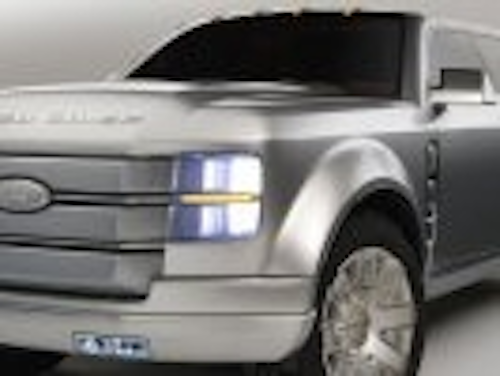 Concept lighting poses significant challenges to any automotive designer. It also poses a significant challenge to the person who is tasked to create this lighting and bring it to life. When Ford created the 2006 Super Chief concept vehicle they insisted on the most advanced LED technology to "push the visual appeal" to the highest level.
The implemented lighting technology had to be in line with reality, and likely to appear on production vehicles within several years. The challenge was to infuse new LED and light management technology into the vehicle, creating visual interest and stimulation.
Exterior and interior lighting is becoming much more sophisticated and often has several unique visual elements operating simultaneously. Customers who view concept cars are often heard to say, "great ideas and looks – but it never seems to find its way on to real cars."
The key is to blend new "eye candy" features with real design and production-worthiness, using the latest LEDs and the most innovative light management technologies available. Together all of these elements create visually interesting products with lighting that greatly enhances the overall vehicle design.

+++++++

To read the rest of this article, please register for a free subscription to LEDs Magazine Review.Why?
Existing subscribers:Click here to enter your reader number and download the new issue.
+++++++