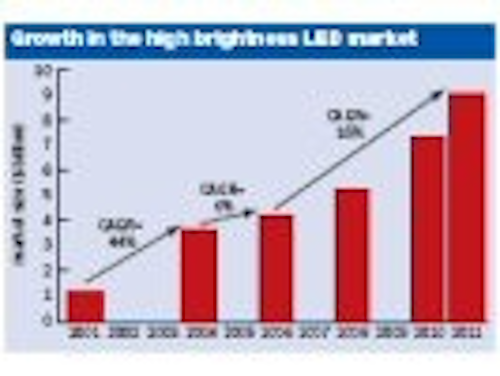 Growth in the high-brightness LED market in the next 3-5 years will be driven by lighting, display backlighting and automotive applications, and the overall market will reach $9 billion by 2011, according to the market research firm Strategies Unlimited.
Presenting his annual market review and forecast at the Strategies in Light conference in early February, Strategies Unlimited's Bob Steele said that the market will begin to move away from its current low-growth phase in the next 1-3 years, as new markets begin to emerge.
Steele said that the overall LED market grew by 6% year-on-year in 2006 to reach $4.2 billion. A similar rate of growth was seen between 2004 and 2005. Total LED shipments exceeded 30 billion units in 2006, having being less than 20 billion units in 2004.
+++++++
This article was published in the March 2007 issue of LEDs Magazine.
To read the rest of this article, please visit our Magazine page, where you can download FREE electronic PDF versions of all issues of LEDs Magazine.
You can also request a print copy of LEDs Magazine (available by paid subscription).