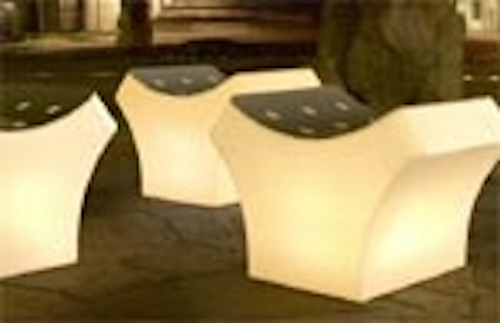 Latest
High-power LEDs provide illumination and treatment in medical applications (Sep 06)
An enormous range of medical applications, from surgical illumination to photodynamic therapy, can benefit from the advantages offered by LED light sources, according to Gareth Jones and Grant Barnett of Enfis Ltd.
Trumpf iLEd surgical light offer color-change benefits (Aug 06)
An LED-based surgical light allows surgeons to change the color temperature according to the type of procedure.
Tryka LEDs illuminate World Cup globe (Jun 06)
Dialight unveils LED area lighting for hazardous locations (Jun 06)
Selected Features
Ambient experience: LEDs soothe hospital patients
Philips Solid State Lighting has developed an LED lighting scheme that can create a more patient-friendly, supportive and efficient hospital environment, explains Luc van der Poel.
LEDs in machine vision applications
LED light sources for machine vision applications will benefit from brighter LEDs and improvements in white LED performance, writes Nick Trevis of Lambda Photometrics.
Philips brings light to seating with Glowing Places
Philips Design has unveiled transparent seating units containing embedded LED lighting that are designed to interact with users in public spaces.
Clothing, ceilings and submarines all use LEDs
Lighted clothing, flexible ceiling infrastructures and illumination on nuclear submarines were just some of the many applications discussed at the recent Intertech LEDS 2004 conference.
Selected News
Zylight LED light provide flexibility for film and video shoots (Apr 06)
A new LED lighting instrument enables film and video lighting professionals to select from a wide range of white and color light options.
LED May Prevent Skin Side Effects Caused by Radiation in Breast Cancer Patients
According to a late-breaking abstract presented at the 2006 American Society for Laser Medicine and Surgery meeting, the use of low-energy non-thermal light-emitting diode (LED) photomodulation in women with early breast cancer undergoing radiation therapy significantly reduced side effects to the skin normally associated with radiation therapy.
Light Relief: LED slippers, cufflinks and wrinkle remover
Cyberlux provides USAF with security LED lighting system
Cyberlux collaborates with Air Mobility Battlelab to produce a lightweight visible and IR lighting system for security forces.
Stockeryale announces Cobra linescan backlight
Philips turns LEDs and fabric into intelligent displays
Philips Research has demonstrated photonic textiles that integrate multi-colored LEDs into fabric to produce intelligent displays.
Backlash brews over blue LEDs
Some consumers are becoming distracted and annoyed by dazzingly bright blue indicator lights on electronic equipment, according to this article in Wired News.
Phoseon secures $6.4 million investment
A manufacturer of high-power UV and IR light sources has completed its Series B financing round.
Natus widens market for blue LED phototherapy system
Module with AlGaN LEDs purifies flowing water
Water purification modules based on UV LEDs are a step closer after the first demonstration of bacterial destruction in flowing water with the technology.
Permlight, Osram use IR LEDs to stop movie piracy
Permlight Products is using infrared LEDs from Osram Opto Semiconductors in a new LED system that prevents the use of digital camcorders in cinemas.
LED innovations benefit banks and vegetables
Among novel uses for LEDs in Japan are a non-contact fingerprint sensor and a fridge that stimulates vitamin C production.
Mitsubishi launches super-small LED projector
PerkinElmer acquires biomedical LED supplier
Vegas hotel orders Puck Lights for furniture lighting
LED medical treatments approved by FDA
The US Food and Drug Administration has given clearance for two different LED systems to be marketed for medical applications.
CameraBright selects Nichia LEDs for lighting accessory
Researchers use white LEDs to beam 3-D images
Two Japanese scientists have developed technology they hope will one day turn the humble telephone booth into a high-tech chamber for beaming holographic images, according to a report from The Associated Press.
Opera stand uses LEDs to illuminate music scores
Selected Products
Micro-Lite® introduces fully variable LED-based illuminator (Apr 06)
Dymax: monitoring ensures complete control of UV curing materials
Stockeryale announces Cobra™Linescan Backlight
High-power Ostar now also available as an IR LED
Vision Control debuts Vicolux adaptive machine vision lighting
Alpha-One LED array enhances plant growth
BivarOpto introduces subminiature quad level light pipe
BivarOpto introduces right angle SMD LED indicator
Compact LED arrays for biomedical sensors
StockerYale extends Cobra LED Line Lights product range
Stable high-illumination lighting for machine vision
Robust machine vision sensors for inspection and process controlAgilent intros improved LED-based optical mouse sensor