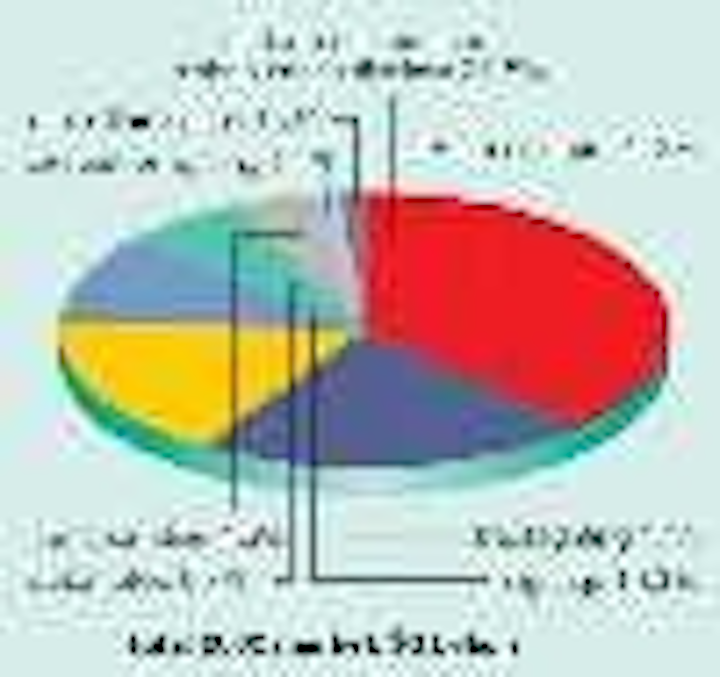 Speaking at the Intertech LEDs 2003 conference, Rebello also said that the compound annual growth rate (CAGR) will be 12% between 2002 and 2007, and the market will exceed $5 billion by the end of that period. The high-brightness (HB) segment (iSuppli defines HB-LEDs as having an output of more than 500 mcd) will be about 45% of the total market in 2003, and about 57% in 2007.
In a number of applications, long lifetime is a key factor in the adoption of LEDs. However, while there may be a high initial demand for LEDs, their long lifetime means that LED-based products have a long replacement cycle, which can slow market growth. Therefore, says Rebello, it is imperative for LEDs to continue to find new applications in order to stimulate further growth in the overall market.
The graph shows the 2002 LED market by application. Backlighting and signage comprised 17% and 10.3% of the total LED market respectively, and these segments, which mainly use HB-LEDs, offer the highest growth potential. The largest segments for standard-brightness LEDs were for status indicators and alphanumeric displays (37.5% of the total market) and IR transmitters (21.3%).
Rebello says that LEDs are particularly well suited for backlighting small LCD panels in cell phones, PDAs, digital cameras and camcorders. The market for larger panels - tablet PCs, laptop screens - is several years out, with the barrier being uniform illumination across large areas. The human eye requires a color uniformity of at least 95%.
iSuppli estimates that the backlighting market for LEDs will grow at a CAGR of 18% from around $500 million in 2002 to more than $1.1 billion in 2007. The market should be around $700 million in 2003. In handsets, the average number of LEDs per display is decreasing as LED performance improves; however, some phones now have more than one screen. The introduction of higher-quality cameras in phones might reduce the demand for stand-alone digital cameras, which would in turn reduce the demand for LED backlights in the latter application.