Sony introduces first televisions to feature LED backlights
Sony has unveiled a range of televisions that feature LED-based backlights for improved color reproduction.
Aug 19th, 2004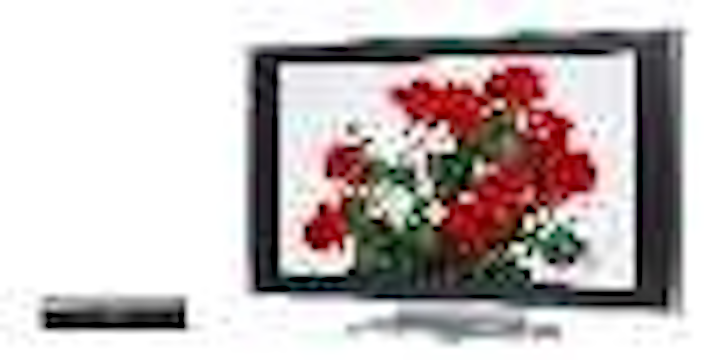 LEDs have for a long time provided the light sources for millions of displays screens in mobile appliances such as phone handsets. Now, display manufacturers are beginning to introduce larger liquid-crystal displays (LCDs) that utilize LED backlights for enhanced color reproduction.
Sony has become the first company to unveil LCD televisions that use an LED backlighting system. In November, Sony will start to ship in Japan two televisions in its high-end "Qualia" range that feature LED technology: a 40-inch (102 cm) version and a 46-inch model.
Earlier this year, NEC-Mitsubishi unveiled prototype 21.3- and 23-inch LCD monitors with LED backlights.
The technology doesn't come cheap; the Sony TVs will reportedly be priced at ¥840,000 (around $7500) and ¥1.1. million (around $10,000), respectively.
However, LED backlighting significantly improves quality of images reproduced on an LCD screen, compared with displays using other backlight technologies. Cold cathode fluorescent lamps (CCFLs), the conventional backlights used in LCDs, typically do not have a particularly strong emission in the red part of the visible spectrum, meaning that red colors tend not to reproduce well on screen. With LED backlighting, the red colors are displayed much more strongly.
Sony's backlighting technology, which goes by the name of "Trilumonics" uses high-power RGB LEDs supplied by Lumileds.
The display system in the Qualia televisions delivers a color gamut that is 105% of the NTSC color space. By comparison, conventional technologies can only reproduce 65-75% of the NTSC color space. There are significantly more hues and tones available in a wider color gamut allowing for finer and more exact color definition. For the viewer, this means that on-screen color is virtually lifelike. No conventionally lit displays or televisions can offer similar performance.
The use of LEDs also allows for full control of the backlight system so that the white-point, color and brightness can be optimized for every application. The settings for movies, electronic games, photo images and home video can be controlled and customized for optimum viewing effect.
Another advantage of LED backlights is the absence of mercury, a hazardous material that may become prohibited in certain markets in the future.