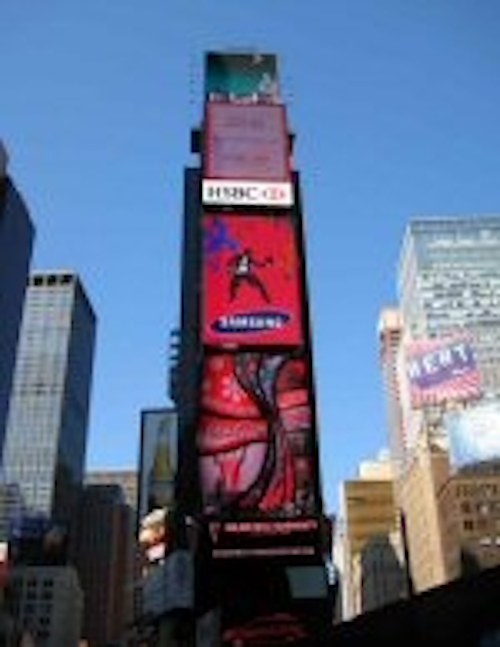 The new spectacular display replaced the existing ProStar® display. This is the third Daktronics display installed for Samsung at the Times Square Tower #2 building location since the electronics giant first purchased ProStar® technology in 2001.
Located directly above the Coca-Cola Times Square display, the new Daktronics ProStar® spectacular measures approximately 65 feet tall by 40 feet wide. Daktronics collaborated with Samsung's advertising agency Cheil Communications of Ridgefield Park, N.J., with the multi-million dollar project.
"The new Times Square display shows that we are committed to constantly presenting the latest and greatest technology on the market," said Michelle Son, account director for Cheil Communications America (CCA).
A Daktronics spokesperson confirmed that there were no problems with the previous display, but updates were made because Samsung is a global brand and their image in Times Square is of utmost importance to them. "Samsung and CCA decided independently to upgrade their technology each time and contacted Daktronics for a solution," said the spokesperson.
"The original display that we installed combined LED and neon," explained the spokesperson. "The second upgrade replaced only the neon portion of the main face with LED. This third upgrade was a total replacement of all of the LED and the neon (although there are neon borders on the sides of the LED screen)."
So what happened to the old display? "Regarding the old display, we have brought it back to our manufacturing facilities in South Dakota and are repurposing the LED panels for use elsewhere. They will not go to waste.
Daktronics Technical Operations Center provides comprehensive control and management for the new Samsung display while monitoring and scheduling content. Keyframe, a service division of Daktronics, assists with content creation and formatting for the Samsung display. The new video display is operated with Daktronics' proven Venus® 7000 controller and V-Link® video processor.