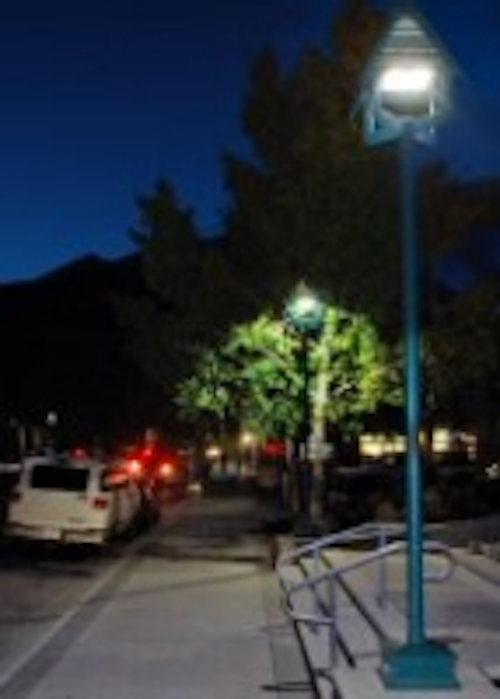 The Canadian town of Banff, located in a UNESCO World Heritage Center national park, has joined forces with Osram to launch a pilot project to convert its street lighting to LEDs.
Eight streetlights have now been upgraded to LED lighting, which has reduced energy consumption by 36 percent.
The main town in the Banff National Park, which was established in 1885 in the heart of the Rocky Mountains, is uniquely situated in the middle of unblemished nature. The only people allowed to reside in Banff are those that actually work there, in order to prevent uncontrolled growth at the expense of nature.
The changeover to LED lighting started with the lights for the Town Hall square, in good time before the beginning of the lighting season. Gradually more and more streetlights will be upgraded to LEDs.
There is no need to purchase new fixtures because the use of retrofit systems means that only the lamp and control gear have to be replaced.
The long life of LEDs of up to 50,000 hours (compared with 15,000 hours for the previous lamps) reduces maintenance costs considerably, and the low energy requirements cut down on electricity consumption and CO2 emissions.
A specially designed lens directs the light from the LEDs down only onto the street and not onto the surroundings or the Banff night sky. Apart from energy savings, this was one of the major challenges facing the Osram engineers. Another benefit of the LED lights is that they do not attract flies.
"We are very excited to be working with Osram Opto Semiconductors on this LED lighting project to explore alternative lighting solutions," said Mayor of Banff John Stutz. "Collaborations such as these are essential especially given rising energy costs and environmental concerns."
Rüdiger Müller, CEO of Osram Opto Semiconductors, commented: "For the first time we are able to observe the use of LEDs in a day-to-day situation virtually under the laboratory conditions of a small town, giving us an immediate insight into the ecological and economic effects of our LEDs on the community. This important new knowledge will speed up the spread of LED lighting. We expect LEDs to become more and more popular in the medium term for street lighting."