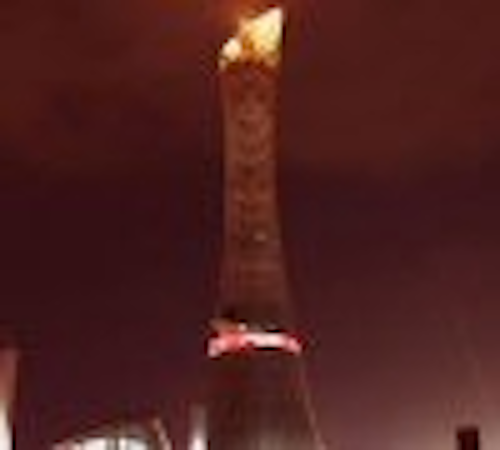 Color Kinetics has announced its largest networked lighting system to date: an 11,700 square foot video screen that wraps around Aspire Tower, the tallest building in Doha, Qatar.
The project was completed in December as the focal point for live broadcast coverage of the 2006 Asian Games in Doha. The tower also features an LED lighting skin – see
Aspire Tower wears LED lighting skin designed by KSLD
.
The installation marks the latest in a growing number of large-scale, lower-resolution video displays that are being erected as a cost-effective alternative to conventional high-resolution LED screens.
The tower's façade is covered in wire mesh. To form a massive cylindrical video screen, approximately 156,500 nodes of iColor® Flex SL were woven through the mesh. Each node acts as an individually programmable pixel by incorporating Color Kinetics' custom-engineered Chromasic® microchip. The screen is divided into three low-resolution and three higher-resolution segments.
"We've proven that LEDs are an ideal source for many illumination applications, and now we're increasingly targeting low-resolution video as well, based largely on the strength of our intelligent control technology," said Bill Sims, President and CEO, Color Kinetics.
"With our Chromasic chip inside each self-contained LED node, we can produce video grids in virtually any form – which wouldn't have been possible just a few years ago. On top of the digital intelligence, we can create very durable displays that are able to withstand harsh climates and vibration without the bulk and weight of typical high-resolution LED screens."
Another low-resolution LED display, created by Element Labs, showed live coverage and imagery from the opening and closing ceremonies inside the stadium of the Doha games – see see Element Labs creates colossal LED display for Asian Games.