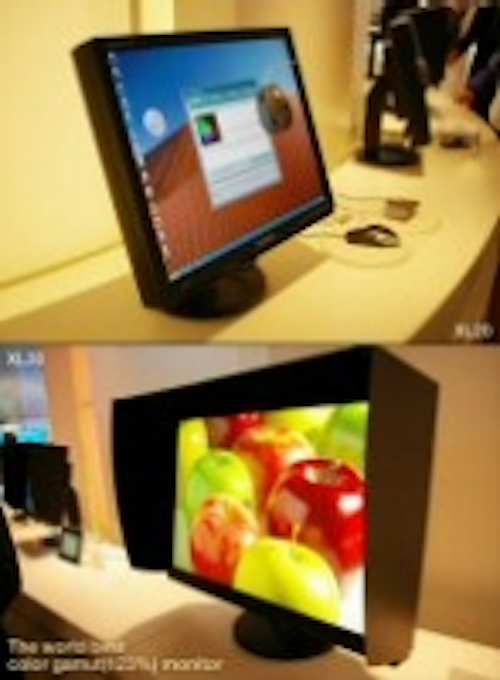 Samsung introduces 30-inch monitor with LED backlight
At CeBit in Hanover, Germany, Samsung Electronics introduced a 30-inch LCD monitor (SyncMaster XL30) that incorporates an LED backlight unit. This professional-grade monitor comes after a 20.1-inch model (XL20) with an LED backlight unit that was launched in 2006.
Samsung says that the new monitor will satisfy the needs of numerous consumers with the adoption of the LED backlight unit, which has not been widely commercialized because of lack of price competition and technological limitations.
The key feature of the new monitor is its ability to reproduce 123% of the NTSC standard color gamut, meaning that it can render a wider range of colors than in the NTSC television broadcasting standard. The XL-20 has a color gamut of 114% of NTSC.
Ha Yoon-ho, Senior Vice President of Samsung Electronics Visual Display Division, said, "The new LED backlight unit monitor is an achievement that has accomplished feats of both advanced technology and size limit.
"I predict that new Samsung LED backlight unit monitors will create a color revolution leading to a popularization of the products not only for experts such as designers and photographers but for the desktop publishing field."
Until recently, graphic designers and those working in the printing and publishing industries didn't use LCDs at all, since the color reproduction was not as accurate as conventional CRT displays. With LED backlighting, the XL-30 provides a massive leap ahead in performance.
The monitor expresses Adobe RGB color ranges, which allows pictures taken with DSLR cameras to transmit emerald green, dark red, and other natural colors onto the monitor in their true form.
Users will be able to view detailed, in-depth colors that were previously only available through computer imaging and printed copies. Also, consumers will be able to print photo colors exactly the way they see them on the monitors.
The XL30 has a brightness of 300 cd/m2 and a resolution of 2560 x 1600. It will have a worldwide launch in August 2007.
Toshiba introduces new LED-backlit LCD panels for notebooks
Toshiba Matsushita Display Technology Co., Ltd. (TMD) and its US marketing arm Toshiba America Electronic Components, has developed new 10.4-inch and 10.6-inch thin-film transistor (TFT) LCD panels for notebook PC applications, each incorporating an LED backlighting system to provide low-profile, lightweight, and low-power consumption features.
TMD's range of LED-backlit LCD panels for mobile notebook applications now has seven main screen sizes from 8.9-inch to 13.3-inch. The company first introduced an LED-backlit 11.1-inch WXGA+ resolution LCD panel for notebook PCs in October 2005.
TMD foresees strong growth in this area, and says that these types of LED-backlit panels will exceed 50 percent of the company's production in late 2007. TMD says that compared with a conventional cold cathode fluorescent lamp (CCFL) backlighting system, LED backlighting has distinct advantages such as reduced thickness, reduced weight, increased brightness, and decreased power consumption.
In addition, the LED system is mercury-free and RoHS-compatible. It also features lower operating voltages, which provides another advantage in design and safety aspects. Moreover, an LED backlighting system contributes to increased durability against impacts and vibration.
In addition to the adoption of an LED-backlight system, TMD has also adopted thinner glass substrates of 0.3 mm or less, so that the overall module thickness is only 2.5mm for several of TMD's notebook PC LCD products. In conjunction with the successful reduction of weight and thickness, TMD has also achieved a high brightness of level up to 300 cd/m2 in certain products in this family.