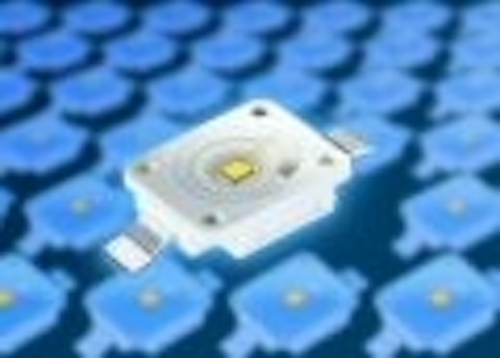 Osram Opto Semiconductors has launched the latest member of its high-power LED family, the Platinum Dragon. The new single-chip LED produces 75 lumens of white light from an operating current of 700 mA, equivalent to 30 lm/W. Higher operating currents of up to 1 A can be used, depending on the color.
Osram says that the new package has the same dimensions as for the Golden Dragon, Osram's current single-chip high-power LED. However, the Platinum package can withstand twice the output and therefore a higher operating current, meaning more light in the same space.
The company says that improvements in the Platinum Dragon versus the Golden version are due to the use of Osram's high-power thin-film chip, along with better thermal connection between the chip and the package and also optimum heat dissipation of the SMT package.
Osram says that the Platinum Dragon will have a price of less than three dollars, which means that it offers more lumens per dollar than any other LED (around 25 lumens per dollar, or 4 cents per lumen). Other manufacturers may disagree.
The Platinum Dragon is suitable for all applications that need high brightness in a small space. Torches, bicycle lamps and flashing blue lights for emergency vehicles are all good examples. Existing applications such as traffic lights, flashing warning lights on building sites, reading lights in cars and aircraft, and medical lamps can now be brighter without design modifications.
Osram Opto appoints Nu Horizons as distributor
Osram Opto Semiconductors has signed a distribution agreement in North America with Nu Horizons Electronics Corp., a leading global distributor of advanced technology semiconductor, display and sys-tem solutions.
Nu Horizon will distribute Osram's LEDs, silicon photo detectors, optical sensors, infra-red emitters, high-power laser diodes, organic LEDs (OLED) and intelligent display products.
Osram Opto's product focus on current growing markets such as general illumination, projection, LCD display backlighting, automotive interior and exterior lighting, and mobile communications with organic and inorganic LEDs as light sources.
Dave Bowers, president of Nu Horizons Distribution Division said that the partnership provided his company with an entry into the lighting market. "It allows our company to synergistically work with multiple partners across our line card to satisfy diverse customer requirements," he said. "We are particularly excited about Osram's innovative OLED offering. It's a great addition to our flat panel display business."