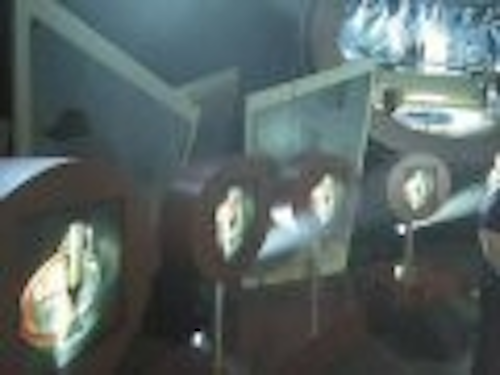 Barco displays for Dubai mall
LED display manufacturer Barco has signed its largest-ever contract for a fully integrated system of LED screens, to be installed in the world's largest shopping mall in Dubai. The contract with developer Emaar is worth over Euro 24 million euro and includes a total of 571 square meters of LED displays
The LED displays will be used both to inform and entertain visitors to the Dubai Mall, which will open in September 2007. Deliveries for the installation will take place in 2007.
Visitors entering the Mall will first see ten digital banners along the Grand Drive, made up of Barco's OLITE 612 LED tiles and measuring 10 meters square each.
The Fashion Catwalk will be the setting for the most prestigious and creative LED construction. A total of five separate rings of OLITE 510 LED displays will embrace a central structure. The mechanically powered rings will be able to move independently of each other to form eye-catching, unusual configurations. In addition to the rings, eight separate curved columns of ILITE 6XP tiles, each measuring 2 square meter, will enhance the focus and entertainment value of the area.
Also the indoor skating rink will be an attraction in its own right, with an LED display totaling 200 square meters. This giant display will feature Barco's ILITE 12 LED tiles and will project latest news and information, as well as advertisements from the Mall.
LSI opens new LED display production facilities
LSI Industries Inc. has revealed that its technology segment (LSI Technology Solutions Plus) has brought on-line a dedicated facility for the construction and assembly of large solid-state LED video billboards for the outdoor advertising industry.
First shipments from this leased 24,000 square foot facility, located adjacent to LSI Saco Technologies in Montreal, Canada will be to Clear Channel and will begin during the current quarter. LSI acquired Saco in June 2006 (see news item).
Lighthouse brings LEDs to Australia's Footy Show
One of the most watched television programmes in Australia, the award-winning AFL Footy Show, delighted its audience recently with a flawless live broadcast of its 2006 Grand Final edition thanks to LED video technology supplied by Lighthouse Technologies.
An estimated national audience of over 1.49 million viewers tuned-in to watch the show's 2006 AFL Grand Final broadcast which aired on Australia's Channel 9 (GTV-9) television network on Thursday 28th September 2006.
To commemorate the occasion, the network created a spectacular studio set, located at the Rod Laver Arena in the heart of Melbourne's city centre, entertained a sell-out audience of 15,000 football fans.
As part of the set design, over 130 Lighthouse LED video panels were strategically deployed around the stage to create a number of R4, R10 and R16i/o high-definition video displays which were used to project vibrant images of the event. This included the showcasing of football highlights, live interviews and special performances by some of Australia's top music acts.
Daktronics displays delight Blues fans
St. Louis Blues fans attending ice hockey games at the Scottrade Center this season will see a significant upgrade to the venue in the form of an integrated scoring, video and advertising LED display system from Daktronics.
The focal point of the new system is a unique centerhung scoreboard incorporating high resolution, HD-ready ProStar® LED technology with 10-mm pitch. Each of the four main video displays measures approximately 9 feet 6 inches high by 16 feet wide.
Atop the scoreboard are eight additional full-color, 20-mm pitch LED displays used primarily to show period time, scores, stats and other information, as well as sponsor messages. Each measures 7 feet high by 12 feet wide. Four additional ProAd® digital displays are positioned below the main video screens, each measuring approximately 2 feet 3 inches high by 16 feet wide (20 millimeter pixels).
To provide additional information and entertainment, the Scottrade Center scoreboard features a ring of full-color LED technology that encircles the entire seating bowl. This ProAd® display measures approximately 2 feet 8 inches high by 1,070 feet in circumference, making it one of the longest of any NHL facility. When not showing exciting graphics, animation, video clips, stats, or out-of-town game scores, advertisers are highlighted on ProAd® full-color LED displays with a wide variety of visuals and messages.