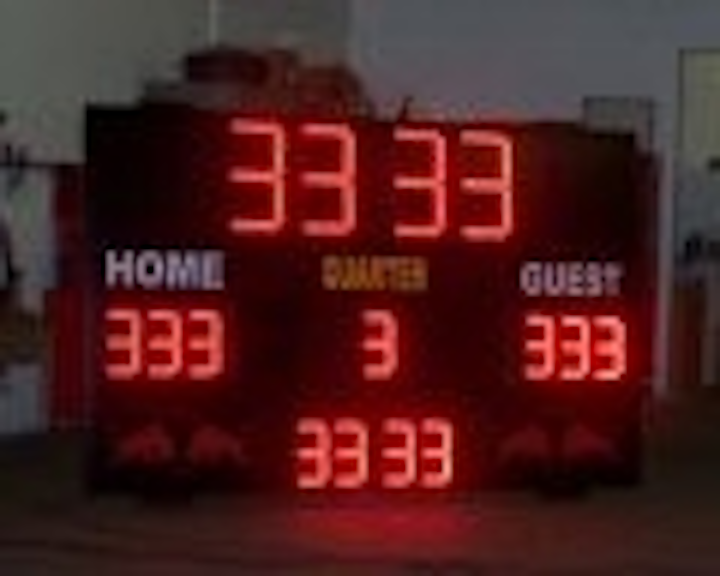 Solar Sports Scoreboard
Solar Night Industries, a manufacturer of innovative solar products, has teamed up with electronic video display manufacturer Scoreboards-US to launch Solar Sports Scoreboard.
Jim Nelms, president of Scoreboards-US, said "We made a partnership to manufacture scoreboards, advertising and message displays that utilize energy-efficient LED lamps, battery power, and solar-charged wireless communication which means this system is totally self contained and energy independent."
The first six Solar Sports Scoreboard will be installed in June at the Miramar City Park in Miramar, Florida at a cost of $65,000. They will service teams on two cricket pitches, a football field, and four dual use soccer and baseball fields.
"This is a significant step because more and more municipalities are demanding wireless, alternative energy solutions for their outdoor display technology needs," stated Jason Loyet, president of Solar Night Industries. Solar Night Industries is also working with Scoreboards-US to transform Mobile Video Trailers, now powered by diesel generators, into solar-powered mobile units.
Lighthouse LEDs at Poseidon premiere
LED screens from Lighthouse Technologies were used for the UK premiere of Poseidon - the ocean-based upside-down-ship action blockbuster remake – at The Empire, Leicester Square in London.
PSL Europe provided Lighthouse R16 16mm LED screens, which formed a giant entrance to the premiere with overall dimensions of 21m wide x 3m high. Although physically two screens, they were treated as one for playback purposes, the only difference being that the content was specially edited for the size and format of each.
Control of the screens was by three Lighthouse LIP SX units, with three other HD units for scaling, a specific unit for picture in picture and an HDCam deck for HD playback.
Simon Taylor Lighthouse's Northern European sales manager said, "The Poseidon launch again shows how LED screens are in demand for an ever-diversifying range of applications. Because of the high media profile of events like this, whatever the technical challenges, the fact is that nothing must be allowed to go wrong. The inherent reliability of Lighthouse screens means that our products are the perfect solution for such demanding events."
LED signs help retailers raise sales
OnScreen Technologies has completed a four-month field test with six grocery and convenient stores, utilizing its Living Window LED signs as a dynamic point-of-purchase marketing tool.
The study combined sales data from hundreds of food and non-food grocery items with the primary objective to discern Living Window's effect on increasing sales and improving inventory turns. The study concluded that Living Window was responsible for a 23.4 percent increase in unit sales volume when the products were promoted without adjusting the price, and up to 688.4 percent when combined with other traditional promotional strategies.
Living Window's unique "see-through" design and bright LED lights capture customers' attention and help influence buying decisions. Its dynamic messaging system enables retailers to increase sales by reacting immediately to changing business needs, maximize co-op advertising programs and reduce advertising costs by lessening the need for printed marketing collateral.