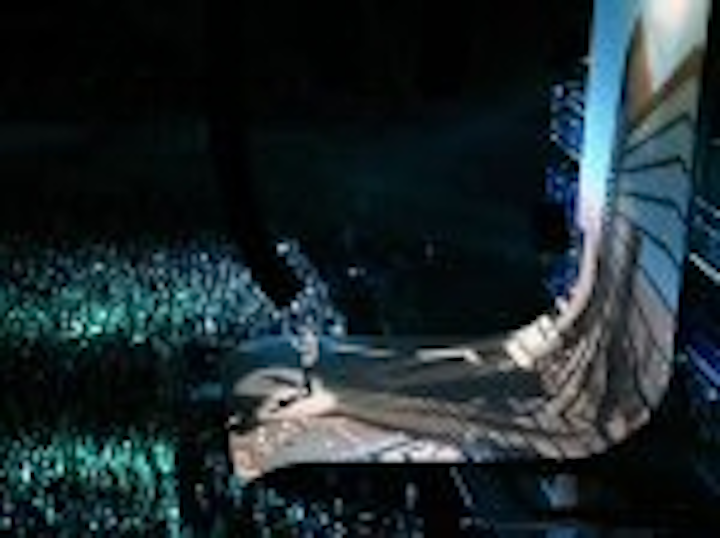 Barco LED modules set the stage for George Michael
Creative LED specialist Barco has supplied 3000 of its MiSTRIP LED modules to form a highly unusual stage backdrop for George Michael's 25 Live Tour. The modules, playing video and graphics effects, form an unprecedented curved display of LEDs behind and underneath the performer.
(See also the XL Video press release, with more pics.)
A massive 9 meter wide and 25 meter long screen was designed for the tour. This giant backdrop flows onto the stage and beyond via both concave and convex curves to create a stunning visual element, strong enough to be both stood and danced on.
Phil Mercer, project manager of XL Video, the company that provided the set, said the project was very ambitious, and required extremely high resolution. "We were worried that it would not be achievable as we expected problems with the weight and reliability because of the high number of LEDs needed to reach this resolution," he says. "However, this proved to be no issue at all for the MiSTRIP. It has stood up really well to the demanding tour schedule and fulfilled a very exacting design brief."
The MiSTRIP is a linear LED screen element, essentially a "strip of pixels", that can be combined in any shape and quantity to make up any size and form of LED screens. Despite its sleek appearance, the MiSTRIP is structurally very strong, which made it ideal for Willie Williams' design for the George Michael tour.
The modularity of the MiSTRIP system and special mechanics developed for the show allow the lower rear part of the screen to open up, an unexpected entrance for the artist onto the stage!
Daktronics creates PSP lookalike
Daktronics has installed in 34-foot wide display in Las Vegas designed to look like a PSP (PlayStation Portable), Sony's hand-held entertainment system. The display, installed for Outdoor Media Group and Elite Media, incorporates a Daktronics ProStar 16-mm pitch LED display measuring 19 feet 4 inches wide by 10 feet 8 inches high.
Barco screens for The Who
XL Video has also supplied LED displays from Barco for The Who's stage set for their current world tour. The set includes five individual 9 x 12-foot DLITE7 LED screens on stage, driven by Barco's ENCORE presentation system.
All screens have the freedom to move both horizontally and vertically. They can be combined into a single seamless 45-degree cinemascope screen, or five individual panels at various angles, or a configuration that combines a three-panel widescreen flanked by two single panels.