Displays: Opticomm, ANC Sports, Daktronics
Opticomm has deployed a fiber-optic control system for a Lighthouse display, while both ANC Sports and Daktronics have sold systems to sports stadiums.
Mar 30th, 2006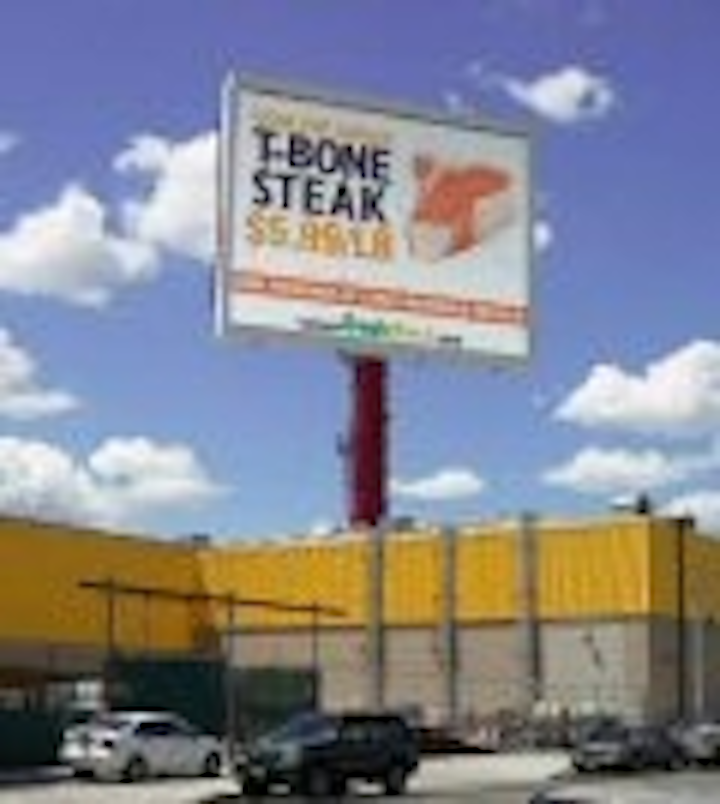 Opticomm provides fiber link to giant LED display
Opticomm has supplied a fiber-optic data pipe to a giant LED display operated by a grocery retailer.
Located next to the Queens Midtown Tunnel, New York, FreshDirect's 5,850 sq. ft. LED display, one of the largest in the USA, shows full-color video promotional information.
Images are transmitted at 600 Mbps via fiber-optic cable from FreshDirect's headquarters in Long Island City, NY. The display produces over 8,000 nit, providing high visibility in daytime as well as nighttime.
"This project illustrates the ability of Opticomm's transport systems to work with Lighthouse Superscreen LED systems to deliver live streaming media in broadcast quality – digital signage at its best," said David Caidar, President of Opticomm Corporation.
ANC Sports installs LED fascia system at AT&T Park
ANC Sports has announced a multi-year agreement with the San Francisco Giants to supply and control a state-of-art SMARTVISION® LED fascia system at AT&T Park.
ANC's 25-mm SMARTVISION® display will animate over 450 feet of AT&T Park's lower level fascia, replacing the first and third base fascia rotational signage. The 45-inch high signage system contains a 170-degree viewing angle, providing real-time statistics, advertising messages and in-game animations to the entire ballpark.
ANC will operate the fascia LED display with the first Major League Baseball installation of its new VisionSOFT software, which will receive real-time statistics from ANC's Data Interface Solution (DIS). VisionSOFT is the first 3D interface capable of managing multiple instantaneous media streams for every scoreboard, digital advertising screen, concession stand or any technology in the ballpark.
New installations for Daktronics
Daktronics is providing LED displays at eight Major League ballparks and more than 20 Minor League ballparks for the upcoming baseball season in the US. Announces 2006 and Baseball Projects. The full press release can be viewed here.
Daktronics is also supplying LED screens to the University of Alabama's Bryant-Denny Stadium in Tuscaloosa in time for the 2006 Crimson Tide football season. Two new ProStar® VideoPlus displays measuring 20 feet 2 inches high by 34 feet 7 inches wide will be added to the northeast and northwest corners of the stadium.
Alabama fans will also be entertained by new ProAd® digital advertising displays mounted on the east and west sides of the stadium. Each display will measure approximately 4 feet high by 420 feet wide, making these displays the largest ever installed at an outdoor collegiate facility. Center-to-center pixel spacing for is 23 mm (.90 inches) for all four displays which together contain more than 2.3 million individual LEDs.