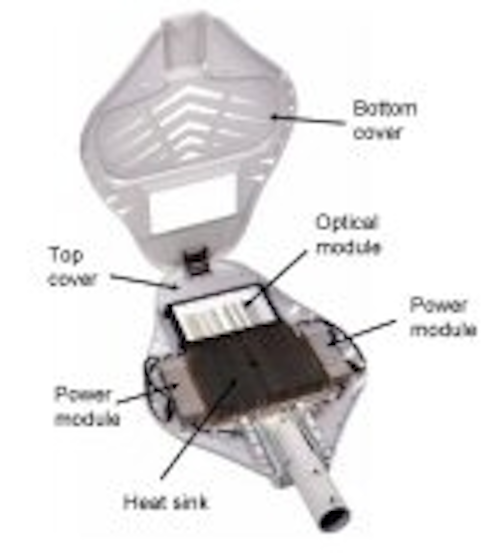 Opto Tech, a Taiwan-based supplier of LED chips as well as LED-based displays and lighting fixtures, has unveiled its new Smart LED Street Lights. It currently plans to mass-produce 55W and 105W street lights that can be used with either solar or AC power.
The fixture is streamlined and ultra-thin, with a depth of only 80mm (just over 3 inches). The company is emphasizing four features -a modularized design, a unique cooling technology, a new optical design, and an efficient power module.
The street lights use high efficiency Nichia LEDs. A recent deal between Nichia and Opto Tech extended the manufacturing and sales cooperation between the companies (see News).
Opto Tech says that it considers practicability as the highest priority. Therefore, the internal structure is designed with a patented module with a hinge and E-type ring buckle, which means its maintenance or replacement can be performed by one person.
The company describes its product as a "breathing street light" due to its "unique" cooling technology. The heat generated by the optical module is quickly and effectively removed via a copper heat pipe connected to an aluminum heat sink positioned below ventilation holes in the bottom cover.
The optical design meets international standards after going through precise optical testing, says Opto Tech, with a perfect butterfly-shaped photometric curve that was designed with driving safety in mind. The product's photometric curve produces better illumination and achieves a more comfortable lighting effect than other competitors, claims the company.
Meanwhile, the power module has 90% and above conversion efficiency and its constant current output can last LED lifetime over the long-term.
The 105 W street light has a color temperature of 5200 K and a color rendering index (Ra) of 70. The power factor is given as 0.912-0.989, and the efficiency of the power supply is 95%. The total lumen output with a clear cover is given as 8640 lm (which at 105 W corresponds to 82 lm/W).
Currently, the products have passed the testing and verification standards and new patents have been applied for in the USA, China, and Taiwan. Government agencies and businesses have already inquired about and ordered this product, says Opto Tech.