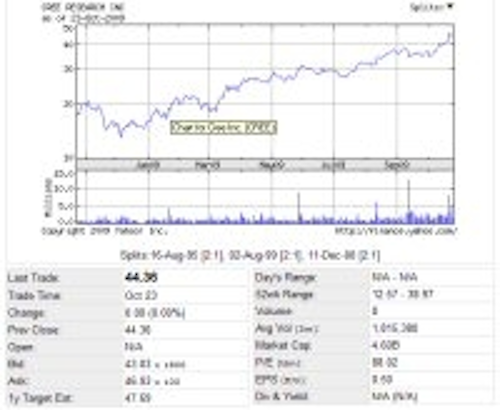 Cree, Inc. has announced record revenue of $169.1 million for its first quarter of fiscal 2010, ended September 27, 2009 (see press release). The company's stock price has risen to a 52-week high (see chart).
The company's revenue for LED products was $156 million. This represents a 14% increase from the previous quarter, and an increase of 20% compared with LED revenue of $129.9 million for the same quarter last year.
Revenue growth Q1 was driven by higher XLamp LED sales for lighting applications; higher LED chip sales due to increased demand in notebook backlighting and lighting; and solid growth in LED lighting fixtures, as well as in (non-LED) power and RF devices.
The company's GAAP net income for the quarter increased 255% year-over-year to $21.0 million, or $0.23 per diluted share.
"We got off to a very good start in Q1, as both revenue and profits exceeded our targets," stated Chuck Swoboda, Cree Chairman and CEO. "We are benefiting from continued LED lighting adoption and high factory utilization, and are well positioned for solid growth in Q2. As a result of the recent equity offering, we have the balance sheet to invest in the growth of our business as we look to continue to lead the LED lighting revolution."
Among its recent business highlights, Cree recently completed a common stock offering of 12.65 million shares with net proceeds of $434.2 million, and announced plans to add 575 green jobs in North Carolina by the end of 2012.
For the quarter ending December 27, 2009, Cree targets revenue in a range of $180 million to $190 million with GAAP net income of $21 million to $23 million, or $0.20 to $0.22 per diluted share.
During the conference call, Swoboda commented, "As we look ahead to Q2, we are expanding our LED factories to support increased demand. We are targeting $150-165 million in capital additions this fiscal year to expand our LED chip factory and more than double our LED component packaging capacity by the end of the year.
"Although we are currently capacity limited in most product lines, we target overall revenue to increase to a range of $180 to $190 million led by higher LED component sales for lighting applications, higher LED lighting product sales, followed by some growth in LED chips to support notebook and TV backlighting and incremental growth in Power and RF sales."